The AFL world has had a tough week, with racism rearing its ugly head again. For an organisation that likes to think of itself as a leader in combating prejudice, the repeated comments about Adam Goodes' race were particularly galling for the AFL.
Last weekend's round of football was supposed to be a celebration of Aboriginal players and their acceptance by today's fans. However, the chain of events that began with the first game of the AFL's Indigenous Round - and the media coverage that followed - highlighted just how far we have to go.
When a 13-year old Collingwood supporter called Goodes an "ape", Goodes followed the lead of former St Kilda player Nicky Winmar and made a stand against racism.
Unlike Winmar, who famously lifted his jumper and pointed to his black skin at Victoria Park in response to racial taunts from the crowd in 1993, Goodes was not alone. Thousands stood with him, including Collingwood president Eddie McGuire.
McGuire was in the stands and saw for himself that Goodes was upset with a Collingwood fan who turned out to be a young girl. He was rightly lauded for his decisive response to go into the opposition rooms and seek out Goodes to apologise, which was so different to the response Winmar got in 1993.
Nicky Winmar was initially reluctant to again be the "poster boy" for racism in football this year. Not because he doesn't feel just as strongly as he did then; the opposite.
It took months of gentle persuasion by the AFL to convince Winmar to travel from Western Australia to mark the 20th anniversary of his "one black man against the world" stand. Winmar knew this was no ordinary reunion; not a laugh with former team-mates about the good old days.
At the age of 47, Winmar admitted he was "scared" to return to Victoria Park. The ground was empty but the ignorance and vitriol of 1993 rang out in his memory as he and fellow former Indigenous player Gilbert McAdam walked onto Collingwood's former home ground.
As the week went on, Winmar became comfortable in his role as the ambassador for the AFL's Indigenous Round, which culminated in a "look how far we've come" Dreamtime at the 'G match on Saturday night.
The morning after Sydney defeated Collingwood, Goodes patiently articulated not only how hurt he was, but why he was hurt. This got the media coverage it deserved. The young girl who insulted him did not.
She made the front page of newspapers, was the lead item on radio and television bulletins and was identified by name and the location of the country town where she lives. It is correct that the suppression of identity is not taken lightly by journalists because they write the first pages of history which should reflect all the facts. However, the public utility of educating the population about what constitutes racism would not have been greatly affected by protecting the girl's identity.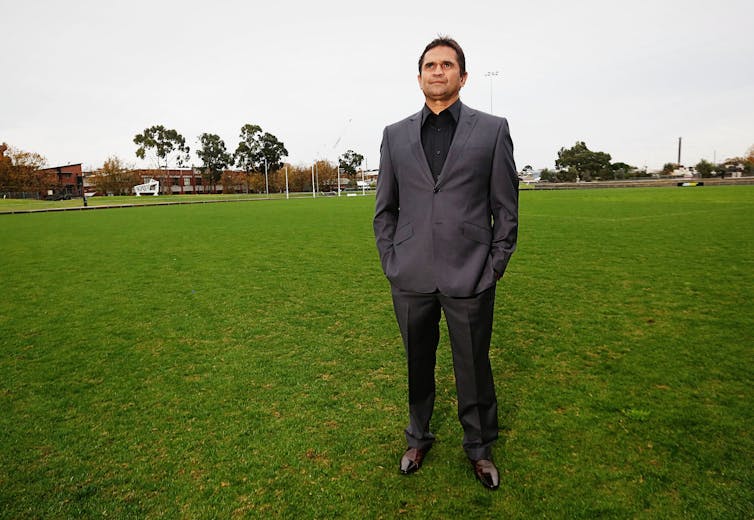 Goodes was quick to ask for the girl to be supported. His considerate response was an appeal to broaden the debate beyond the usual "winner versus loser" matrix many journalists often default to. It somewhat worked, but some media outlets couldn't resist going back for an "exclusive" interview with the girl and her family.
Despite the ugly incident, the "look how far we've come" narrative was the dominant theme in the media. Educated by Goodes, media commentators explained to their sometimes confused audiences that calling Adam Goodes an "ape" is not even close to calling former Hawthorn champion and media personality Jason Dunstall "chief" or "silverback", a reference to his muscular build.
Amidst the "white fella" self-congratulatory commentary about how most people responded, Eddie McGuire's linking of Goodes to King Kong during his breakfast radio show was immediately referred to it as a "gaffe". McGuire called it a "slip of the tongue" and too few in the media challenged this description.
In fact, McGuire's many allies in the media initiated a public relations campaign to limit the damage. Dozens of media commentators and football identities cited how much McGuire has done directly or indirectly for Indigenous Australians.
That is not the point. The issue is a man who started working at the Herald Sun at the age of 13 - the same age as the young supporter he apologised on behalf of - had metaphorically stuck a dagger in the heart of Adam Goodes.
For the second time in less than a week, McGuire apologised to Goodes and once again Goodes graciously accepted. After the apology, Goodes remained silent and left it to Sydney president Richard Colless to admonish McGuire, who was having none of the "slip of the tongue" characterisation.
McGuire fumbled the ball at a press conference held that afternoon. His famed "gift of the gab" deserted him this time. McGuire failed to recognise what he had said was a racist remark.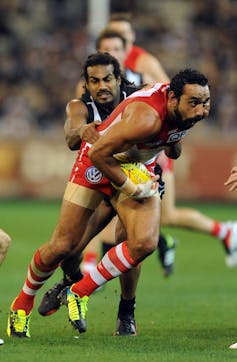 The response of AFL boss Andrew Demetriou wasn't much better. He initially underestimated the impact of McGuire's comments and did not identify that McGuire should be subject to the league's racial vilification disciplinary measures, although he and the AFL were able to recover and strengthen their position before the nightly television news services.
Collingwood player Harry O'Brien tweeted a sharp rebuke of the president of his own club. He used the platform to communicate an unfiltered message directly to McGuire and the general public that Australia was "too casual" with racism. It was after that message that McGuire went on Foxtel's AFL360 program with O'Brien and admitted he had made a racist remark. The penny had dropped.
Journalist Caroline Wilson wondered whether McGuire was one of football's untouchables. Wilson was talking about the AFL and whether it should insist on McGuire standing down, but the question holds true for commentators too. Many have worked with and for McGuire, myself included. He is a highly respected figure in both football and the media.
However, it took Carlton coach Mick Malthouse to point out: "Eddie is not the victim". Malthouse's remarks have been reported in the context that they were also an opportunistic shot at McGuire given the pair's frosty relationship, but it actually reflects on the media coverage of McGuire's remarks.
It was right to record McGuire's emotion when talking to O'Brien because it showed sincere remorse. However, Malthouse's pointed analysis reminded everyone that although Goodes has chosen to maintain a dignified silence, he, O'Brien and Indigenous Australians are the victims.
Who could blame Nicky Winmar if he thought we still have a long way to go in combating racism?