The BDSM-themed movie, Fifty Shades of Grey, is the number one movie in Australia. Its success means that a lot of people are titillated by the idea of sex beyond "vanilla sex."
Controversy about BDSM often centres on the psychology of its practitioners across gender (including Meagan Tyler and Laura Tarzia's recent Conversation article), class, and social ideas of deviancy, particularly as represented in the media.
As a design anthropologist, I am more interested the cultural aspects of BDSM. In particular, I wonder if the BDSM lifestyle represents a Utopian world where historical realities of pain and suffering are converted into fantasies of safe, sane, and consensual pleasure.
BDSM stands for a wide range of bondage and discipline, dominance and submission, and sadomasochistic activities. From tied-up tickling to master/mistress-slave role playing, BDSM explores erotic fantasies of power and control, pleasure and pain.
The number of people in Australia who practice BDSM is very small. According to a 2001-2002 National Survey, only 2.2% of Australian men and 1.3% of Australian women said that they had engaged in BDSM activities.
Contrary to most stereotypes, including the ones perpetuated in Fifty Shades of Grey, science says that most BDSM is not about fulfilling some pathological need. Based on data from the same National Survey, researchers Juliet Richters, Richard De Visser, Chris Rissel, Andrew Grulich and Anthony Smith state:
Our findings support the idea that BDSM is simply a sexual interest or subculture attractive to a minority, and for most participants not a pathological symptom of past abuse or difficulty with "normal" sex.
Thus, what would attract a few people to being tied up and whipped for pleasure or tens of millions of people to want to read and watch films about it? Could it be because BDSM builds a Utopian world of sexual fantasies?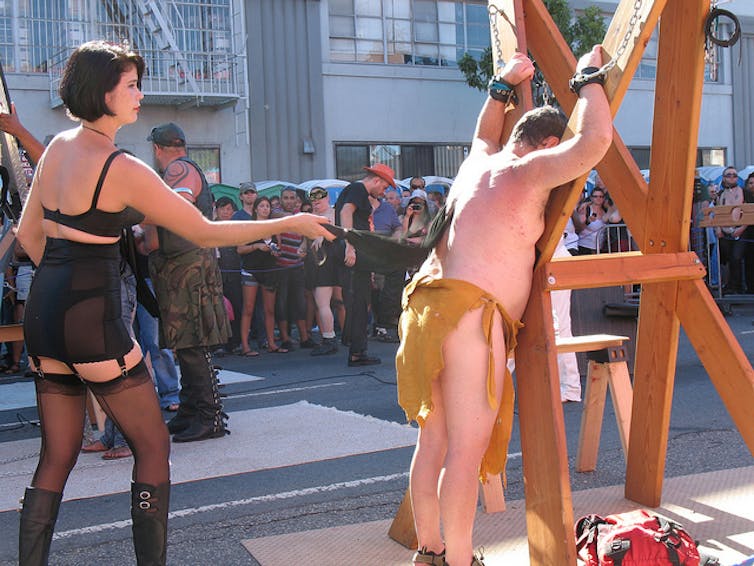 Fantasy is not just an escape from reality. According to feminist scholars Jessica Ringrose & Emma Renold:
Fantasy can be refashioned as an energetic space where subjects are working through and challenging the repressive constitution of their lack in the social.
In other words, sexual fantasy can be a space to work through rigid social hierarchies and contradictions. Based on my own undergraduate research on phone sex in the 90s, most sexual fantasies are based on categories for social transgression.
Erotic genres often name the dominant social barriers between people. Interracial brings together historically, as well as currently, taboo people of different races, such as black men and white women. MILF or DILF (moms/dads who "I'd like to f$&k") addresses several taboos: age, parental assumptions of asexuality, and adultery. Cross-dressers and trans sexual genres challenge gender norms. Gay and lesbian genres deconstruct hetero-normative sexualities.
The fantasy of having sexual experiences across class, religious, ethnic and/or racial, age, gender, even species lines opens imaginative possibilities that challenge the very existence of those lines.
Of course, the basis of these lines shift culturally over time and space. The ancient Greeks accepted sex between young boys and older men. Today, most societies no longer accept it.
BDSM takes the challenging of social norms even further by calling out the underlying power dynamics within social categories of transgression as well as the boundary between pleasure and pain. The ethos of BDSM is safe, sane, and consensual pleasure from the play of power. As Lewis Calls emphasises in his history of American BDSM, informed consent is important:
Participants must be capable of consenting: they must be old enough to understand what they're consenting to, reasonably sober and free of coercive pressures.
Yet, the actual scenarios and artefacts of its practices reflect most often past, but sometimes current, conditions of non-consensual domination and violence.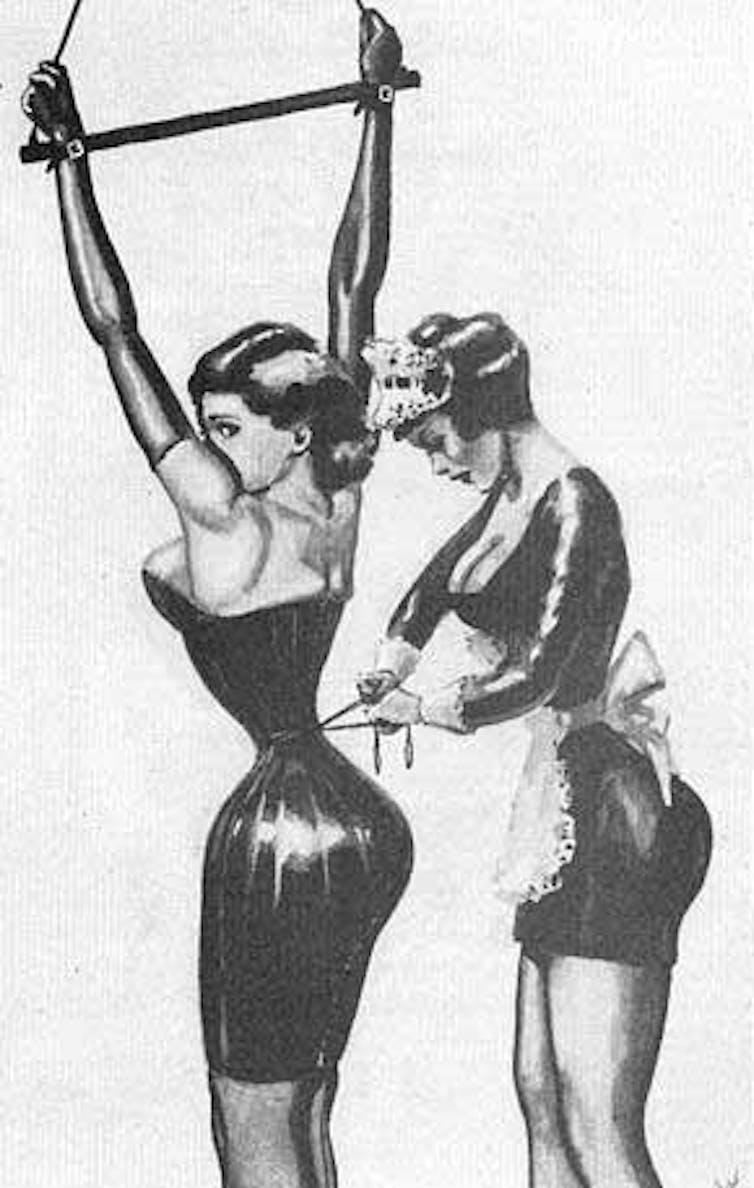 Historians of BDSM describe how European BDSM draws its scenarios and iconography from the real practices of classical and medieval torture (ex. flogging and spanking), aristocratic master and slave or serf relations (i.e. the term sadomasochism comes from the names of two European aristocrats Marquis de Sade and Leopold von Sacher-Masoch), Victorian educational institutions (ex. more spanking), and Wiemar and Nazi Germany policing (ex. leather fetishism and handcuffs).
Australian BDSM is very similar to European practices. American BDSM is also similar, but the historical template for master and slave role-playing is based on the slavery of the Antebellum South.
Of course, BDSM is not just a Western phenomenon. Japanese BDSM, with its intricate systems of ties and knots in asanawa, draw upon the medieval torture practices of the Sengoku Period (1467 C.E. – 1603 C.E.).
China's Chinakunbang relies upon Maoist-era (1949-1976) jail and bondage practises and imagery.
Perhaps one the reasons why the practitioners of BDSM are in the minority is because it takes a very special group of people to be able to look into the horror of human pain and suffering and replay them as consensual pleasure.
The distance in time or in space, which these groups of people have from the painful reality of those experiences, is what allows them to re-imagine power plays of torture and imprisonment as Utopian possibilities.
It raises questions for me as to who has access to the Utopian world of BDSM. A 2011 article by Elisabeth Sheff and Corie Hammers documents the dearth of the poor and people of colour in studies about BDSM and poly-amorous communities:
The composite results from these 36 studies (20 of kinksters, 14 of polys, and 2 of both) indicate a largely homogeneous universe populated with highly educated, white, and middle to upper-middle-class professionals, confirming numerous researchers' conclusions.
This is not to say that Chinese practitioners of Chinakunbang or Japanese practitioners of BDSM are white or that there are no people of colour in the BDSM world, but it means that they most likely have access to additional protections of privilege based on high socio-economic status or other factors.
Sheff and Hammers list five reasons why the poor and people of colour are less likely to participate in BDSM and poly-amorous activities:
These include expense, discomfort with being a numerical minority, the potential for discrimination, communities of colours' negative assessments of sexual minorities, and issues of identity.
At the heart of it for me are issues of identity. As a black American , middle-class, educated, heterosexual woman, I identify with the real pain of the historical basis for BDSM scenarios. Flogging evokes the horror of Patsey's whipping in 12 Years a Slave rather than the soft-core eroticism of 50 Shades of Grey.
As for BDSM's Utopian world of safe, sane, and consensual pleasure, perhaps the other 98% need a safer real world from which to re-imagine a truly inclusive future of mutual pleasures.