An agreement between the European Union and Turkey that came into force two years ago on March 20 2016, has reduced the number of migrants arriving on the shores of Greek islands and, however precariously, salvaged the integrity of the Schengen visa system.
But while the EU-Turkey Joint Action Plan was justified as a measure that would reduce deaths at sea and protect human dignity, the dramatic increase in the death rate of those crossing the Mediterranean in 2016 and deteriorating conditions for migrants in Turkey and Greece expose a reality at odds with that rhetoric.
Instead, the plan reflects the philosophy that has long informed the EU's migration policy: containment.
The EU pursued its deal with Turkey in a state of panic following the dramatic rise in the number of people making their way across Europe after landing on the Greek islands from Turkey in summer of 2015. Happy to exploit the EU's desperation as the Schengen system came under intense pressure, and emboldened by the divisions between EU member states and institutions, by the end of October Turkey had extracted a promise of €6 billion funding by 2018.
The deal struck between the EU and Turkey also committed to the acceleration of visa-free travel for Turkish citizens and the "re-energisation" of EU membership talks. In return, it was anticipated that Turkey would accept the return of people who reached Greece by sea, improve conditions for refugees in Turkey, and use its security forces to intercept migrants and stop boats leaving its shores. In parallel, for every person returned to Turkey, a Syrian refugee would be accepted for resettlement in the EU, while refugees in Greece and Italy would be relocated to other EU countries.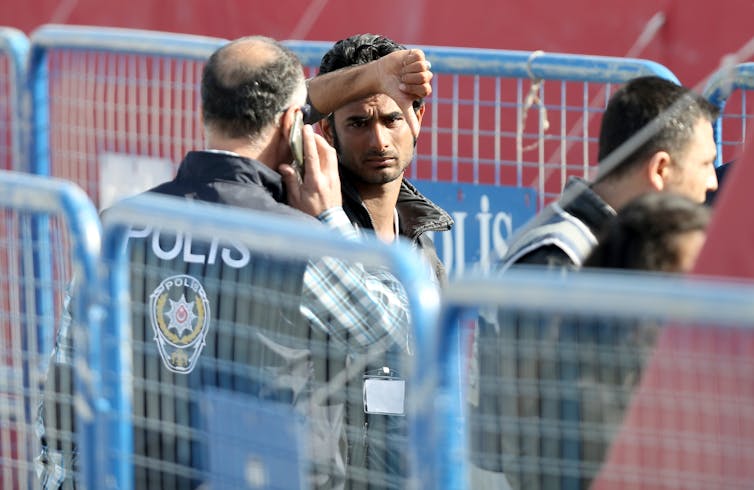 Increasingly deadly
When the deal came into force five months later on March 20, it had immediate implications for refugees hoping to seek asylum in Europe. Departures from Turkey became increasingly difficult and dangerous as Turkish coast guards and military personnel – with a history of shooting at refugees – secured its Mediterranean border. While the EU claimed that arrivals in Greece reduced by 97% in the year following the deal, the number of deaths in the Mediterranean did not, as refugees became more dependent on people smugglers and were driven to take far more dangerous routes to Europe from North Africa.