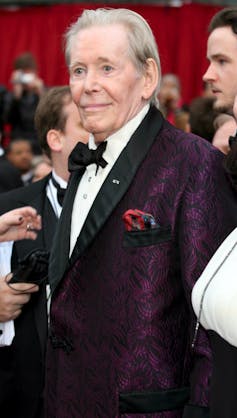 I cannot be entirely sure – the building is now entirely refurbished under a new name, and there is no easily accessible record, but sometime around 1970 I believe I saw Peter O'Toole in Waiting for Godot at the old Phoenix Theatre in Leicester.
This would have been a touring rep show out of Dublin's Abbey Theatre.
He was the piercing-eyed panther of the stage, with arms longer than seemed realistically possible, gesturing gracefully through the dark absurdity of Beckett's play.
When you are a teenager, everything you enjoy seems to be about being a teenager. Perhaps that is the secret of Beckett's play: that after all teenagers are right, and everything is profoundly unfair. And perhaps too it was the secret of O'Toole's allure: that he was the perpetual teenager protesting at a world unfit for a teen's sense of justice and a teen's appetite for life.
Even when he played old, as in his unforgettable one-man show Jeffrey Bernard is Unwell, the teenage rebel seemed inches below the surface, a twinkle of wild appetites unhappy with any discipline. His control over language always seeming on the brink of collapse, his intuitive equilibrium always pushed to the brink of overbalancing, he had the essence of the clown that made Charlie Chaplin a god in his time.
Nothing else, not even the exquisite profile and electric blue eyes, explains why he was always more than a matinee idol. In Lawrence of Arabia and perhaps even more so in the even more radically tragic Lord Jim, the sense of displacement, and of the burden of courage are unforgettable.
So the series of madcap comedies – from What's New Pussycat to The Stunt Man and My Favourite Year – might seem unbecoming, even in a career punctuated by blistering stage performances of Shaw, Chekhov, O'Casey, Brecht and of course Shakespeare as well as lauded film roles like The Lion in Winter. But they were of the essence.
Without the circus, there would be no tragedy. The greatest tragedians, as Yeats wrote, "Do not break up their lines to weep. / They know that Hamlet and Lear are gay".
I saw him once, across the bar of the pub where Jeffrey Bernard used to drink. I wanted to go and tell him how much his films and plays had meant to me. Alas too late, but I'll raise a glass and raise the ghost of the boy who watched his Vladimir, so many years ago, and believed he understood it all.