It is nearly 50 years since Australian writer Elizabeth Harrower's previous novel The Watch Tower appeared. Why, after producing four novels between 1957 and 1966, did she stop writing? Or at least stop publishing, apart from a couple of short stories and reviews?
The forthcoming publication of In Certain Circles provides no answers, though ample proof of what readers have missed during this long silence. In their publicity sheet, Harrower's publisher Text advises that the novel, completed in 1971, was "withdrawn from publication at the last moment". The manuscript was stored in the National Library.
In 2013 Harrower allowed Michael Heyward of Text, who had been reissuing her novels, to read it. Now other admirers of her work are finally able to.
Like Harrower's first novel, Down in the City, and The Watch Tower, In Certain Circles is set in Sydney. Like them, it is concerned with differences in class and opportunity, especially the ways in which these come to play out in a marriage. Unlike them, however, it has a central female character who initially recalls Jane Austen's Emma, "handsome, clever and rich".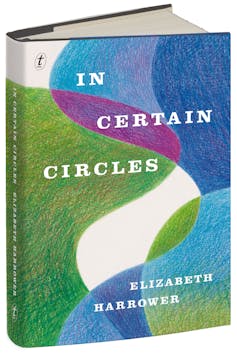 With a classic three-part structure of introduction, development and climax, In Certain Circles opens just after the end of the second world war. We are introduced to the Howards and their large "stone house on the north side of Sydney Harbour". Both are biologists, and journalists find Mrs Howard "a useful example of a woman who combined a successful career with a happy home life".
Russell, their son, has returned home seemingly unaffected by his time as a prisoner of war. Zoe, their 17-year-old daughter, has been brought up to believe that she is "remarkable". Since Zoe is an excellent student, winner of sailing competitions and beginning to excel as a photographer, Harrower provides support for this, though also gentle irony at Zoe's naivety.
We are also introduced to another brother and sister, Stephen and Anna Quayle, whose lives have been drastically changed by the accidental death of both parents. Brought up in Parramatta by an uncle preoccupied with his neurasthenic wife, Stephen is a salesman while Anna is destined to "turn into one of those clerks, working to eat". Despite their differences, Zoe is attracted as well as challenged by Stephen, "the first man ever to judge her".
Part 2 opens some eight years later.
Mrs Howard's death has brought Zoe home from Europe, where she has become a successful photographer. Her relationship with a much older film director has opened the way to a career in that area. But after meeting Stephen again, she decides to marry him and stay in Sydney. Meanwhile, Anna has escaped poverty by marrying a musician, who dies soon after. Russell has married Lily, his childhood sweetheart, and they have twin daughters.
Although Mrs Howard may have been able to combine marriage and a career, the younger women are not so lucky. By Part 3, Zoe is 40 and we are in the late 1960s. While the widowed Anna has found success as a potter, Zoe has devoted herself to trying to make Stephen happy. Lily has sacrificed her academic career for her daughters, who she hopes will become doctors. Instead, she is devastated when they win ballet scholarships and leave for England.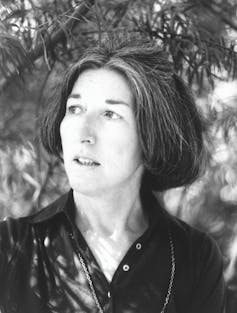 Harrower's novels were well-received at the time of publication, but did not win substantial critical attention until taken up by feminist critics from the 1980s. While she has never claimed to be a feminist, her novels have always emphasised gender as well as class.
In contrast, her counterpart Thea Astley initially felt that she needed to write as a man to be taken seriously. She won the Miles Franklin Award three times from 1962-72, all with novels featuring male protagonists.
In Certain Circles takes us back to this decade, a time when it was still assumed that women would give up work when they married. As Zoe exclaims towards the end of the novel:
"What makes men superior is that they don't – on the whole – stop functioning forever because of another person. They lack this built-in handicap, and are they lucky!"
The novel as a whole, however, questions the absoluteness of Zoe's view, suggesting that some women can overcome this handicap. And the final outcomes for her, Lily and Anna are positive when compared to the situations of female characters at the end of Harrower's earlier novels.
Why then was the novel withdrawn at the last minute? The plot device that provokes the climax is a little improbable. Russell is a rather undeveloped character, especially in comparison with Stephen. Unlike the difficult husbands in Harrower's earlier novels, we see that he is also a victim.
Reading In Certain Circles gave me the thrill that only comes from the work of a major novelist. Are there other Harrower novels in the vaults? I certainly hope so.

In Certain Circles by Elizabeth Harrower is published by Text on April 23. Details here.

Are you an academic or researcher? Would you like to review something for The Conversation? Contact the Arts + Culture editor.