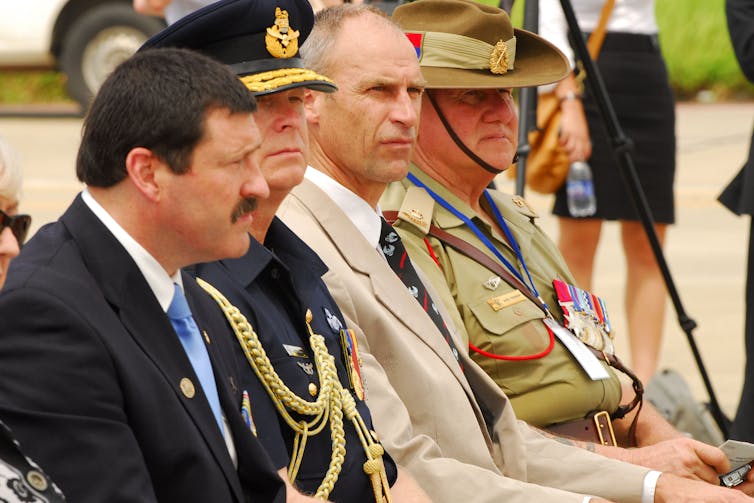 Kevin Rudd has taken the unusual step of naming his future defence minister - Mike Kelly – in a re-elected Labor government.
Kelly, a Rudd supporter in the leadership battle, is highly qualified for the post but Rudd has other motives too. One is to help Kelly in his NSW seat of Eden-Monaro, which is on a 4.2% margin. The PM also wants to counter the impression of a hiatus in this important and sensitive portfolio. Present occupant Stephen Smith is retiring at the election.
Rudd said on Melbourne radio he'd told colleagues Kelly, who is Minister for Defence Materiel, was the best person to replace Smith, if the government was returned. He was a former army colonel, had served in Iraq, had a PhD, and was a "nice bloke".
Elected to Parliament in 2007, Kelly has been in and out of the defence area, He was parliamentary secretary for defence support in 2007-10, parliamentary secretary for defence 2011-13, and has been Minister for Defence Materiel since February.
Kelly told Sky that while he was "greatly honoured" by the PM's expression of confidence, there were a few hurdles before he got the job. He had to retain his seat; the government had to be returned, and caucus had to endorse him. (In the next parliament caucus will get back its right to elect the frontbench - its election of Kelly would obviously be a formality.)
Kelly said Rudd's anointing of him "provides a degree of comfort and certainty to the community and defence organisations that there is a possible succession plan there".
He had served about a quarter of a century of apprenticeship in the defence organisation, working across every aspect of it.
His electorate "very much resonates with defence. They certainly understand that they elect people to do federal jobs and there is no more federal job than the security of the nation and its people.
"But certainly there is an extra dimension in my region. We have quite a number of service personnel living there [and] the headquarters of the joint operations."
Neil James, executive director of the Australia Defence Association, said Kelly had proved himself in the portfolio area as a reformer and a long term thinker.
"He has the ability to get on well with civilian bureaucrats and the military. And because he's a war veteran he understands the priorities and nuances, which many MPs don't", James said. "Kelly is the only war veteran in the parliament – the Liberals' Stuart Robert is a peacekeeping veteran".
In an unpublished letter to The Canberra Times, written before Rudd anointed Kelly, James said that the fact the Liberal candidate in Eden-Monaro, Peter Hendy, had worked for Peter Reith might count against him in the seat, with its unusually high number of serving and former ADF personnel.
"Many serving and former ADF members still object to the way our defence force was improperly dragged into vicious partisan controversy by minister Reith and his staff during the 2001 'Children Overboard incident'", James wrote.
"Particularly the way the Navy was gagged from explaining the truth even when unfairly traduced by many in the community because of partisan spin". Hendy had been Reith's chief-of-staff at the time.
"In this marginal electorate there may well be many ADF personnel and their families who vote for Kelly over Hendy whatever their Senate vote might be".
In his letter, James said that Kelly had ameliorated "the general indecisiveness and frequent abuses of ministerial authority by Stephen Smith – who with Reith and Gordon Scholes – are broadly acknowledged as being the worst three of the 19 defence ministers over the last half-century".