It was freezing in the Prime Minister's courtyard at Parliament House. But there was no way that Kevin Rudd was going to launch his election 2013 campaign anywhere else.
It was in this courtyard, after Julia Gillard deposed him, that he gave his emotion-charged news conference on June 24, 2010 (in which, to his chagrin, he "blubbered"). He hasn't appeared there since he regained the leadership.
The symbolism is important. Rudd is a man possessed. He has politically slain his Labor opponent, rectifying the wrong he believes done to him. Now he's set on doing the same to Tony Abbott, who had him on the ropes in 2010, though they never faced off at an election.
There was another reason we were in that courtyard. Rudd wants to tell people he's learned. That he's the old Kevin they voted for in 2007, but better for what he's been through. "You the Australian people over the years have seen me at my highest highs, and some of my lowest lows. You have witnessed some of those moments right here, in the place we are standing now in Parliament House in Canberra.
"Moments that I will never forget, because whether they were good or bad, they have certainly made me a much stronger person. I think as a result, you the Australian people know me pretty well – warts and all."
Like John Howard in 2004, when "trust" was an issue for the Coalition, Rudd has declared "trust" central to this election. Both Howard and Rudd pitched their "trust" appeals around economic management. Howard had had some trust issues of his own (children overboard); Rudd is directly confronting the "trust" problem Labor has had under his predecessor.
He is also taking on Labor's chief point of vulnerability – the opposition's claim of a "debt and deficit" crisis. If there's a crisis, he kept asking, how come we're one of the few countries with a triple A credit rating?
In some five weeks run-up to this campaign. Rudd has done a remarkable amount of ground work. He has negotiated a deal with Papua New Guinea to take all boat arrivals, and one with Nauru so that families who can't be sent to PNG for health reasons can go to Nauru. He's pledged to bring forward the conversion of the carbon tax into an emission trading scheme.
This weekend he's got Victoria over the line on Gonski and Western Australia into the national disability scheme.
In these weeks, Tony Abbott has been forced onto the defensive, scampering around. He's produced new iterations of his asylum seeker policy to try to appear as or more hairy-chested than Rudd. On Friday he did a spectacular somersault on Gonski; even he must have felt embarrassed as he declared himself on "a unity ticket" with the PM over the scheme he had condemned for months.
Abbott points to Labor's turnover of policies and personnel, and contrasts that with the stability on his side. In the days ahead he will have to show that the Coalition's numbers add up, and fend off Rudd's massive scare claim that he would preside over an austerity program driving the economy into the ground and many more people out of work.
Rudd says he goes into the election as the underdog and that seems true, despite those polls that have shown a dead heat or nearly that. Tonight's Newspoll has the ALP behind 48-52%, with a primary vote of 37%. Labor has to win more seats that does the Coalition to clinch the election. The opposition has already effectively picked up some of the crossbench seats - that of former speaker Peter Slipper and retiring country independents Tony Windsor and Rob Oakeshott.
Labor also has much accumulated baggage that some voters will focus on now they have to make a real choice rather than a theoretical one.
Rudd's challenges will be to keep attention on himself, rather than on the Labor era, and to convince people he is a safer, less scary bet than his opponent.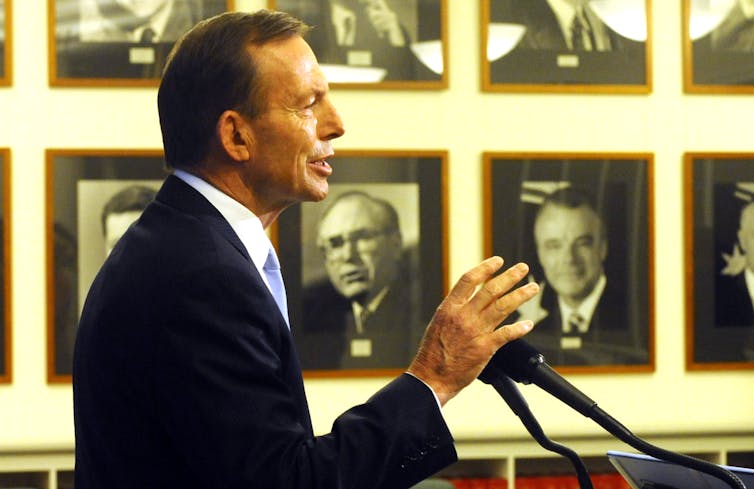 Abbott's task is to win in spite of the "Abbott factor". Polls have consistently indicated people don't relate to the man they nearly elected in 2010. When Julia Gillard was there they overwhelmingly intended to support him even if it meant holding their noses. Now he faces this formidable campaigner, who woos with voters with smiles and wiles, and uses taunts as a duelling sword.
Since he's become leader Rudd has constantly challenged Abbott to debates; today it was to take up Sky TV's invitation for a clash tomorrow night. When Abbott was dodging Rudd earlier, he foolishly said "Name the [election] date, start the campaign, I will debate him every day". Now the Liberals are proposing just three debates, starting next Sunday, including two community forums.
Rudd will use the "debate over debates" to paint Abbott as scared but Abbott will want to limit these appearances. (Probably he is scared. Not unreasonably. He knows the risks.)
The big issues for this election will be the economy and leadership. Labor has serious handicaps in the economic battle. While it portrays itself as the best party to manage the post-mining boom transition, Friday's economic statement (with tax hikes) reinforced the message that it has repeatedly had to change its forecasts and push out its commitment to deliver a surplus.
If Rudd goes down it will be, as much as anything, because people don't buy his economic story, regardless of Labor's success during his first prime ministership in keeping the country out of a GFC-induced recession.
If Abbott fails to win, the Liberals will have been done in because of a leader the community couldn't stomach. One question would haunt the party: would Malcolm Turnbull have succeeded?
In naming September 7 Rudd has taken the advice of his strategists that to delay could squander the honeymoon and try public patience. Election day will already be more than three years after the 2010 poll.
But he has fretted over missing the G20, on September 5-6 in St Petersburg. He said today: "My plan is that Australia would be represented by Foreign minister Carr but we will keep that under review, subject to international developments in the meantime and further conversations with international leaders".
Now what does that mean? Maybe they could Skype Kevin in?