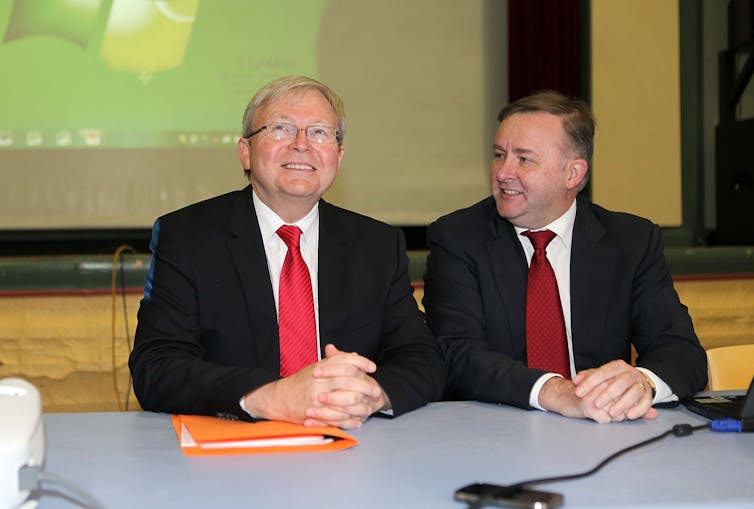 Update: Tuesday Newspoll, Coalition leads Labor on two-party vote 52-48.
Kevin Rudd is talking about, and no doubt practising, consultation with his colleagues but in fact the shots are all his to call until the election, when the public – and consequently his party – will judge him.
So far he has managed spectacularly to corner and wedge potential critics within Labor as well as Tony Abbott and the Coalition.
On the issue of ALP rules, the change caucus today approved ensures that Rudd, if he managed to win the election, would be safe from any threat of a challenge, which would give him unprecedented security until the following election. (Julia Gillard must be asking herself "why didn't I think of that?" and then answering "because I would never have got away with it".)
On asylum seeker policy, Rudd has corralled the left and partly neutered Abbott.
In exercising his authority to the maximum, the Prime Minister is employing a presidential style and using symbolism to the hilt.
Caucus met to discuss its rules not in its usual Canberra Parliament House room but in Balmain, where the first Labor electoral league was formed in 1891.
Last week Papua New Guinea's Prime Minister Peter O'Neill flew to Brisbane for a joint appearance to unveil Rudd's deal to send all boat arrivals to PNG.
Asked today why he didn't announce the agreement in PNG, O'Neill said: "I know some of my colleagues are a little bit inexperienced in these matters so they argue that parliament should have been informed".
Some in the left, such as Doug Cameron (who as a new parliamentary secretary has constraints on what he says), must be swallowing hard as they defend the PNG solution. Cameron at least voted for Rudd. What was left Health Minister Tanya Plibersek, who didn't, thinking as she walked down a Balmain Street with the PM, protesters yelling in the background?
The 2013 election is an eerie repeat of 2001, only it's Labor this time that has been running around cobbling together a Pacific solution.
In 2001 John Howard had Labor snared in a trap over Tampa and asylum policy, as it struggled to find a position that balanced toughness and rights. (People drowned that year too, incidentally.)
In 2013, the Coalition unexpectedly finds itself outflanked, caught between embracing and finding fault with the Rudd policy. Abbott has done both but Rudd has the killer quote for criticisms. "Mr Abbott is out there deliberately undermining the government's clear message to people smugglers. … If you do that sort of stuff, you raise the question about your ultimate fitness to hold the high office of prime minister."
O'Neill's Port Moresby news conference underlined the fact that Australian money is no object in the PNG solution.
"The PNG government will now set all the priorities under which Australian aid program will now be directed", he said.
The aid deal alone, which involves funds for rebuilding the universities, rebuilding the Lae Hospital, reconstructing a neglected highway and other things will cost a packet (that's apart from funding the asylum seekers, which will involve huge construction and other costs).
O'Neill said bluntly PNG had not be able to afford these projects. No costings have yet been given but the Australian government says money will be used from the existing aid budget.
For Rudd, the detail is not top of mind. Leave that to the unfortunate Tony Burke. (Asked a question of detail Rudd said today: "I direct that question to the Immigration Minister. I don't wish to say anything inaccurate".)
What matters for Rudd with the PNG solution are the messages – to the Australian public, especially in places such as western Sydney, and to the people smugglers. But for a viable policy the detail is crucial.
The message Rudd's sending on the ALP rules is that he's in charge and he'll remake this party as it should be remade. He's saying, not only won't he be toppled if he remains PM but he is going to transform the ALP into another sort of beast – one where faction leaders are brought to heel and the rank and file get their say (in choosing the leader) with other reforms to come later.
In caucus they didn't all agree with the Rudd plan. Stephen Conroy, the former communications minister who is having a shocking year, had a major dummy spit. He harked back to Rudd's "dysfunctional caucus", and said he was going about his rule change all the wrong way. Defence minister Stephen Smith, who is leaving at the election, expressed doubts.
But there was never any question that Rudd would get his way easily (he did make a minor concession at the start of the debate – the "trigger" for a spill in opposition will be 60% of the caucus, not 75%, as in government).
Rudd afterwards dismissed any chance the party's national conference, which is the supreme body when it comes to rules, might change anything.
"The caucus has spoken", he said. What everyone knew he meant was: the leader had spoken.
Many caucus members are preparing for what they expect and hope will be a Rudd decision for an August 31 election. The longer you drive at breakneck speed, the greater the risk of a crash rather than a crash through.