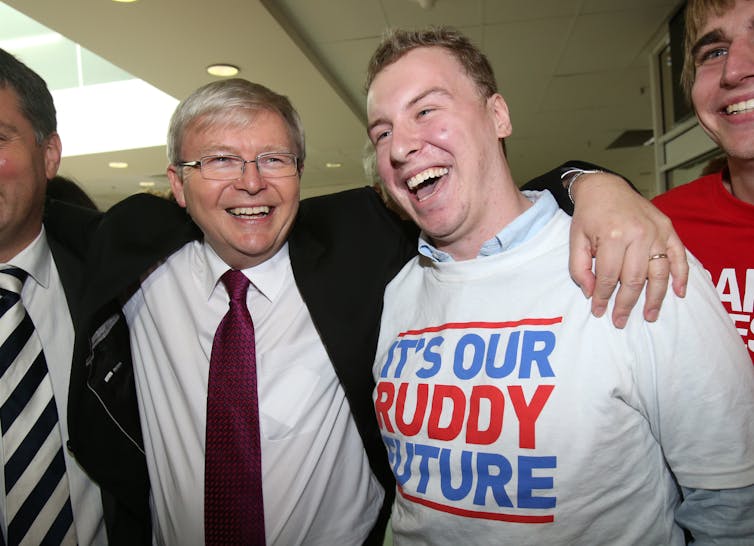 Kevin Rudd insists he is back on centre stage just to "lend a hand" to Labor's cause – like he does, less noticed, in electorates around the country all the time. Many colleagues see that as, shall we say, spin.
After grabbing attention on Thursday's 7.30, not least by pointedly failing to repeat his March statement that he would never lead Labor again, Rudd completely dominated the news cycle today.
His campaigning in Geelong, still reeling from the Ford decision to stop its production, overshadowed Gillard's meeting with the car industry in Melbourne.
Earlier, on Seven's Sunrise Rudd belatedly said he stood by his March statement (when he declared there were no circumstances under which he would return to the leadership). To add to the farce shadow treasurer Joe Hockey, his sparring partner on the show, asked the question.
But by that time, the impression had been given that he's available, if Labor MPs want him, even at five minutes to midnight.
On the hustings, it was vintage Rudd, as he stood flanked by two local members, both his loyalists, Darren Cheeseman and Richard Marles. Cheeseman in 2012 called for Gillard to step down; Marles gave up his parliamentary secretaryship after the March abortive leadership push.
Rudd praised Cheeseman as "a fighter from Central Casting" who would get over the electoral line. Perched in the most marginal seat in the country (Corangamite, 0.28%) it would require a small miracle to save him – probably beyond even Rudd's campaigning powers.
The former PM continued his targeting of Abbott, delivering a clear cut-through attack, something that Gillard isn't managing to do. But he ran into a glitch.
"My bottom line is this - Abbott arrogantly believes he has won this election already", Rudd said. Trouble was, that view had been bolstered earlier in the morning by Workplace Relations Minister Bill Shorten, who had told Melbourne radio: "There is no doubt in my mind that if the polls are correct Tony Abbott will win in a landslide".
The official ministerial line is that Rudd is a strong campaigner and it good to see him out there fighting for Labor. Private views about his activities are something else.
Former Labor leader Mark Latham is a political observer with no inhibition and a fair bit of negative history with Rudd. On radio today he described him as a "lunatic", "certifiable", "absolutely nuts" and a "once-in-a-century egomaniac".
Beyond the abuse, Latham made a solid point. "Rudd is addicted to media attention. He's not acting rationally. If he ever wanted to get the Labor leadership back the thing he needed to do post-2010 was to play the team game … to not be obvious, to not be destabilising Gillard."
Eventually a "desperate party" would have come back to him, believing he was the best electoral prospect.
There is a lot of sense in that. But Rudd's personality was never going to be conducive to such a course. If it had been, he probably would not have been in a position where he could be deposed in the first place.
The Gillard camp would also argue that without the Rudd destabilisation the PM would not have fallen nearly as low as she has – indeed that she would have won the 2010 election rather than being left with a hung parliament.
The hardheads among the Rudd supporters do not think, despite the present flurry, that he is likely to be reinstalled before the election. The caucus numbers haven't shifted, they say. The anti-Rudd feeling rides strong.
(With a couple of parliamentary weeks still to go, people around the party are spooked and do like to hedge their bets.)
Key ministers such as Bill Shorten are still solidly with Gillard. The only way change could happen would be if she was prevailed on to stand aside, and that's certainly not likely.
Shorten's position is interesting. There is increasingly an assumption within Labor that he'll be the Labor opposition leader after the election.
But a party that has suffered a wipeout would be a disastrous inheritance. It would mean at least a six-year climb back – and what opposition leader lasts so long these days?
The other problem facing Shorten would be a bitter internal civil war over blame for the defeat.
So Shorten would actually be better off if Rudd saved some of the furniture and even led for a while in opposition.
Rudd meanwhile is said not to be taking his own seat of Griffith for granted even though it is on 8.5%. Next Thursday he will have Communications Minister Stephen Conroy there for a forum on the NBN. Conroy and Rudd hate each other. The body language should be fascinating.