The 2014 World Cup has all but ended for both Australia and England, but the national response to these results could not be more different. As a spectator of the game between Australia and The Netherlands, the surge of national pride for the Australian team on both social and mainstream media outlets was tangible. Although Australia eventually lost to the Dutch, it was a noble loss, hard-fought and left hope for the future of Australian football.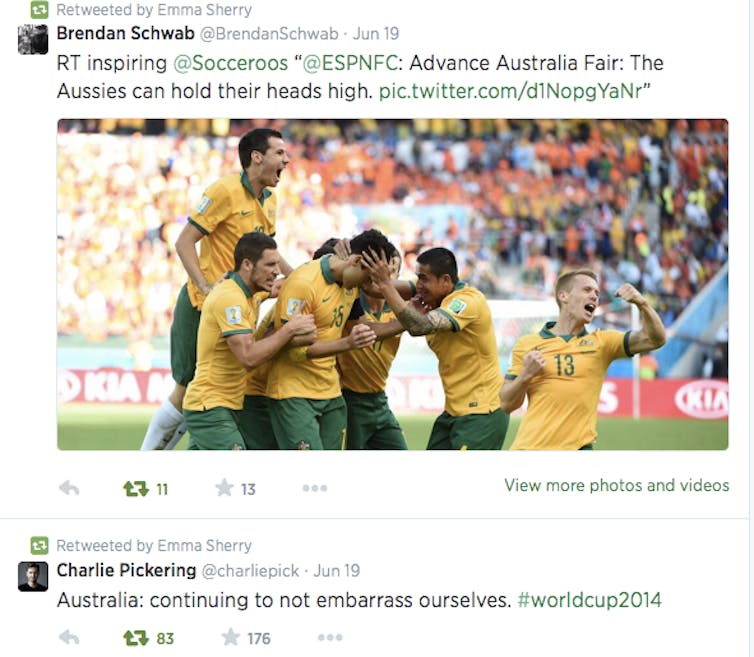 For the English fans however, this was no noble loss and leaves England with even less hope for the future. Much has been made of the decision to retain the beleaguered football manager (Roy Hodgson) during the game where England were knocked out of contention.

English fans are questioning the future of football, the funding allocation, the culture and the impact of the Premier League on national football development.
We can use nationalism as a lens to understand the difference between the Australian and English responses to the same situation and indeed each nation's expectations of success on the world stage. As a result, Australia will be both proud of the achievements of the Socceroos and positive about the future of football development. For England on the other hand, the impact of being knocked out at group stage will result in some soul searching by the national team, and more importantly, a review of the national football structures and talent development. For Australia, the future looks bright. England's response, or non-response, will be the one to watch.