Savage Beauty – New York's Metropolitian Museum's wildly popular 2011 Alexander McQueen exhibition – is coming to London's V&A in 2015. Excited? Bought your ticket already?
Well you should, because tickets went on sale in April. And, to quote the museum's website, "we're experiencing a huge demand". At £17.60 each, and on the market almost a year in advance, this is no small claim.
This sales push equates a fashion exhibition with a big-name concert or festival, and firmly underlines its status as entertainment. The individual designer show has become a beacon in museum calendars. They're guaranteed huge publicity from the designer's marketing department, the fashion press and beyond. This endorses the canonisation of particular names – not just as significant to fashion history, but as bankable stars, who are able to command advance ticket sales and publicity far in excess of quieter exhibitions about particular themes, or eras.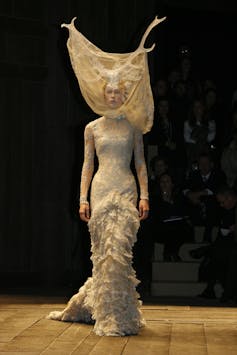 From the start, Savage Beauty was pitched as spectacle, an event, rather than merely an exhibition of clothes. Publicity was intense. There was a preview at London's Ritz Hotel of clothes to be shown in the exhibition, which brought together fashion stars and the Prime Minister's wife, Samantha Cameron. Then there was a McQueen-themed Met Ball to launch the show, which was presaged by Daphne Guinness getting ready for the occasion as a performance piece/window display at Barney's, New York.
McQueen's untimely death in 2010, his theatrically staged catwalk shows and high concept designs combined to produce intense interest in his life and work that extended beyond the fashion world. The Met's show drew 661,509 visitors. These crowds put it in the museum's top ten exhibitions ever, alongside more long-established curatorial subjects, such as its Treasures of Tutankhamun show in 1978, or its more recent Picasso exhibition in 2010. It therefore elevated fashion exhibitions, and their Costume Institute's shows in particular, into the big league of international art shows. Alexander McQueen was now a guaranteed blockbuster name.
Significantly, Savage Beauty had a spin off effect on other aspects of the museum's business. That year saw over 23,000 new members for the Met, the establishment of profitable variations in opening hours – until midnight during the final weekend – and US$50 special tickets to allow visitors in on Mondays, when the museum is usually closed. Over 100,000 catalogues were sold, as well as vast quantities of related products, including crystal skull paperweights and tartan handbags – both of which drew upon the designer's signature materials and motifs.
The numbers and scale of the show are therefore dazzling in themselves. This is before we even begin to think about the actual exhibition, its content, staging or significance in exploring McQueen's oeuvre. It sparked so much media interest internationally that in August 2011 Grazia magazine's British edition began a campaign to bring the show to London. Interestingly, its petition and social media sites didn't draw so much on the nature of the show as an undeniably spectacular viewing experience. Instead, the focus was the patriotic desire "To Bring McQueen Home", as if the Met had somehow kidnapped our national treasure.
This is all good fun and grist to the mill in terms of gaining publicity for important museums, and let's not forget, vital funding for such institutions. But what does it mean for fashion exhibitions and the study of fashion design and fashion history more broadly?
This is hard to judge, certainly. As someone who has tracked the rise of dress in the gallery over the past 20 years, I am always pleased to see more fashion, and more recognition for its cultural and material importance internationally. If it puts to rest the question of whether fashion "deserves" to be shown in the hallowed rooms of major art institutions, this is also a very good thing. This is a debate that has rumbled on for too long, and tends to ignore fashion's importance culturally, socially, economically, and, yes, intellectually, as well as overlooking the vast and important body of scholarship that has grown up on the subject.
But a word of caution. While the excitement and interest shows such as Savage Beauty generate can encourage future designers and dress historians, as well as sparking the wider public's interest in fashion's myriad meanings and significance, fashion should not be reduced to spectacle, and it looks like this is a real danger. It is to be hoped that the funds generated by blockbuster shows will encourage museums to sponsor smaller, more analytical exhibitions. And this need for balance applies to all museum programming, not just those focused on fashion.