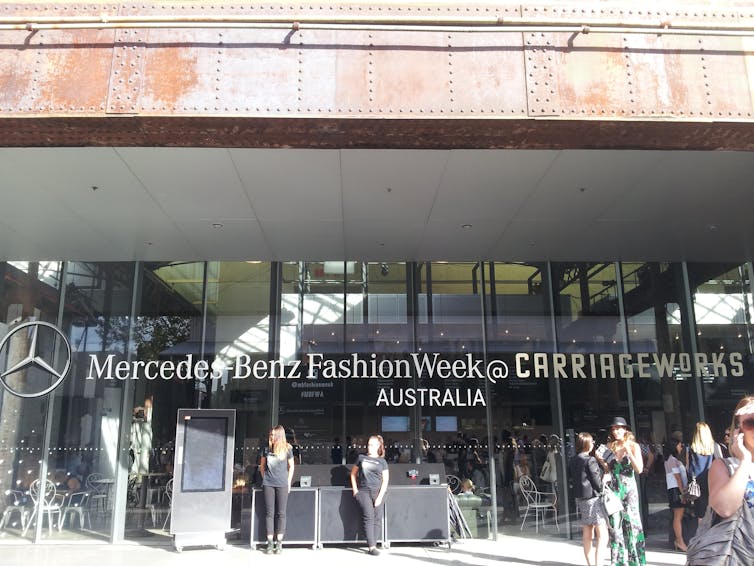 This week Rosie Findlay is writing her column from the Mercedes-Benz Fashion Week Australia (MBFWA) describing in detail the experience of the live event.
You walk down the stairs leading to the buildings of Eveleigh's Carriageworks and into the midst of MBFWA. The concrete forecourt that is usually a mere passageway leading to the main building of Carriageworks is transformed by this week's activity into an impromptu runway, a second "street" for streetstyle photographers to do their work. And they do, lingering with a heavy black DSLR camera in one hand, a half-smoked cigarette in the other, rushing forward when someone who they want to shoot walks past. Often it just takes one notable streetstyle photographer to zoom in on someone and the rest will materialise around her too, shutters clicking furiously, their whole selves zeroed in behind their lens.
Also marching across that walkway are gangs of make-up and hair artists wheeling their huge square kits towards backstage, volunteers observing the action from their posts near the great glass doors leading into the venue, and show-goers lingering on the gauntlet, talking animatedly with friends, or making a Very Important Phonecall, often, it seems, in the hope of getting drawn out by a photographer gesturing with his camera towards where he wants her to pose: "can I get a photo?"
I have plenty of time to observe this milling tide of people as I wait in the queue for Melbourne fashion label Strateas Carlucci to open the doors to their show in The Runway. One of many theatres within the vaulted Carriageworks space, the doors to The Runway open onto the middle of the glass-fronted lobby (called "The Hub" for this week), and so we stand, shifting our weight from foot to foot in the middle of the action, in a long snake of Miu Miu glitter sandals (sadly, not worn by me), statement lips, and mixed prints.
The show was scheduled to start at 2.15pm, and at 2.45pm we are still waiting. We are the "priority standing" ticket-holders, invited to the show but not designated an allocated seat. Those who have allocated seats are free to walk directly in, amongst them the fashion editors of Vogue Australia and Elle Australia, The Sunday Telegraph's Sunday Style, and a number of prominent fashion and personal style bloggers.
There are multiple hierarchies at work this week. In order to gain admittance to MBFWA, you must apply for registration. If you are successful, your name is added to a list of delegates circulated to the showing labels who then select the guests for their own show. If you are invited to a show, you will be allocated with either a seat or standing ticket: to be seated is more prestigious than to stand, and to be seated in the front row is the most prestigious of all. From this point, guests have an unimpeded view of the catwalk and are also the most visible attendees in the room: the perfect location for labels to display their famous fans and to demonstrate that they have drawn respected members of the fashion press.
As we wait I am silently thankful I didn't wear high heels as I can feel the cold concrete floor seeping through the soles of my shoes. To my left, a photographer quickly arms himself with his camera to shoot a girl in a velvet bomber jacket lingering by a bin nearby. She looks like she is waiting too, but for whom? For what? He shoots from where he stands in the queue, and shortly after he lowers his camera, she wanders off. I wonder if she is going to find another place to pause on display.
Incessant music plays over the sound system, low electronic beats harmonised by the unceasing hum of voices. There is a bright energy in the space, matched by the outfits of the guests. One of the Australian fashion industry's key events, people dress for MBFWA. What I mean is, most dress both to look fashionable and distinctive. What this means in practice is different guest to guest: for some, it's wearing clothes from the latest collections by influential European labels, like a Prada suit (of faded purple and yellow wallpaper-esque print) or a (red, flippy) Céline dress. For others, it's an opportunity to showcase a unique personal style: the striped taffeta circle skirt and flower crown on a sweet Australian blogger, for example, or one young man I saw with straight chin-length hair and an enormous rounded wide-brimmed hat, the combination of which made him look like a solemn, earnest and strangely chic extra from Children of the Corn.
The effect of lots of people dressing in their own interpretation of fashionable, which, for most, seems also to just be in a way that delights them, is as much a visual feast as the spectacular shows we are there to see. Mixed in with this crowd are the photographers there to shoot the shows and who dress for the requirements of their work, not to be seen ( interestingly, streetstyle photographers do both, although I did see a few in six inch heels and wonder how they were going to make it through the week). Likewise, the dozens of volunteers who do the majority of fashion week's grunt work- scanning tickets, cleaning the showrooms and setting them up again, dressing models backstage- wear a uniform of black branded t-shirt with black jeans and shoes.
Well, it's 2.56pm now, and the line in front of me has started to perceptibly shift forward. The doors are open on a black corridor. We're going in.
Further MBFWA reading:
Gail Sorronda at MBFWA
Strateas Carlucci at MBFWA