Despite more and more information about what causes us to gain weight, obesity and food-related diseases remain a serious concern. They are also taking a growing toll on public health budgets – both here in the UK and across the world more widely.
Over the past 20 years, governments have responded by designing and implementing a range of programmes to help us slim down and think about our eating habits. Most of these rely on education on nutrition and diet – primarily through labelling on packaging – in the hope that giving people the right information means they'll make the right choices and lead to lower obesity levels.
But despite some improvements in certain segments of the population (particularly high-income and well-educated communities), these policies have done little to halt obesity trends in other groups or the global problem.
So what can be done to change public behaviour when it comes to our food choices? From lack of motivation to a feeling that change is impossible, marketing and psychology provides a whole host of explanations as to why people struggle to change their habits. One important factor is that even given the information, people often find it difficult to understand. In other words, people may be willing to adopt a better diet and a healthier lifestyle, but can find themselves overwhelmed by complex, confusing and sometimes contradictory nutrition and diet information, especially from technically-worded food labelling.
So it isn't just the information that is important but the way in which it is conveyed. People may not be receptive to information that is mass communicated or filled with nutrition jargon they don't relate to. The information needed can be hardest to understand by those who need it most. This is particularly true for the low-income groups most at risk of obesity.
Personalising information
Until recently it might have been too costly and complex to design nutrition and diet programmes tailored for the needs of specific segments of the population. However, the development of mobile technologies and social media opens up a range of promising opportunities.
In a recent analysis, my colleagues Ben Lowe, Iain Fraser and I looked at the potential and limitation of digital health technologies on changing food consumption behaviours. The number of smartphone users across the world will surpass 2 billion by 2016, so this technology is especially important.
Digital health technologies can contribute to behavioural change by, firstly, making information more accessible; enabling information to be personalised to more suitable types and formats, and providing consumers with motivational messages or reminders based on their targets or goals. Specifically, they can be used for meal planning and generating shopping lists to tracking progress towards a weight goal. They can also help measure the nutrition value of alternative options in a restaurant menu or identify places where fresh and in-season food is sold.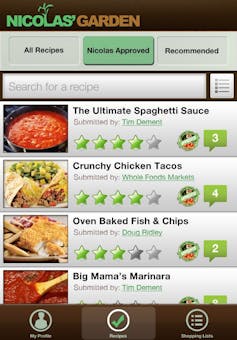 Some apps that already doing some of these things include MyNetDiary, Smart APPetite and FoodSwitch, which helps shoppers find healthier alternative products. Nicolas' Garden, an app and platform set up by an eight-year-old Nicolas Come, is a "by kids, for kids" resource which aims to inspire healthier living in a fun way.
But to deliver on this potential, we need to take into account the everyday language of the consumer. We also need to be able to effectively monitor the impact of these technologies on consumers. This requires innovative research methodologies that involve the end user from the very earliest stages. A key challenge is to reach out and embrace the communities that are more at risk. But we must also realise that some of the information collected or required is personal or proprietary, which may limit the potential development or effective impact of digital health technologies.
In short, the emergence and rapid growth of digital health technologies is a welcome tool in the arsenal of options available to tackle the global obesity crisis. These technologies could be a real boost for those wanting to improve their own health, well-being and happiness. They enable us to move away from general, dry and ineffective information messages towards personalised and goal-driven ones. This could have real-world benefits to individuals, communities, health professionals and society as whole.