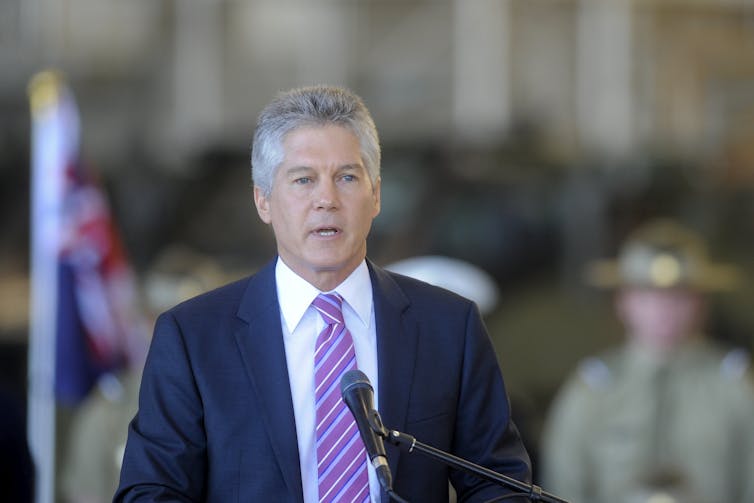 After trying unsuccessfully this week to put distance between itself and Tony Abbott on the national disability insurance scheme, the government is now trying to minimise the gap on defence policy.
With the release of the 2013 White Paper, Minister Stephen Smith declared: "The Opposition Leader has said that his position is no further cuts to defence spending, and he has an aspiration for 2% [of GDP spent on defence].
"When you open the forward estimates [in the budget] you will see no further cuts to defence spending, and an aspiration for 2% – it's called an outbreak of bipartisanship on defence spending."
Labor doesn't want an election battle about defence. Polling over the years has consistently shown this is strong Coalition territory. The government seeks a truce.
Having cut deeply last year, the government has sought to protect its back with a "modest" increase in the budget numbers, although we won't know the precise amount until Tuesday week.
The opposition would like to get more political mileage from defence but it hasn't the money to do much, so it is just making a bit of noise. "When you talk about the road back to 2% cent, you've got to have a plan. We've got a plan. They have not", opposition spokesman David Johnston said. The opposition is aspiring to a 3% annual real growth rate (without tying itself to a date); the government had that in a draft of the White Paper but it did not survive into the final version.
The White Paper is predictable, diplomatic about China (a change from its 2009 predecessor), and regionally focused. Here's the nation taking a deep breath as the troops leave Afghanistan, and refocusing its eyes on its own backyard.
But the government is still committed to big acquisitions, reaffirming the promise of a dozen submarines, to be built locally. South Australia is delighted. It has narrowed the options for these – no "off the shelf" overseas model, but rather an "evolved Collins Class" or a new design.
It is now also pledging to buy new 12 Growler aircraft to bridge the gap before the Joint Strike Fighter arrives (this was delayed earlier), rather than convert existing planes.
Mark Thomson, senior analyst with the Australian Strategic Policy Institute, describes the paper as a "solid outcome" but adds, "the big question is the long term affordability". It aspires to the 2% target but "we don't know what dollar amount that would be, when it would be achieved, and what other pressures there will be" that could affect its realisation.
Thomson points out that Britain had spent a lot on equipment but "it's now run out of money and can't operate it. It's had to ditch and mothball things and downsize its troop numbers". He believes there should be an intergenerational report to examine how Australia's finances might look down the track.
After giving Australia a bollocking over the language in the 2009 paper China has no reason to complain this time. Now that Kevin Rudd, with his suspicions of China, is not in charge, the sentences are softer. PM Gillard pointed to "continuity in our perceptions about China" but the change of nuance is obvious and sensible. The lecturing tone has gone.
The "Indo-Pacific" is a big organising concept in the paper. "A new strategic arc is beginning to emerge, connecting the Indian and Pacific Oceans through Southeast Asia", This is "predominantly a maritime environment with Southeast Asia at its geographic centre. The region's big strategic challenges will last for decades and their mismanagement could have significant consequences".
After its operations in Timor-Leste, the Solomon Islands and Afghanistan will come a period of transition for the Australian Defence Force. The paper warns against any repeat of the post Vietnam loss of expertise.
One opportunity provided by the overseas drawdowns will be to "enhance our presence in the north and north-west of Australia". The paper notes that last year's Defence Posture Review had found the rapid growth and scale of resource development there was relevant to force posture, though potential threats to resource and energy interests shouldn't be overstated.
With the small spending increase, and given the changing times and Australia's recent deeper military engagement with the US, the government will have likely done enough to neutralise the defence issue. Abbott was politically aggressive for a while after last year's cuts. But he knows that this is not a front-of-mind issue for Australian voters at the moment; there are lots of other things on which they would prefer money to be spent.
As for the Defence establishment, it might have bipartisanship but if Abbott wins on September 14 the bureaucrats will be knuckling down to produce yet another White Paper in 18 months.