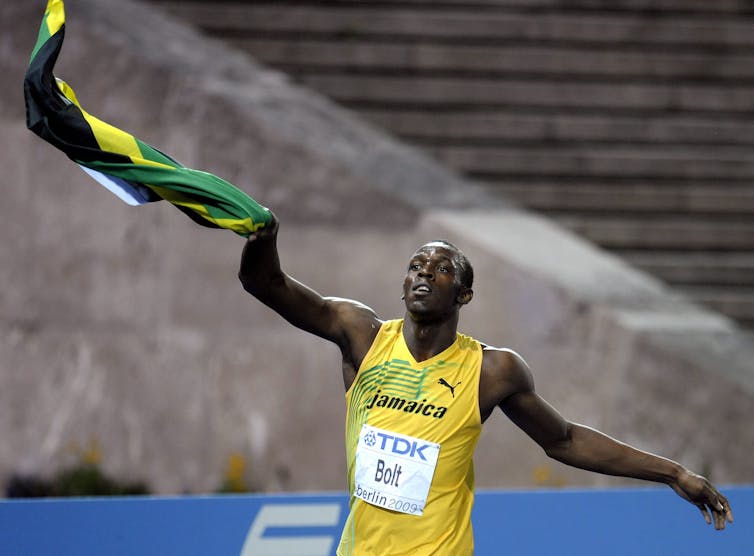 You write some papers on the mechanics of Bolt's sprinting and what happens? - You end up doing media stuff. The questions I'm always asked are "how fast can Bolt run" or "how fast can humans run 100m". I will go through the science answer at a later date. But here are few interesting facts to wet your whistle…
Bolt at the World Championships in 2009 ran 100 m in 9.58 s – with an average velocity of 10.4m/s and an average velocity during the 60-80 m split of 12.3m/s. He was running faster than 12m/s from 40m until he crossed the line.
He took 41 steps to cover the 100m (most sprinters take 45). His foot was on the ground significantly longer than either Tyson Gay or Asfa Powell – why is this important? I'll cover this in the science bit later. His average step length was 2.43m (of course this was much longer, about 2.8m, at top speed) and average stride rate was 2.15 strides/s (markedly less than either Gay or Powell).
His reaction out of the blocks (0.146s) placed him 6th, but by the first 10m split he was 1st and stayed there for the rest of the race. He covered 60m in 6.29s this was faster than the indoor 60m world record (6.39s) set by Maurice Greene – even when corrected for the tail wind.
But how fast has Bolt covered 100m with a rolling start? The second 100m of the 200m at Berlin in 2009 was covered in 9.27s and the last 100m of 150 m straight race in Manchester was covered in 8.70s.
So how fast can Bolt run and how fast can humans run? That will be part two.