A number of my friends have a fervour for Bruce Springsteen I have never been able to understand. I have always thought of his work as prosaic and literal. His songs teeter on the edge of despair at the lack of possibilities of industrial and post-industrial America. His music, and particularly his bracing, straining vocal performances, are what suffuse much of his output with a sense of hope.
Innately masculine, his work can walk a line between passion and bluster. Springsteen is the muscular rock god and man of the people, his empathetic tales of everyday travails and fuck-ups blasted reliably upon a road-worn Telecaster, and through a throat of steel. At the age of 64, he plays three- to four-hour shows that seem to spring from, and continue to generate in his fans, a belief in the redemptive power of rock and roll.
As a first-timer, I now realise, there's nothing that can really prepare you for a Bruce Springsteen concert. I cannot remember ever witnessing so much unbridled joy in a performer. At the Allphones Arena on Wednesday evening, Springsteen looked like he was having the time of his life, and this was contagious. He loves his music, he loves his fans, he loves his band.
Over a long show (three hours almost to the minute) there was never once the sense of going through the motions, of anything less than full commitment. Over eight dates in Australia so far this tour, he has played about 100 different songs.
This show opened with a stomping cover of the Easybeats' Friday On My Mind (other shows on the tour have opened with AC/DC's Highway To Hell) and he had his Australian audience salivating at the first line. In the second song, Springsteen made use of the special track that's been constructed around the general admission standing area to do semi-regular laps of honour, singing, high-fiving, receiving hugs, giving it out and lapping it up.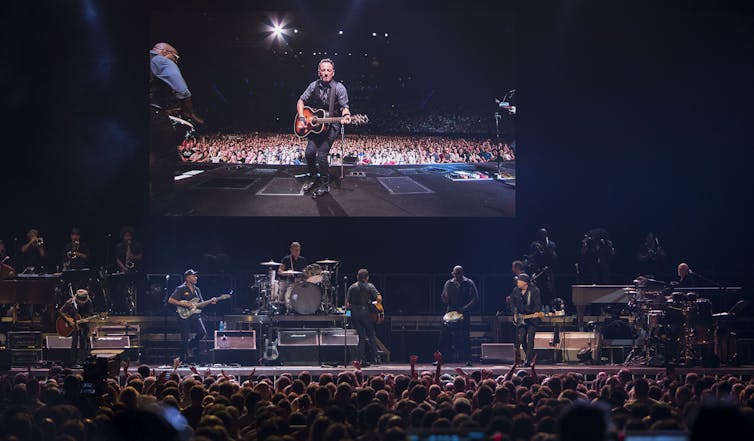 The E Street Band is 17-strong – brass, backing vocalists, two keyboardists, four guitarists … good old American excess in a way. New addition Tom Morello, of Rage Against The Machine fame, shines with his noisy, experimental approach to lead guitar, but fits in well with E Street regulars, most of whom who have been playing with Springsteen since the 1970s – Stevie Van Zandt and Nils Lofgren on guitars, Garry Tallent on bass, Max Weinberg on drums, and Roy Bittan on piano.
The group affords Springsteen a large variety of musical options, and the set roams from Phil Spector-ish pop to the blues, from the bright rock 'n' roll to The Ghost of Tom Joad, which authoritatively carries on in the tradition of Dylan and Guthrie.
Soul, rhythm and blues and gospel are also part of the mix. American Song is a broad church at which Springsteen worships fervently, and from which he gives sacraments to his devotees.
After another Australian cover – The Saints' Just Like Fire Would – we enter what in hindsight is a set-piece, but in the moment was totally beguiling. Eerie organ on the border of horror movie soundtrack and gospel service backed Springsteen's monologue, which began seriously but took a humorous turn when a computerised toilet seat was invoked as a manifestation of "the spirit".
This set up Spirit In The Night, a song from 1972, and rather than the jazzy shuffle of the original, this performance haunted like old blues in the vein of St James Infirmary. Springsteen finished the song on the catwalk at the back of the standing area, points towards the stage, and launched himself, crowd-surfing on his back for a couple of minutes.
The audience delivered him on a sea of upstretched hands. It sounds like a gimmick, but there was something magical about the moment. Upon arriving back on stage, Springsteen said:
Thanks for not killing me. It got a bit hairy there for a minute!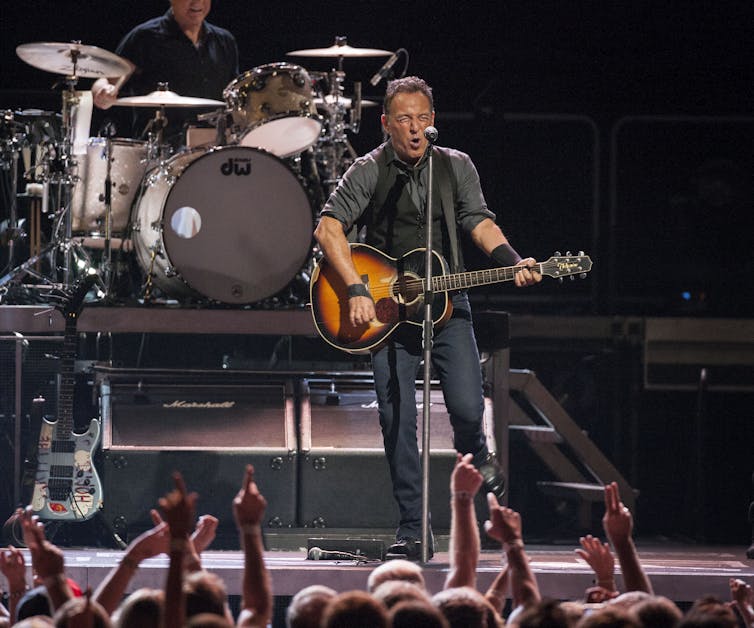 About 40 minutes in, Springsteen announced the group would play the Darkness At The Edge of Town album in its entirety. One wonders if the E Street Band has learnt the man's entire back catalogue.
At the two-hour mark, it seemed the set was over, but Springsteen barely left the stage before bouncing back with a cover of INXS's Don't Change, which is a great fit – simple chord progression, life-affirming lyric. While the crowd's adrenalin was peaking, he gave us Born To Run and Dancing In The Dark. The first suffers a false start – which Springsteen laughed off – the second featured various members of the audience being invited up to dance.
The show ended in an unexpected way with a solo version of Suicide's Dream Baby Dream on harmonium that developed from solemnity to passionate invocation. In a seamless gesture, Springsteen's live harmonium became a pre-recorded synthesised string part, and Springsteen walked to centre stage invoking the crowd to keep dreaming.
As with the whole show, the sleight-of-hand, the virtuosic showmanship is in Springsteen's innate sense of pacing, both in terms of navigating a set-list of nearly 30 tunes and in the ways in which individual songs wax and wane, hitting crests of energy and delivering the crowd to places both familiar and unfamiliar.

Bruce Springsteen's Australian and New Zealand tour continues at Hope Estate, Hunter Valley; Brisbane Entertainment Centre, Brisbane; and Mt Smart Stadium, Auckland.