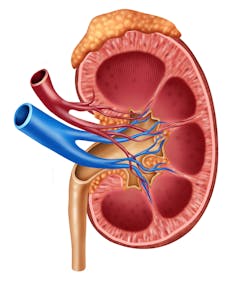 Made-to-order kidneys have come a step closer to reality, with scientists successfully bioengineering a functioning kidney, which was transplanted into a live rat.
In a study published in Nature this week, the team of researchers from the United States used a kidney from a deceased rat, removed all the cells that might provoke a rejection response and injected it with stem cells from the recipient rat to grow new functioning kidney that they then successfully transplanted into the recipient.
They found after transplantation and restoration of blood flow that the regenerated kidney was able to produce urine without signs of bleeding or clot formation and it continued to do so until the experiment was terminated.
In Australia, 606 kidney transplants took place in 2012, with a further 1,080 Australians awaiting a kidney transplant in December that year.
Associate Professor Sharon Ricardo, Senior Research Fellow and Group Leader of the Renal Regeneration Group at Monash University, said the epidemic of chronic kidney disease and end-stage renal failure represented a world-wide health-care crisis.
"Given the high morbidity of dialysis, the health-care cost and shortage of donor kidneys, there is an urgent need for further therapeutic options," Associate Professor Ricardo said.
"Some would dismiss the study, arguing that the technology is a long way off from clinical trials (because) these bioengineered kidneys have very low filtrational capacity.
"However, for patients with end-stage kidney disease on long-term dialysis their kidney function is reduced to 10-15% capacity. Dialysis also means a very low quality of life with high mortality rates.
"The possibility of transplanting bioengineered kidneys, although only marginally improving kidney function, may allow patients to no longer require dialysis thereby providing huge benefits to the community and healthcare system.
"In the long-term, off-the-shelf bioengineered kidneys that are seeded with human cells to manufacture functional units may pave the way for replacement organs. These kidney scaffolds could be sourced from human cadavers or perhaps even large agricultural animals such as pigs."
Dr Robyn Langham, Associate Professor of Medicine at the University of Melbourne, and Director of Nephrology at St Vincent's Hospitial in Melbourne, said this was a major advancement in utilising stem cells to bioengineer kidneys.
"Until now, growing functional kidneys from a patients own cells or other stem cells has been limited by the inability to recreate the highly complex structure of a kidney," Dr Langham said.
"These researchers have approached the problem by utilising the scaffold of fibrous tissue from donor kidneys, and then seeded the functioning cells onto the scaffold. The technology should develop rapidly from here as other researchers take up this approach helping to overcome further hurdles."
Dr Langham said while the new development had potential it was still a long way off replicating what a fully functioning kidney does.
"What the researchers have created is an immature kidney with limited range of function, and some other problems such as a high vascular resistances," she said.
"I suspect in its current level of development that implantation of the regenerated kidney into a human may create problems on its own at the moment.
"Having said that, the real breakthrough is the ability to create a scaffold, onto which stem cells can be seeded. Hopefully the regeneration of functional cells will improve over the coming years, allowing for newer more functional kidneys to be transplanted without the need for immunosuppressive drugs and without the need for dialysis."