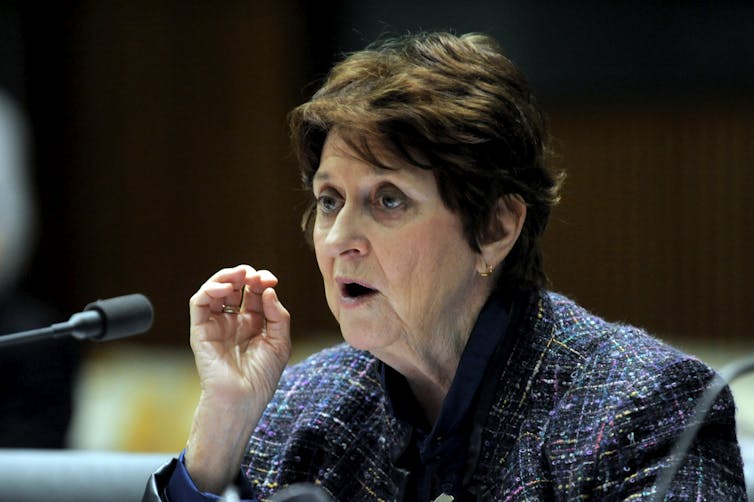 The debate about the government's expected lift of the pension age to 70 in the longer term has a big element of the glass half-full or half-empty about it.
Much of the discussion so far has focused on the negatives, including the trouble older workers would have getting or retaining jobs and the difficulties faced by manual workers with worn-out bodies, who presently are often on the disability pension until they qualify at 65 for the aged pension.
People are instinctively against the idea of a higher qualifying age (already due to go to 67 in 2023 under Labor's decision). Essential Research has found seven in ten people oppose raising the age to 70.
Now a study released by the Financial Services Council presents a more encouraging side.
Based on a survey of 500 older Australians done in November and 15 in-depth interviews with human resources managers and other senior executives of major companies, the research by Kreab and Gavin Anderson concluded that "a positive shift is underway in the way Australian employers view older workers".
Faced with the manufacturing downturn, the growth of the digital and services economies, the high dollar and an ageing workforce, "employers are increasingly viewing older workers as a reliable source of skills and experience". In sectors with skill shortages, "mainstreaming flexibility and strategies to retain older workers are becoming priorities for workplace management".
At the same time, older workers are reporting fewer impediments to employment.
Two years ago, 28% of employees aged 50-75 felt discriminated against on age grounds; this has fallen to 18%.
There are also greater opportunities to improve skills or acquire new ones, suggesting employers are more willing to invest in older workers. The proportion of older workers reporting being offered training or upskilling increased from 39% in 2012 to 67%, and almost all took up the offer.
In other findings, two thirds of older workers want to keep working regardless of their financial circumstances (53% in 2012); nearly four in ten want more flexibility in hours and remuneration, and more than four in ten believe they should be paid more than younger workers.
Those in the younger cohort of older people are more worried about their retirement finances than their elders. More than seven in ten aged over 65 believed they had enough savings to retire comfortably, but fewer than six in ten of the under 65s were satisfied they had sufficient funds.
"Overall, the influence of financial incentives on decisions of older workers to continue working appears to have eroded (20% down from 25%). This combined with the higher proportion of older workers willing to keep working as long as they are able regardless of their financial situation is a positive development given the broader economic imperative to encourage older workers to stay in the Australian workforce."
But still there are impediments to older workers, including residual age discrimination. "Older workers seeking to stay in the workforce need to maintain skills, be flexible and stay motivated," the study concluded.
A submission from the Australian Human Rights Commission to a Senate inquiry into technical and further education (TAFE) earlier this year concentrated more on the problems of older workers getting jobs.
"The high rates of insecure employment and prevailing discriminatory attitudes towards older workers mean that a large proportion of older job seekers have difficulty obtaining work," it said.
The Australian Bureau of Statistics had found the main difficulty unemployed people over 45 had in finding work was being considered too old by employers (accounting for 18% of cases). Research commissioned by the Age Discrimination Commissioner, Susan Ryan, found one in ten business respondents had an age beyond which they wouldn't recruit (the average was 50).
The unemployed over 55 are more likely to be long term unemployed than those who are younger.
The submission urged that TAFEs be asked to provide training that was specific to the needs of older job seekers, or older workers needing to refurbish skills.
Ryan told The Conversation the urgency of focusing on the employment needs of people over 50 was now much greater because of the expected lift in the pension age.
"It will focus attention on why so many over 50s are on disability pension or Newstart – and it's because , apart from age discrimination, they are not able to find adequate training for the jobs that are available."
In comments last week Treasurer Joe Hockey acknowledged the debate about working longer can't be just about the economy's needs – it has also to go to the needs of the individuals.
"We want to change attitudes in the business community, as well as to encourage business to start thinking about employing people who want to restart their careers after the age of 50 or 60," he said. This included restarts for people who'd been in a manual labour occupation.
Given the combination of demographics and increased life expectancy, longer working lives are inevitable. A budget announcement that the pension age will be raised should be accompanied by an outline for planning ways of handling the challenges that will bring.
POSTSCRIPT: As budget speculation continues Tony Abbott has refused to rule out that the government is considering a short-term deficit levy on higher-income earners. Abbott said the government would not squib tackling "the fiscal disaster that we have inherited". This would be done in ways that were consistent with the government's election commitments.
Shadow Treasurer Chris Bowen said a levy would break a promise: "Tony Abbott told the Australian people he would cut taxes and he specifically said he would introduce no new taxes". Full cabinet meets Monday on the budget.