As if the children of Syria had not suffered enough, the news of an outbreak of polio (poliomyelitis) signals that even more suffering lies ahead. The polio virus invades the nervous system and can kill or cause lifelong paralysis.
Wild poliovirus had not been detected in Syria since 1999. But on 17 October a cluster of 22 cases of "acute flaccid paralysis", the signature symptom of clinical polio, was reported from Deir Al Zour province.
Since then, wild poliovirus type 1 (WPV1) has been found in ten of the cases under investigation, all in children under the age of two years.
So close
The world has come tantalisingly close to eradicating polio. In the 1980s, the virus killed or paralysed around 350,000 people annually. Then Rotary International launched a global vaccination campaign, in partnership with the World Health Organization and UNICEF and more recently, the US Centers for Disease Control and Prevention and the Bill and Melinda Gates Foundation.
In 2012, there were just 223 cases in five countries. Only three countries – Afghanistan, Nigeria and Pakistan – have never interrupted transmission of the wild poliovirus.
But this year, there have been severe setbacks in the endeavour to eradicate a human disease for just the second time in history – the first being smallpox.
In Somalia, 180 cases of polio have been reported so far this year in areas controlled by the Islamic militants Al Shabab, which has banned vaccination. That outbreak has spilled into neighbouring countries with 14 cases in Kenya and seven in Ethiopia.
Worldwide, there have already been 332 cases this year – almost 50% higher than last year's total.
Types of vaccinations
There are three types of wild poliovirus: 1, 2, and 3. There have been no cases of WPV2 since 1999 and the last case of WPV3 occurred in Nigeria almost 12 months ago. All cases of polio this year have been caused by WPV1. In theory, this trend makes it easier to control the disease.
The most commonly used vaccine is trivalent oral polio vaccine (OPV) which produces immunity in the mucosa (soft tissue) of the gut to all three types, preventing the virus from entering the bloodstream. But newly developed monovalent vaccines more efficiently induce immunity against a single type.
The downside is that on rare occasions the live vaccine virus mutates into a paralytic form, is excreted from the gut, and may circulate in communities where immunity is low. This is called circulating vaccine-derived poliomyelitis and is the reason why most developed countries such as Australia have switched to inactivated polio vaccine (IPV). This injectable vaccine induces immunity in the bloodstream but not in the gut.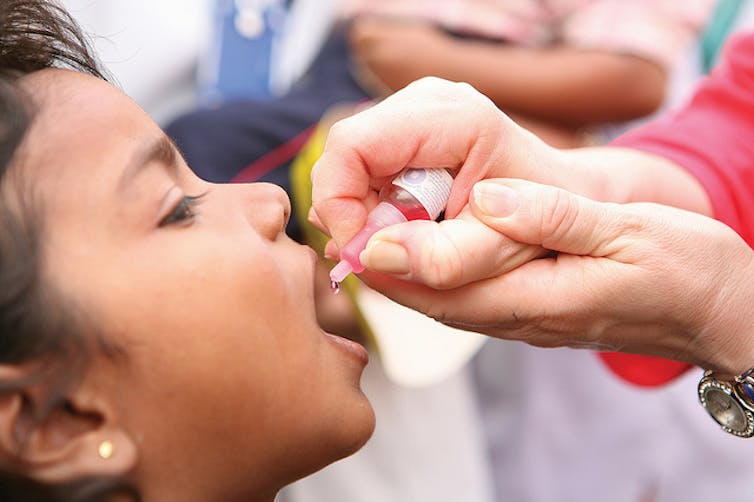 Latest outbreaks
Final genetic sequencing results are pending to determine the origin of the viruses isolated in Syria. The big surprise is that the source may be Israel.
Since February 2013, more than 100 samples of sewage have been positive for WPV1 in southern and central Israel, and more recently samples have tested positive in Gaza and the West Bank. There have been no cases of paralytic disease during this "silent" outbreak.
A stool survey in southern Israel found that almost 5% of Bedouin children and almost 1% of Jewish children tested positive for WPV1.
More than 95% of children in Israel, Gaza, and the West Bank have been vaccinated with IPV which explains the absence of clinical disease. But if children with WPV in their gut come in contact with children who do not have adequate immunity, they may transmit the virus which may then cause paralytic disease. Given the mobility of the Bedouins, the virus may spread through Jordan, northern Egypt, and quite possibly Syria.
This spread has implications for Australia, where the anti-vaccination lobby has led to many parents not vaccinating their children, making them vulnerable to virus.
Other than Israel, the remaining reservoirs of WPV are all in conflict-affected countries: Afghanistan, Northwest Pakistan (where the Taliban has banned polio vaccination in North and South Waziristan), Somalia, Northwest Nigeria (where the militant Boko Haram has murdered vaccinators), and now Syria.
One step forward, two steps back
Afghanistan has employed innovative methods to reach children in insecure areas and has had just eight polio cases this year, all in the Eastern region neighbouring Northwest Pakistan. While President Hamid Karzai has exhibited strong leadership holding provincial governors accountable for vaccination campaign performance, he has maintained a low public profile to avoid opposition to vaccination by anti-government elements.
The Grand Imam of Al-Azhar Mosque in Cairo (the Sunni equivalent of the Vatican) has issued fatwas demanding that Islamic mullahs remind parents that vaccinating their children is an obligation. This has had some effect on countering the anti-polio vaccination propaganda of the armed militants.
Nevertheless, armed conflict coupled with negative propaganda remains the major obstacle to achieving the goal of ridding the world of this devastating disease. We are facing a global public health emergency that demands action at the highest level of the world's diplomatic community.