A YouTube video appeared earlier this month with a suspiciously familiar Tasmanian candidate named "Fast Freddy". The video perfectly encapsulates Poe's law, which states that it is impossible to distinguish between satire and reality.
The mustachioed "man's man" recycles a number of well-worn Tasmanian political tropes: how the Tamar Valley pulp mill will pull the state out of its current woes; that development on Mt Wellington is essential to the tourism industry; and how minority government is the root of all evil. The satirical uncertainty fades away only when he calls for a feral cull for eco-terrorists.
Does Fast Freddy lean left or right? It's hard to tell. This symbolises the political androgyny and ideological void now found in Tasmanian politics ahead of the March 15 state election.
The lead-up to the election has been uninspiring and vacuous. The electorate seems bored too. Coverage has focused on a few slanging matches about the National Broadband Network (NBN): a debate where even the state Liberal Party has quietly agreed with Labor that the federal broadband plan is flawed.
Labor looks set for defeat and exudes an air of resignation. Psephologist Kevin Bonham predicts a parliament made up of 13 Liberal MPs, seven Labor MPs, four Greens and one representative from the Palmer United Party. Compared to the dynamism of previous campaigns, 2014 seems mundane and uneventful.
Benign issues
The dull state of affairs has come about because many of the traditional election issues have become benign. For example, the Greens have lost both lustre and enthusiasm as many of the divisive controversies around logging and the environment are seemingly resolved.
Forestry company Gunns – the enemy of Tasmanian environmentalists – is in receivership. And while the Tasmanian Forests Agreement has collapsed, the antagonism between groups such as the Wilderness Society and Timber Communities Australia has subsided.
As a result, Tasmania lacks the clear political divides that defined earlier decades in the state's politics. The Liberals are counting on the working-class vote to push them across the line. In contrast, pro-Green bumper stickers now adorn expensive cars in Lower Sandy Bay, despite its reputation as a Liberal stronghold.
Labor voters, now mainly drawn from Tasmania's large public sector, will reliably turn out in numbers, even if they are a little embarrassed by their party's performance. Veteran Labor candidate Julian Amos' slogan is "You can vote for Labor", sounding more like an apologetic excuse than a pitch.
Tasmania in perspective
Let's put things in perspective. The Tasmanian economy is in trouble, but not in terminal decline. It's certainly better than in the mid-1990s when unemployment reached 12.5%. Tourism is doing relatively well too, but business should admit that Tasmania is unlikely to be the "new" New Zealand.
Industry also faces this middling fate. Tasmania is never going to be a resources hub and enjoy the revenues streaming in, as is happening in Western Australia or Queensland.
Yet despite the constant anti-development incantation, less exciting industries such as zinc production chug along only kilometres from the centre of Hobart, polluting the Derwent River. This is an issue strangely absent from the public debate even though the Nyrstar works is the state's biggest exporter.
From this absence, one can draw the inference that many public political battles are largely symbolic rather than practical, serving the interests of parties rather than constituents.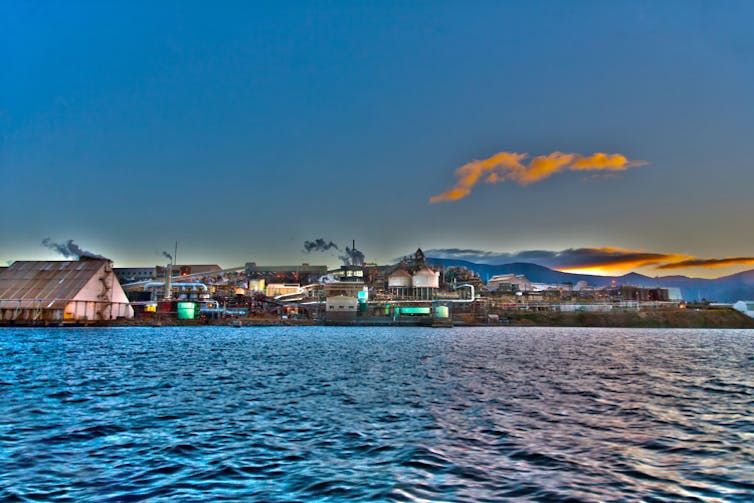 This emphasis is related to the secondary phenomenon of attention being drawn away from genuine ineptitude. For example, the courting of the information sector in the early 2000s was naive and costly. The A$40 million allotted to the "Intelligent Island" strategy has produced nothing of note thanks to an insistence of supporting connected locals rather than courting established mainland players.
The fallacy that "Tasmanians could make it on their own" was foolhardy, stemming from unsophisticated parochialism.
More nefarious empirical damage stemmed from the "constructivist pedagogy" of the Essential Learning curriculum, which was ditched after complaints it revolved around pointless jargon. Employers complained that they knew job candidates' views on "world futures", but not whether they could read and write. Here, the lofty idealism of Tasmania leading the way collided with avoidable incompetency. One teacher said that:
We're hoping it collapses before it does too much damage.
In some circumstances, the bureaucratic failures would be mildly amusing. But in a state with 49% functional illiteracy, it is reprehensible.
What's ahead?
In Tasmania, these substandard efforts persist because politicians continue to concentrate on the crude wedge politics based on decades-old ideas. This is to the detriment of those in true hardship in areas such as the state's northwest and west. At the same time, politicians feed the narrative that external forces are continually intervening and preventing Tasmania from becoming something much more.
A key obstacle in overcoming these failures is matching Tasmanian expectations with reality. The Tasmanian psyche revels in the idea of island exceptionalism. It needs instead to embark on a program of island pragmatism.
All things considered, we are seeing a "new boring" emerge in Tasmanian politics. On the whole, this is a good thing. At the risk of sounding pessimistic, Tasmania has for too long punched above its weight in politics for little gain.
In the end, this demands a realist approach that embraces a less exciting approach to politics. And this doesn't have to be negative. After all, Tasmania prides itself on its laid-back manner, its seclusion and its natural beauty. All it needs to do now is recognise its limits.