Scrolling through the Opposition Leader's Facebook page in the last few days, I was struck by two images in particular. The first thanks Australians for "giving us over 60,000 likes" (updated from an earlier "50,000 likes" image). The other shows Tony Abbott on his iPad, uploading a previous post in which he opts-in to the election debate now set for Sunday.
These are nestled among pictures of Abbott meeting 'ordinary' voters, links to campaign ads and a pledge to 'abolish the carbon tax'.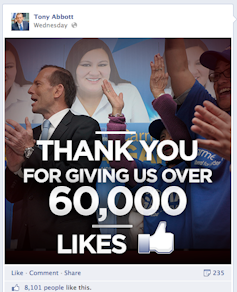 Social media can provide space for a different kind of political visibility; and a different kind of conversation between voters and elected officials. It also gives us a window into the issues and values that the parties believe are important to voters, and the strategies they are using to communicate those values. Some of these issues make it into mainstream media coverage, others do not.
The images on Mr. Abbott's Facebook page are designed both to highlight the authenticity of the posts ("look! Tony posted this himself!") and to reassure those engaging that the campaign notices and appreciates their support. These posts make online engagement metrics a marker of how the campaign is tracking and encourage potential voters to come out of the woodwork. In doing so, they promise, supporters will become part of an authentic grassroots movement.
The legacy of Kevin07 means that the Rudd campaign still holds the title for social media savvy, despite the 2010 campaign's lack of innovation (on both sides). Efforts like these, in the last few days, demonstrate that the Liberals are now taking social media seriously, mounting a challenge to the Prime Minister's perceived dominance of the domain of tweets and 'selfies'.
It is vital that we think carefully about the impact of the vast range of social media efforts and citizen responses in election campaigns. They form part of the larger media campaign, a system of interlocking parts in which coverage and commentary in traditional media responds to the interviews and press conferences given by campaigning politicians. Media reports and analyses of policy documents, prepared speeches and light-hearted quips must now also consider tweets, YouTube videos, blog posts and Instagram images.
The 2013 campaign will not be won and lost on Twitter or Facebook.
However, the inclusion of citizen voices and preferences in these spaces (or at least, the appearance of inclusion) is an increasingly central strategy for campaigns. Tony Abbott's Facebook page dips a toe in the social media water. As the campaign develops, perhaps both parties will move beyond counting 'likes' and asking voters to 'share' policy-related posts, and embrace more sophisticated and innovative ways of taking their message online.