The relationship between people and their places has never appeared more precious as we gaze in disbelief at the bruised, battered and burned Glasgow School of Art building by Charles Rennie Mackintosh. What is it about this building that inspires so much love and generated so many messages of condolences and offers of help?
Making buildings that generate that level of affection is our responsibility as architects. That is why we want to be architects. This may a defining moment for the Glasgow School of Art and a defining moment for us at the Mackintosh School of Architecture as the world's spotlight shines on us in an unexpected way.
Our hearts may be broken, but our spirits have not been quashed. I don't think there is anything to say about the Glasgow School of Art building that hasn't been said before – so I'll concentrate on personal reflections rather than objective findings. I take comfort in recalling my earliest experiences of this masterpiece of place, light and shadow.
My earliest memories were of a strong sense of climbing a site, rather than entering a building off the street. The building seemed to grow from its site, rather than be constructed on it. I was struck then (and still am) by the familiarity of its external appearance – not so different from the Victorian school buildings I had attended myself which were also built of stone and glass and enclosed by cast iron railings.
The Art School is a world class piece of architecture and an important transitionary building in the history of modern architecture. Yet it is not an icon in the contemporary sense of contrasting dramatically with its surroundings to announce its relevance and importance. It very much belongs to a particular architecture and construction culture while breaking away from that same culture to establish something new, innovative and modern.
The familiarity of its exterior made the surprise and delight of its interior even more powerful. I still recall that first sequence of climb, threshold, vaulted hallway and arrival at the first floor museum – a sequence of being spatially squeezed, then released – of light, dark, then light again. Mackintosh's architecture "seduces" rather than directs the visitor, who as a consequence can navigate the building easily by its logical plan and legible section. No signage is needed here. The atmosphere of walking along the corridors and up and down the fire stairs with light flowing onto smooth plaster surfaces or glancing off unexpected glazed tiles was very powerful.
Despite its initial similarity to Victorian school architecture, internally it exuded a complete lack of institutional character and this is something that was reinforced with every visit I made. It always felt as if it was a building that somehow belonged to the students and staff, not the educational administration running it. That was, and still is, a rare as well as a good feeling.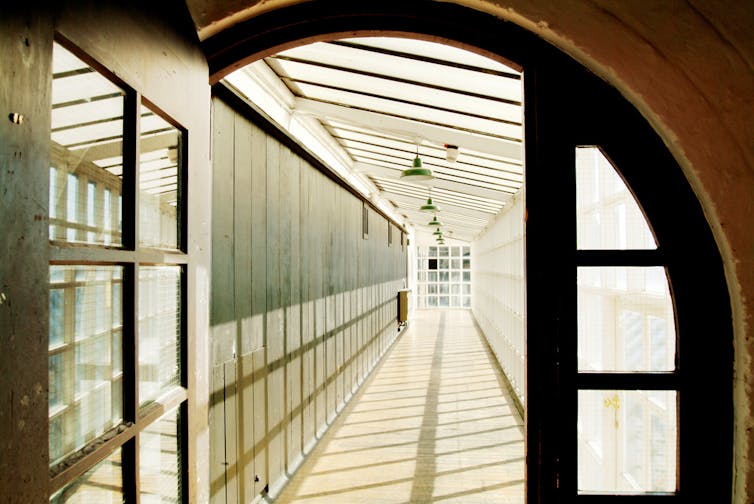 Apart from being an internationally renowned building, The Glasgow School of Art was my home for two years as a young architecture student in the mid-seventies before the new, neighbouring school of architecture building was built. The studio above the Mackintosh library was my laboratory and the library itself was my personal refuge when I was feeling down, drained or downright uninspired which, as architecture students know only too well, is rather often! It was the place where I often hung out, browsing through architectural journals with no specific aim. To the casual observer I would no doubt have appeared aimless, drifting with no destination or direction to my activity.
Yet those private, unstructured moments in the library often nourished me in a deeper way than even the best design tutorial did and after four years of intensive apprenticeship I was delighted to discover how pleasureable a certain type of studying could be. Those moments gave me the space to cast adrift from the hot-house atmosphere of the studio and make my own discoveries in a free-fall kind of a way. The atmosphere of Mackintosh's library is of course very conducive to private, secretive study and day-dreaming.
As Andy MacMillan has memorably written, the library was "the most intense architectural space in Britain, comparable only to Sir John Soane's museum in its complexity". A forest of a space, or perhaps more accurately a clearing in a forest, its form was not immediately revealed upon entering. It appeared to be assembled from a great many intricate pieces of dark-stained timber, metal and glass and there was an almost Alice-in-Wonderland feeling of being inside a jewellery box. Light was experienced in glimmers and glows, rather than in blasts and shouts.
The space seemed to want you to linger and take in its apparent complexity slowly. The eye was not allowed to rest on one corner but was constantly being distracted from one surface to another. And yet this was neither disturbing nor disruptive to the overall ambience of serenity and tranquillity. I always felt as if I was in some great and undiscovered attic space within a house which was full of books, rather than in a study area within an institutional library working towards an academic degree.
Gaston Bachelard writes, "the house shelters daydreaming, the house protects the dreamer, the house allows one to dream in peace". Mackintosh's gift to each generation of students who used this, his most important work, is to have created a building which encouraged us to daydream – a house that shelters the artists and allowed them to dream in peace.
This article is an updated passage from Christopher Platt and Roderick Kemsley's book Dwelling With Architecture, published by Routledge in 2012.