Traditionally, the work of marketers has been to encourage the shopper to buy. For decades, marketers have focused on understanding, segmenting, or empirically dissecting a product or brand's existing customer base to identify and grow the customer base.
But what happens when consumers choose not to shop? Once thought of as on the fringe, consumer resistance movements that eschew consumption are becoming increasingly mainstream. These so-called "inscrutable shoppers" are commonly anti-globalisation, anti-sweatshop, anti-chain store movements, and anti-technology.
Three distinct groups of consumers relevant to consumer resistance in retail have emerged: the ethical consumer, the green consumer and the activist consumer – each taking on in varying degrees the roles of citizen, activist and/or rebel.
These groups tend to be political and supportive of social movements against corporate dominance, including consumer boycotts (such as anti-corporate protests against Starbucks coffeemakers) and consumer co-operatives.
Mainstream examples can be found in the growing popularity of lifestyle movements which centre on finding a simpler and more sustainable lifestyle in response to the consumer society - "downshifting", voluntary simplifying, and slow living.
More extreme examples are the "dumpster divers", a consumer with a such a honed "waste-not" mentality that they are driven to retrieve discarded food items.
But what all these movements show is the importance and relevance of anti-consumption practices in the construction of modern consumer identities.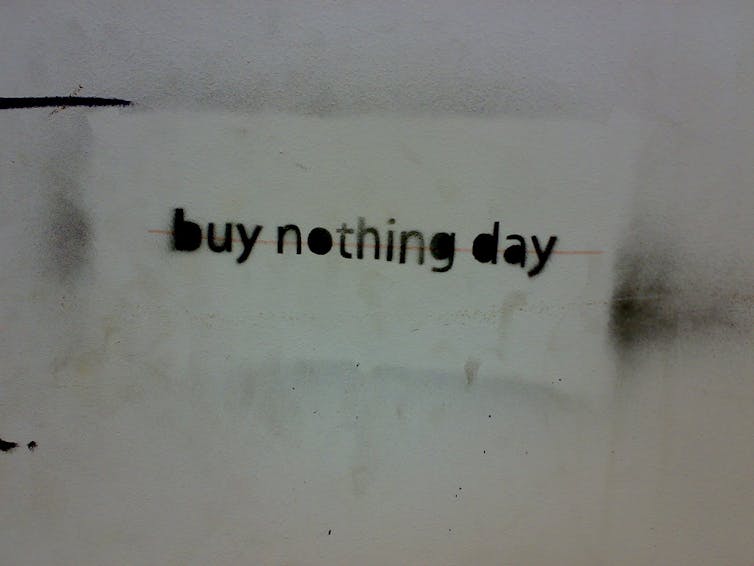 So how should retailers react? Historically, consumer trends such as these have evolved quite slowly, providing retailers with the opportunity to analyse the implications and make informed decisions.
But against the backdrop of high levels of social turbulence and fragmentation, and with the advent of online communities and social networks, the pace and nature of trend cycles has changed dramatically.
Not only are trends emerging more rapidly, but accelerated social diffusion and instantaneous communication among consumers mean rapid information exchange.
For example, within weeks of the Deepwater Horizon oil spill in the Gulf of Mexico, the Facebook group Boycott BP reached 34,000 members. A year on from the oil leak being capped, it has reached 800,000.
Such speed of information transfer and ease of consumer response is unprecedented in human history. As a result of such change, consumers are capricious, with the individual consumer constantly seeking new forms of interaction with retail.
Retailers globally have been confronted with consumer resistance to traditional retailing models through the advent of online coupons – Groupon has been touted as one of the fastest growing companies in history, with sales exceeding $500 million within two years of inception.
In this instance, consumers are resisting full-price offers in favour of seeking "daily deals" through online providers and are increasingly sharing these experiences with their social community.
Although a challenge, consumer resistance can provide opportunities. For instance, during poor economic conditions, some retailers are driven to develop innovative strategies around offering cash or a trade-in in exchange for unwanted electronics.
During tough economic times, Amazon was able to re-engage consumers in the purchase process by offering gift cards in exchange for second-hand video games. The gift card idea was ingenious as, rather than paying cash for used games, Amazon re-engaged consumers to purchase more from Amazon.com.
Savvy retailers can meet specific challenges, such as consumer boredom. For example, the mall-based family centre KidZania entertains and educates children by immersing them in a simulated city where children role-play as citizens.
T-shirt designers Threadless cater for the consumer who wants to co-create the product; similarly Shoes of Prey allows customers to design and customise their own shoes.
Others have responded in a way that has maintained or increased their customer base. For example, luxury lingerie brand La Perla has embraced the "slow shopping movement" to enhance the customer experience by engaging them in the story of the product during a leisurely online or store visit.
In drawing out the implications for retailers, we propose a number of strategies by which retailers can connect and engage with today's shopper, ranging from the offer of edutainment within the physical store environment, to a holistic strategy of thinking global, acting local.
Other technological advances mean that retailers are increasingly able to connect with and engage consumers across multiple channels, and to involve consumers in the communication and creation to mitigate consumer resistance.
Sean Sands is co-author of Inscrutable Shoppers - consumer resistance in retail with Stella Minahan and Carla Ferraro.