The Liberals have the star candidate but Labor has the potent scare campaign, as both sides slug out the final week in Kevin Rudd's old seat of Griffith.
Since Rudd's resignation, a couple of developments have brought specific issues into sharp focus. Speculation about a possible Medicare co-payment has played to the ALP's strengths, while last week's allegation of corruption involving Construction, Forestry, Mining and Energy Union officials has been fodder for the Liberals.
Tony Abbott wants to make this a contest of personalities. Not his or Bill Shorten's, but Bill Glasson versus Terri Butler.
At the Liberals launch on Saturday, Abbott devoted his whole speech to the qualities of Glasson, ignoring wider issues.
"I've almost never met a man who is turning his back on so much to go into the Parliament of this country," he enthused. "We know this man, we love this man."
Abbott is elevating the highly respected eye doctor to the edge of sainthood, but Labor acknowledges his political fire power too – it came through when he scored a 5.5% swing against Rudd in September and in polling for the byelection. One ALP source privately describes Glasson as the "most popular politician in Queensland".
Nevertheless, a week out, most Liberals don't think he'll make it. One Liberal National Party source says it would need "a wet sail" to get the 3% swing for victory.
But the Liberals have been given some handy ammunition with the corruption allegations. Labor's Butler is an employment and industrial lawyer with the firm Maurice Blackburn. Her clients have included (among many others) the CFMEU, although she has not acted for its construction division since before being employed at Maurice Blackburn.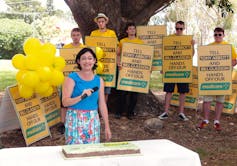 At 36, with two young children, Butler falls into a good demographic for the electorate (something Glasson, 61, can't match; he plays on "experience"). But a husband who works for the Australian Workers' Union reinforces the image the Liberals want to promote – Labor can't get away from the unions.
At Saturday's launch deputy Liberal leader Julie Bishop described Butler as "a creature of the unions", who'd be their "puppet". In a swipe back at Bishop, who formerly practiced law, Butler says: "I'd rather have had my clients than hers. I haven't represented companies defending asbestos claims".
LNP state director Brad Henderson says Butler's union backing shows in Labor's greater presence on the ground than in September. Pressed about help from the CFMEU, Butler tells The Conversation she is "getting help from a lot of unions" and that from the CFMEU is "about the same as everybody else".
She's had assistance of a different kind from publicity surrounding a recent submission to the government's Commission of Audit from a private health think tank, written by a one-time Abbott adviser, urging a Medicare co-payment for bulk billed GP consultations. The speculation has coincided with Medicare's 30th anniversary, which Butler and supporters marked on Saturday with a cake at a park in a suburb not far from the Liberal launch.
Abbott sought to bat away questions on the issue. "Nothing is being considered, nothing has been proposed, nothing is planned." Asked what would be wrong with a co-payment, Abbott was brusque. "I've dealt with this issue. Now are there other questions?"
For Labor the spectre of a co-payment is not just a strong campaign tool in itself but a way of reinforcing its message about the cuts Queensland Premier Campbell Newman has made and what may lie ahead federally after the Audit Commission.
Send a protest, Labor is saying; fire a warning shot.
Butler says: "People are really concerned about health care; they don't trust the LNP on health." She says Abbott's "no plans" language hasn't ruled out a "GP tax. We know what that means. It's not a categoric ruling out. It's an attempt to fool the electorate."
Glasson reinforces Abbott's message that the byelection should be all about him. He says he would be a strong voice on the side of the parliament that has the power, and that this isn't a general election. "One day post the election, Tony Abbott will still be the prime minister of Australia and the LNP Government will still be in power." Other matters, the cost of living (including the need to get rid of the carbon tax), are tucked in behind this central pitch.
Both sides continue to insist the contest is tight. Labor polling is believed to show the ALP a fraction ahead, although its primary vote is lower than in September and Glasson's is up.
With preferences crucial and Glasson not doing well in that hunt, he is adopting a very different tone to the Abbott government's usual stridency towards the Greens.
At his joint news conference with Abbott on Saturday he made a direct and conciliatory appeal to Green voters: "If you want to put Green [number] 1 so be it, but where you put number 2 is really important and then ask the question 'do you want Bill Glasson or do you want his Labor opponent?' because a Green candidate is not going to get up. So I suggest to my Greens that are listening – come with me, trust with me and I've a fair environment rub on my shoulder. I believe in the environment and I want to work with the Government to make sure that environment in this country and also overseas is better."
Glasson says he hasn't got a feel for where things are. A huge number of those crucial swinging voters who will decide the result are undecided – not yet engaged, he says. "This [last] week they will engage".
Victory would be "a big ask. My first barometer of success is to hold my vote". He would be "very disappointed" if it went backwards. "I'd be ecstatic if I could increase the vote. It would be historic to win."
Butler describes the byelection as "emblematic" for both sides. Abbott and Labor leader Bill Shorten (who spent most of a week there earlier in the campaign) will visit in the next few days, as the indications are that there are people still to be swayed.