Learn this labyrinth, Holly … so if you ever needed to, you could navigate it in the darkness.
So Jacko, Holly Sykes's "freaky little brother", says as he hands his sister a "diabolical", nine-circled labyrinth drawn on the lid of a Dairylea cheese box. From this point on, we find ourselves again in David Mitchell's unique and unsettling realm of fantasy – one located a bit too close to home.
Mitchell excels himself in this much-anticipated sixth novel, long-listed for the Booker Prize. The book stretches all of its coordinates to the limits as it spirals through time and place. We're taken from Thatcherite Britain and war-torn Iraq to contemporary Columbia, Shanghai, Australia and Iceland, back to 19th century Japan and Russia. Not to mention the seven millennia of the Noongar people, through which one character has "sojourned".
Boundaries of all kinds are profoundly breached as the tangible everyday world of human lives (the "bone clocks") is permeated by the fantastical, atemporal existence of the Horologists (the goodies) and the Anchorites (the baddies). Their battle entangles the real world in their "script". Perplexing as these narrative complexities may be, we come to understand their significance more fully as the novel progresses.
With narrative ingenuity and philosophical and intellectual daring familiar to readers of Ghostwritten and Cloud Atlas, Mitchell again weaves a tale of tantalisingly interconnected characters and events that include familiar characters from earlier novels. Connections are paramount to his fictional landscapes – personal and intimate connections, but also geographical, political and philosophical. It is through untangling these connections that we tap into the underlying concerns of the novel – the effects of voracious capitalism on the environment and on human existence.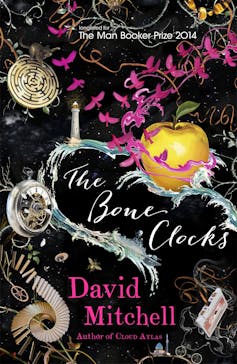 At the heart of the story is Holly Sykes who, at the magical age of seven, begins to hear voices in her head. She calls these the "radio people". This ability returns throughout her life and is bound up with traumatic experiences, not least the unexplained disappearance of her younger brother, Jacko, which Holly witnesses in a kind of hallucinatory nightmare.
These experiences bring her into contact with a series of male characters who tell their own stories, key to which is their connection with, and love for, Holly. These characters are, to start with, recognisable to the reader. First there's Hugo Lamb, Cambridge student and scholarship boy (who first appeared in Black Swan Green). And then there's Ed Brubeck, a reporter in Iraq and a "war-zone junkie".
It's in Crispin Hershey's story that Mitchell's wit is sharpest. Once "the Wild Child of British Letters", Crispin's professional and personal lives are now both on the slide, a come-back novel always in the offing as he resists being ousted from the literary limelight by younger writers. Scathing, cynical and desperate, Crispin voices a satiric rant about the literary world and the money, power and questionable influence that drives it.
But Mitchell easily, eloquently bats away anxieties about the future of the novel with his invigorating reinvention of the form. This is powerfully brought home to us in the following section. Appearing earlier in Holly's life, Dr Marinus returns to tell of his experience as a Horologist, recounting some "metalives" familiar to readers of The Thousand Autumns of Jacob de Zoet and shifting and reshaping our readings and understandings of the earlier and present novel in the process.
With time a main preoccupation, each of the six sections is specifically dated. Time, we are reminded, moves forward inexorably. It is impossible to halt the escalating pace of change. We are provoked to consider some fundamental and disturbing questions about our globalised world and our place (and time) in it.
Framed by Holly's short-lived teenage rebellion in the mid 1980s and her angst-ridden experience as a grandmother in a dark and dystopian future only 60 years later, the novel brings into sharp focus the devastating effects of vampiric capitalism gone mad. As Holly reflects:
My generation were diners stuffing ourselves senseless at the Restaurant of the Earth's Riches knowing – while denying – that we'd be doing a runner and leaving our grandchildren a tab that can never be paid.
So it is a theme of insatiable greed and the deferred consequences of voracious consumption that comes through in the end. This has been anticipated from the beginning in one of Mitchell's many literary allusions. Christopher Marlowe and the tragedy of Dr Faustus are brought to mind by the name of Holly's home, the Captain Marlowe pub on Marlowe Alley. Faustus's greed and lust for immortality and power led him to make a pact with the Devil, ultimately paid in full. A debt Mitchell's imagined dystopian future suggests we also owe.
But this fantastical, paranormal, labyrinthine and yet terrifyingly real novel is not without hope. The characters continue to look forward into the future with fortitude.
And we can also take hope from the fact that this novel is just one instalment of the "uber-novel" Mitchell says he's creating, with Marinus set to return a few novels hence. But what happens in the meantime? Only time will tell.