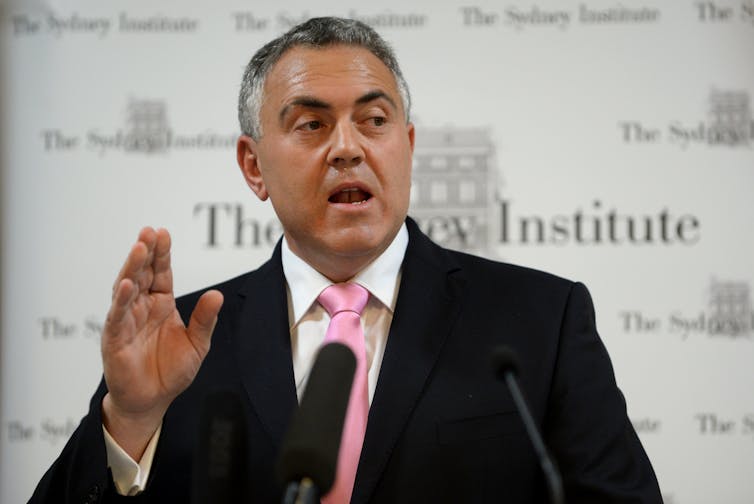 A week after John Howard said Australians wanted their reform to be "fundamentally fair", Treasurer John Hockey has accused those complaining of the budget's unfairness of using "1970s class warfare lines".
The much-criticised budget is feeding into a wider debate about inequality in Australia.
Wednesday's Essential poll found 43% of voters believe Australian society is less equal and fair than 20 years ago (28% say it's more so). About five in ten believe equality is very important to Australian society; for fairness, it is around six in ten.
When people were asked to select areas of government policy most important to fostering equality, access to affordable health care (60%) was way out in front. Health has taken a big budget hit.
Addressing the Sydney Institute on Wednesday night, Hockey waded into the argument about fairness and inequality.
"Criticism of our strategy … has drifted to 1970s class warfare lines, claiming the budget is 'unfair' or that the 'rich don't contribute enough'," he said.
Comments about inequality in Australia were "largely misguided", in relation to both history and this budget. The average Australian household was almost $290 a week better off in real terms than two decades ago. "While much focus has been on the 'rich getting richer', the more accurate story is the fact that everyone is getting richer as a result of economic development."
The "misguided cry" that the budget was unfair and exacerbated inequality was made on the claim that not everyone was asked to contribute equally and that in the future some would pay more for government services or receive less in payments.
"In our view it is the responsibility of government to provide equality of opportunity with a fair and comprehensive support system for those who are most vulnerable," Hockey said. "After that it is up to individuals in the community to accept personal responsibility for their lives and their destiny."
It was "fair" to expect those with the capacity to pay to "accept more personal responsibility for their cost of living, the cost of raising their children, their health services and their education". It was "unfair" to keep a system intact that was not encouraging participation and personal responsibility. The current welfare system was not well targeted to those who really needed assistance.
Hockey said that according to the OECD Household Income Survey, Australians in the lowest 20% of income had the highest reliance on government for income of any country in the world. About one in eight households (13%) relied entirely on the government for household income.
The average working Australian – be they a cleaner, plumber or teacher - was working over one month full time each year just to pay for the welfare of another Australian, Hockey said, asking: "Is this fair?"
"As the world becomes more competitive and global, as information becomes more immediate and comprehensive, as disruptive influences from outside our immediate community become more powerful, governments will inevitably have less influence on people's lives," he said.
"In health, it is more medical research combined with new technology and better global partnerships that will deliver better health outcomes.
"It education, it is tomorrow's employer who is driving the new standards in curriculum rather than public policy.
"In welfare, it is self-sufficiency and personal empowerment that will help people off welfare and into productive employment.
"It is not the job of government to manufacture the outcome from public policy in such a way as to ensure that every person is an equal beneficiary notwithstanding their personal effort or circumstances.
"Some observations of inequality are based purely on outcomes with no regard to efforts or circumstance.
"Our duty is to help Australians get to the starting line, while accepting that some will run faster than others," he said.
"In striving to achieve equality, it is not the role of government to use the taxation and welfare system as a tool to 'level the playing field'," he said.
"We must use the levers of government to help those who are vulnerable and frail."
Beyond that: "We must reward the lifters and discourage the leaners."
Earlier on Wednesday, very different views about equality in Australia, fairness and the budget were put forward.
A report commissioned by Australia21 (a body that promotes debate about major issues), in partnership with the Australia Institute and ANU, argued that inequality is rapidly increasing, with the benefits of economic growth going disproportionately to the already rich and super rich, and equality of opportunity under mounting threat. Over the last decade, the richest 10% enjoyed almost half of the growth in incomes, with the richest 1% getting 22% of the gains – this was not just unfair but evidence was growing that it was counter-productive to long-term prosperity.
Australia was one of the lowest-taxing countries in the industrialised world and its welfare spending as a proportion of GDP was among the lowest in the OECD, the report said. Many government benefits had barely kept pace with inflation over recent decades and the unemployment benefit (Newstart) was the lowest in the OECD.
Launching the Advance Australia Fair? report, one-time Liberal leader John Hewson, a "dry" economist, said there is a growing electoral awareness of the issue of inequality, and a growing constituency for change. "The electoral backlash was driven by the obvious inequity of the budget measures," he said.
Hewson suggested some measures for achieving more equity: targeting the rich on superannuation, empowering university students with a voucher system, scrapping the fringe benefits tax car concession. Then of course, the proposed paid parental leave scheme could be cut back.
"I know the [Abbott government] promised no surprises," Hewson said. "But what better surprise than to act decisively to reduce inequality in so many aspects of our society?"
No one is holding their breath.
Postscript. The government has had one piece of good budget news. Clive Palmer announced his Senate team will support repealing the carbon tax if energy companies are required by law to pass the savings on to customers. But his senators won't support the mining tax's repeal unless the government stops plans to cut welfare payments to orphans of soldiers killed or badly injured during service.