One of Scottish Labour's problems is that its most talented politicians prefer to be in Westminster rather than Holyrood. The reverse is true for the Scottish Nationalists.
However, there are exceptions and Scottish Labour leader Jim Murphy is one of them. He gave a good account of himself during the Scottish leaders' debates.
Scottish Labour has a mountain to climb. If some forecasts play out, it will be effectively wiped out when the Scottish Nationalist Party takes more than 50 of the Scottish seats in May.
But this won't necessarily come to pass. In many seats Scottish Labour is better set up for the all-important ground war.
For Jim Murphy the debates offered a chance to directly challenge Nicola Sturgeon – his first, since he doesn't have a seat in the Scottish Parliament.
She is a formidable opponent, but in general he gave as good as he got. With a more left wing tone to Scottish politics, Murphy used the first debate to emphasise his radical credentials. He promised that Labour would end the need for food banks, impose a 50p rate of income tax for higher earners and introduce caps in the private rented sector. But what appeals to Scottish voters may not play well down south. That's Murphy's bind.
In the second debate, Murphy pointed out that very few Scottish homes would have to pay Labour's proposed mansion tax. Although the money raised would mostly come from London and the south east, he noted, it would be used to pay for more Scottish nurses. Great news for Scots but an assertion that is hardly likely to go down well in the marginal seats of London.
In the first debate he had claimed that a Labour government may not have to make any cuts at all. This contradicts statements by Ed Miliband that public spending will have to be reduced every year.
He also promised to keep the Barnett formula, which was devised as a means of channelling funds to Scotland in the 1970s by the then Labour Government. Before he died last year, Joel Barnett, who devised the formula, said the pledge to keep using it was a "terrible mistake".
Striking a more balanced note, he promised an end to the "failed austerity experiment" and exploitative zero-hours contracts. Those people who earned the most should be asked to pay a little more, he added, arguing that "you can't have social justice on the cheap". This is a theme that speaks to Labour supporters all over the UK.
Whether all this will improve Labour's standing in Scotland, remains to be seen. It has become a difficult battleground for Labour because its main opponent may well be the party that enables it to hold on to power after May 7, even if the most recent opinion polls show Labour edging ahead. It needs to battle the SNP now and work with it later.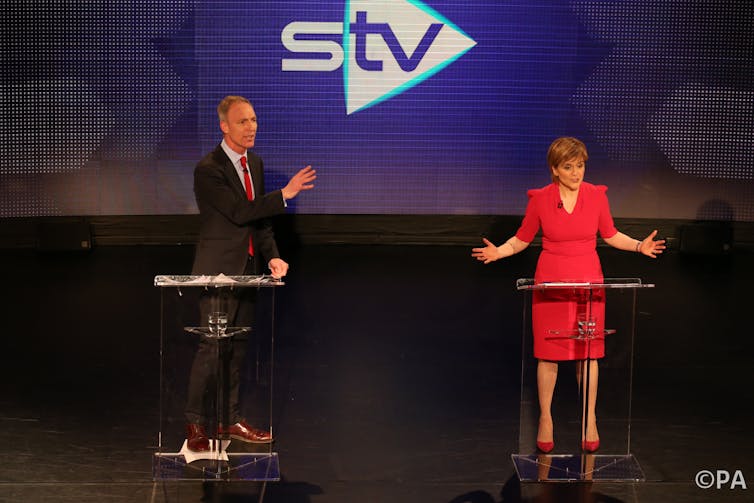 Murphy's key message throughout the debates was that Labour has a better plan than the Conservatives and there is a choice of just two people as prime minister – David Cameron or Ed Miliband. Where Sturgeon fits into the picture isn't entirely clear.
Many Scottish Labour voters are also angry at Labour for betraying them by siding with the Conservatives in the referendum. Some believe that the Scottish Nationalists would be a more effective voice for Scotland.
The challenge for Murphy is that he has to convince voters in Scotland that Labour would be as effective a voice for them as the SNP without alarming voters in England, who might fear even bigger transfers of funds to Scotland. He is walking a tightrope.
For too long, voters in safe constituencies were taken for granted. It may be too late to win those back who were lost while Labour wasn't paying attention in what often looked like rotten boroughs.
If Labour does have to govern with the support of the SNP, the real challenge will not be Trident. Sturgeon has made it clear that her party would vote against renewing the nuclear weapon system but that will not bring down a Labour government.
The challenge will be Sturgeon's call for real annual increases in public spending. That's a message that many people in the Labour Party find attractive – and it of course plays well with voters. But it would cut across Labour's promise to balance the books – making it a dangerous promise to make, particularly for Jim Murphy.