UPDATE: Dzhokhar Tsarnaev was formally sentenced to die for the Boston Marathon bombing. "No one will remember your teachers were fond of you," Judge George O'Toole said in his comments before the sentencing. "What will be remembered is that you murdered and maimed innocent people."
We asked a panel of scholars to examine the implications of the trial and the final sentence when it was first announced in May.
---
The jury has spoken. Dzhokhar Tsarnaev now faces execution for his role in the Boston Marathon bombings. The sentence was announced on the afternoon of Friday, May 15, in federal district court in Boston after a grueling months-long trial that alternatively depicted Tsarnaev as a coldly calculating killer and a malleable youth influenced by his older brother. The jurors came to their decision after deliberating for about 14 hours over the past three days. Tsarnaev's case will be automatically appealed.
We asked a panel of scholars to examine the implications of the trial and the final sentence.
Will an execution prevent future terrorist acts?
Jeffrey Kaplan, University of Wisconsin–Oshkosh
On April 8, Dzhokhar Tsarnaev was found guilty of numerous counts including the use of a weapon of mass destruction – albeit a homemade and poorly deployed one – relating to the attack on the runners and spectators at the Boston Marathon. On May 15, he was sentenced to die.
Now that his fate has been determined, the media and the public will shift its focus to the debate on the efficacy of the death penalty as a deterrent to violent crime.
In this case, however, as in other instances of deadly violence related to contemporary terrorism, whether the defendant lives or dies is of little import.
In the lion's share of lone-wolf strikes that are motivated by conflicts occurring far from American shores, perpetrators, aspirants and wannabes alike are willing to embrace death and see prison as a form of matriculation to greater heights of the terrorist trade.
A more efficacious use of media space would be to better understand the populations – primarily second-generation immigrants and recent converts – who are susceptible to calls for lone-wolf strikes emanating from their homelands, or as is becoming increasingly common, by non-state actors such as ISIS or al-Qaida.
Such lone-wolf or autonomous cell attacks which take place in their countries or place of residence are particularly effective in that domestic lone wolves operate largely under the radar of the state. Security agencies are able to track communications from such potential homegrown terrorists through their participation in on-line bulletin boards or through fan letters to foreign terrorist figures (not too bright but in many cases all too true).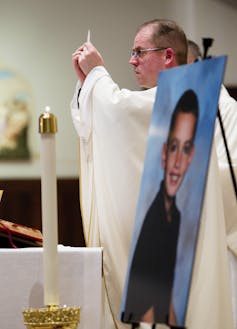 Dawa (translated as the "Call") communications are ubiquitous. Most have to do with urging Muslims to live more in accord with Islamic law and practice. Urging Muslims to wake early enough to perform the five daily prayers is a common example of Dawa. Other forms of dawa are not so benign.
Al-Qaida militants published an attractive on-line glossy English language magazine titled Inspire, as a form of violent dawa.
The first issue of the journal contained a helpful guide to potential lone wolves playfully titled "Make a Bomb in the Kitchen of Your Mom," which was said to have aided the brothers who carried out the Boston bombings. They were also reportedly heavily influenced by the virtual reality environment of Second Life. There, a Finnish sympathizer with the Chechen cause created the Kavkaz Center, where avatars operated by members of the dissident Chechen community interacted. Their story is brought to life by the filmmaker Pekka Niskanen's Virtual War documentary.
Tamerlan Tsarnaev visited the Kavkaz Center, and was presumably further radicalized there to the extent that the Inspire article could have an impact.
Greater emphasis on deterring terrorist attacks through better intelligence focused on the world on-line calls for violence, which impact most effectively on young converts to Islam or second-generation immigrants to Western countries, could render the debate on the death penalty moot.
---
That's our court. Open it up.
Christopher B Daly, Boston University
Now that the trial of Dzhokhar Tsarnaev is over, we can see one big flaw in a judicial proceeding that was otherwise, on the whole, admirable.
No matter how well conducted that trial was, it pointed up a major shortcoming in our system: the lack of TV cameras in federal courts.
In my career as a journalist, I have covered all three branches of government. The federal judiciary is the most opaque of them all. At every level, the federal courts are the least accessible to the average citizen and the most resistant to change.
This is regrettable, because it means that when an important case is tried in a US district court like the one in Boston, the only way to see it is to fight for one of the small number of seats available in the courtroom.
The ban on televising proceedings gives the unnecessary impression to the rest of the world that our courts are not truly open. Any closed proceeding is inherently suspicious. If our court system is to be seen doing justice, then it must be seen.
Most of our state courts have allowed TV cameras for years, with no detrimental effects. We should be an example for the rest of the world in having a truly transparent judiciary.
Those courts belong to the American people. We fund them, and it is ultimately up to us to decide to open them up. Tell the Congress: Let us all see what goes on in our courts.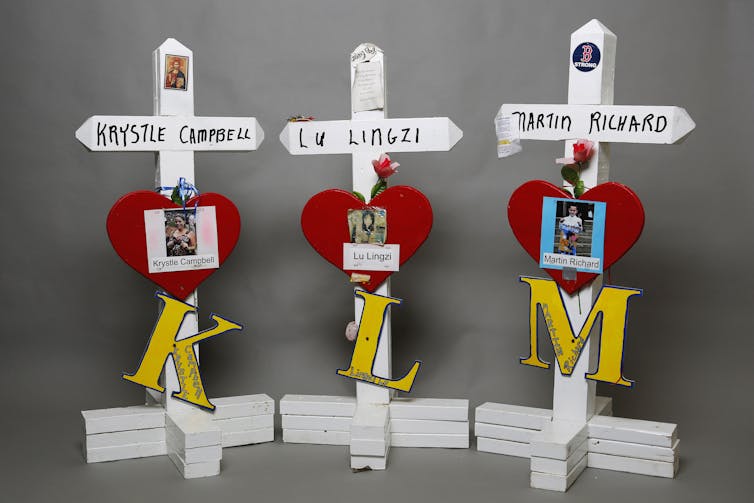 ---
Looking away from a perpetrator can be a life-affirming choice
Jody Lynne Madeira, Indiana University-Bloomington
After a brutal accident, a murder or traumatic event, often family members and survivors stress there is no "closure" but affirm that one can move forward.
Part of moving on, however, involves putting a perpetrator's presence into perspective.
Trials are events where it is appropriate for victims to look at a perpetrator and to demand accountability. It is often hard to avoid news of the perpetrator during arrest, trial, sentencing and execution; he can become a ubiquitous and often traumatizing magnet for media attention.
Coverage of a trial often grapples with whether the perpetrator is remorseful, illustrated by the reports of both Tsarnaev's middle-finger salute to his cell camera in his jail cell and Sister Helen Prejean's testimony that he had expressed sympathy for his victims.
In 1997 and again in 2001, incessant coverage of Timothy McVeigh's trial and execution made it almost impossible to avoid him. Amid intense speculation about a closed-circuit execution broadcast, McVeigh collaborated on an authorized biography and participated in numerous media interviews, including a 60 Minutes interview conducted live from his prison cell.
Family members' and survivors' desire for McVeigh's execution may have been rooted in his culpability for the Oklahoma City bombing, but it was his high media visibility that ultimately transformed it into a desperate and urgent need to silence him.
Much too depends on a perpetrator's sentence. Execution surely removes perpetrators from both Earth and public eye, but the lethal journey is longer, with many appeals and much publicity. The parents of 8-year-old Martin Richard asked prosecutors to cease their pursuit of the death penalty lest it yoke victims and their families to the perpetrator, the penal process and the trauma.
Part of survivors' adaptation is deciding how best to map out preferences and coping strategies – a highly individual process.
Regardless of whether a perpetrator's sentence is death or life, survivors can and do make conscious choices to look away, to not cede control to a perpetrator, and to refuse to allow him to become an involuntary presence.
Looking away is an act of reclamation; it's not an act of forgetting or naively trusting in an unblighted future. It is a choice – and an especially necessary one to make now that Tsarnaev will almost certainly be, like McVeigh, the hyper-visible subject of unceasing media commentary.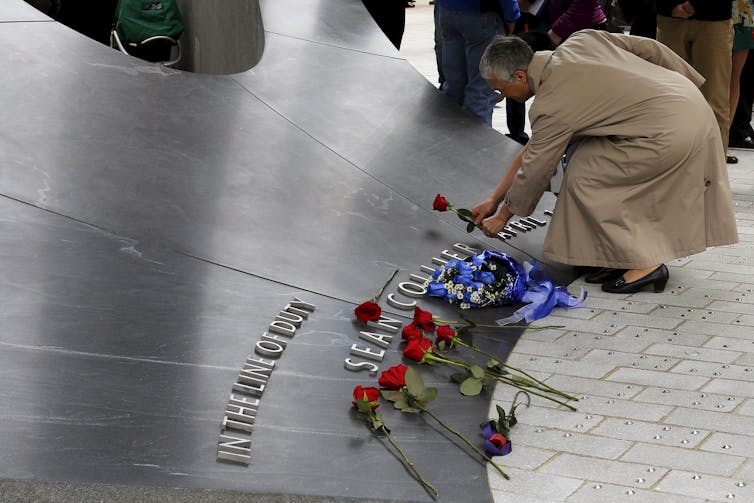 ---
A death sentence will not bring "closure" in this case
Nancy Berns, Drake University
After a sentence in a violent murder case, why are we so quick to announce the arrival of "closure"? The illusive idea of closure appeals to our fast-paced-move-on-now culture.
Even though the trial of Dzhokhar Tsarnaev, one of the men responsible for the Boston Marathon bombing, has ended with the death penalty, "closure" may never come.
When those grieving hear the word "closure," they often assume people are telling them their grief should be over. They hear that they should stop talking about their loss. While it is an end to the trial, it is not an end to the survivors' pain.
The jury's decision to send Tsarnaev to death row will not bring closure for the families. In many capital cases, victims' families are given false hope that their pain will go away with an execution. The debate about the role of capital punishment in our justice system will continue, but the unrealistic promise of closure for victims needs to be left out of it.
Family members of those killed and injured in the bombings will learn to live with their loss while their love remains. They may be relieved to have the trial behind them, but their pain and grief will still be part of the journey. Some of them may be in favor of the decision to end Tsarnaev's life, but others find no peace in having their names attached to his death.
They do not need closure to heal, but they do need space to grieve and to hold their loved ones in their hearts and minds. Give them the space and time they need. No closure required.