The Lego Movie was released to a legion of fans in the US last Friday and massive box office success. So what do a Hollywood movie and a Danish toy company have to do with Australia? Well, quite a lot as it happens…
Sitting high in the credits for the film are Sydney-based visual-effects company Animal Logic and co-producer and co-financier Village Roadshow Pictures.
Background components
The two companies played entrepreneurial roles in the film's creation, with Village Roadshow co-financing the US$60 million production and Animal Logic creating the film's animation in a marathon two-and-a-half year production employing some 250 animators and visual-effects artists at its Sydney headquarters.
When people think about Australian films they probably don't think of production on this scale. We have become used to thinking of the Australian film industry as small and essentially marginal. But 50 years of sustained effort has yielded more than a subsidised enclave of filmmakers and its extraordinary catalogue of films.
It has allowed the accumulation of deep expertise in filmmaking which has brought a number of Australian companies to the heart of the global movie business.
Persistence has been key. Village Roadshow Pictures was formed in 1997 as an offshoot of the Village Roadshow Entertainment Group and has weathered its share of misses. But its longevity has been rewarded with numerous hits among the 70-plus movies it has co-financed with Warner Bros, among them The Matrix trilogy, Ocean's Eleven, Twelve and Thirteen, Happy Feet and The Great Gatsby.
Upcoming films include Winter's Tale, The Judge and Mad Max: Fury Road.
It says a lot about the company that it has succeeded in a business notorious for exploiting "dumb money" (Hollywood's term for investors seduced by the glamour of movie-making). A story in the Los Angeles Times about the never-ending parade of wannabe Hollywood investors – from Belgian dentists to Wall Street titans – was famously headlined "Chew. Spit. Repeat."
Village Roadshow has not been spat out.
Similarly, Animal Logic, formed in 1991 in the very early days of digital, has weathered the tough business conditions that last year sent visual-effects company Rhythm & Hues into chapter 11 bankruptcy right after it won an Oscar for Best Visual Effects on Life of Pi in 2013.
Animal Logic's credits include Babe, Moulin Rouge, Lord of the Rings, House of Flying Daggers and 28 Weeks Later and it has moved into a more active producing role with Legend of the Guardians: The Owls of Ga'Hoole, and now The Lego Movie.
Building a complex industry ecosystem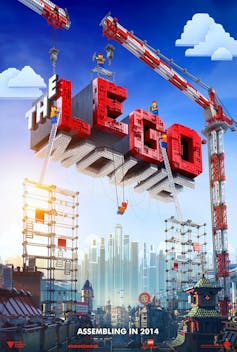 There is of course a tension in the conjunction of the global movie business and domestic filmmaking.
It was played out recently at the AACTA Awards when Baz Luhrmann's The Great Gatsby beat out Kim Mordaunt's The Rocket for Best Film and scooped up 13 awards against its tiny competitor's one (for Best Original Screenplay).
The outcome was billed as "Goliath Slays David" in IF magazine and there was commentary to match, notably from Australian documentary filmmaker Eva Orner, who described the competition between "an overblown, weak, poorly reviewed, massively budgeted studio film" (Gatsby) and "solid, tiny budgeted, meaningful" local films (The Rocket) as "nonsensical and damaging" to the Australian industry.
I don't agree with Orner's description of Gatsby. Personally, I found Luhrmann's swaggering appropriation of a core work of the American canon rather thrilling. But she is right that the competition is damaging. We should not be setting big against small and taking sides. Rather we should be thickening the interplay between them, the sharing of skills, resources and ideas.
A film industry is an ecosystem and needs all its parts, big and small. It needs tough financiers and top-end visual artists. It needs filmmakers with strong creative ideas. And it needs swaggering impresarios.
It also needs the kind of persistence that allowed Village Roadshow to grow from a single drive-in cinema 60 years ago and Animal Logic to morph from a tiny digital start-up.
Most of all, it needs the parts to fit together … a little bit like Lego.

The Lego Movie is released in Australia on April 3.