Although the 2018 Closing the Gap report on Indigenous disadvantage highlighted the importance of literacy for Indigenous Australians, progress remains slow. But, while reading is widely considered an unmitigated good and a marker of prestige, it is not a simple issue for some Indigenous Australians.
I have been investigating the politics of reading for Indigenous Australians by visiting the Murri Book Club, an Indigenous book club, in Townsville and discussing the role of books and reading in its members' lives. As one woman told me:
No one ever read to me as a child. The only reading we ever had was church … reading at Bible studies. We had to get hit with a stick to sit still and stop moving and making noises … And so, to me, reading was restrictive, I suppose, and boring because of that part. It was never fun.
One of the concerns for members of the Murri Book Club is that books and reading are linked to the ongoing history of assimilation that, even now, presumes a divide between Indigenous oral story-telling and non-Indigenous literacy. This is why the members of the club show more ambivalence towards reading than might be expected of a typical book club.
Book clubs have been described by scholar Marilyn Poole as "one of the largest bodies of community participation in the arts in Australia". Current research suggests that these clubs are overwhelmingly white, middle-class, middle-aged and female. Members of most mainstream book clubs are part of what Wendy Griswold has termed "the reading class", which is small in size but immense in cultural influence.
---
Read more: Three reasons why the gaps between Indigenous and non-Indigenous Australians aren't closing
---
Reading and power
Janeese Henaway, the Indigenous Library Resources Officer at the library, started the book club in 2011 and introduced me to the group. Janeese was raised just south of Townsville in a town called Ayr. When Janeese was asked to facilitate a book club, it was suggested to her that they follow the model practised by the Brisbane-based Reconciliation Reading Group that has met monthly in the Queensland State Library for over 15 years.
But Janeese was unsure about how to proceed.
I didn't know at that point how to run the club in a way that was culturally appropriate … I explained that we did not then want to go to a book club and have heavy discussions on Indigenous issues. The group predominantly wanted a light, entertaining and enjoyable experience. Although we're Murris, we are also readers.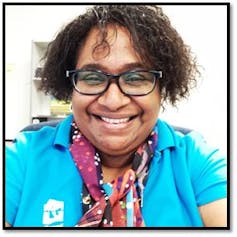 One woman told me she joined the group because she wanted to set an example for her son. While many book clubs operate within an unspoken discourse of self-improvement, it is rare for book club members to be so explicit.
For this member, reading is a cultural resource that carries significant weight. As she tells it, her son is much more interested in (Indigenous) culture and, for him, reading and culture are "two separate things". She recalls him asking, "Why I gotta read for? I'm gonna be an Island boy, man, when I grow up. You don't need to read". For her son, culture is about story, not about reading.
There is a long history, particularly throughout the assimilation era, of Aboriginal and Torres Strait Islander people being actively prevented from speaking their languages. Members of the Murri book club are aware that policies of assimilation mean less access to oral stories. The imposition and authority of the written word can be seen to clash with Indigenous practices of oral story-telling. A commitment to reading can make some Indigenous people feel that they must sacrifice other cultural values that have sustained them as individuals, families and communities for millennia.
---
Read more: Read, listen, understand: why non-Indigenous Australians should read First Nations writing
---
Members of the Murri book club experience this sacrifice as a cultural compromise. One member, an Aboriginal and Torres Strait Islander Indigenous Liaison Officer at a tertiary institution, suggested the solution is more Indigenous-authored texts that record Indigenous knowledge. But he is also aware that the focus on reading has come at a cost:
But these guys … [the others in the Murri book club] I envy them … Like the oral stories are there [for me], but they're not in that layer that these guys have. And then because of that book, the authority of the book, when you get them old people to talk, they say, 'Ah, that's not true. It's not in a book.' Only, every now and then, they say, 'It doesn't all have to be in a book.'
In response to this recollection of the authority of books as a source of truth, another member responded: "But keep in mind that you were trained in that way … Print had authority over the spoken word."
Although she loves reading, this member rarely reads the book club books. She comes along primarily for social reasons — for connecting with community. In spite of her love of books and reading, she is very conscious of the fact that books, and the authority of written language, were key tools in undermining oral traditions in her home of the Torres Strait. Indeed, the Murri book club, as a whole, are more aware than most that reading is connected to power.
In their discussions, the Murri Book Club has taken a communal institution so often associated with white, middle-class culture and remade it as a force for decolonising contemporary cultures of reading. It challenges assumptions not only about book clubs, but also about Aboriginal and Torres Strait Islander Australians. While reading can come with significant cultural baggage for some Indigenous people, it can also be a powerful tool.