The 2014 World Cup has been a tournament of goals galore – and with every goal comes a celebration. We're now used to displays of individual and team pageantry with goal celebrations and they can sometimes be as interesting as the goals themselves.
One of the best goals of the tournament so far came from Australia's Tim Cahill against the Netherlands. He struck a perfectly timed left foot volley into the roof of the net just 60 seconds after the Dutch star Arjen Robben had given Holland a 1-0 lead. As the crowd erupted, the moment came for Cahill to celebrate one of the highlights of his career.
You might think Cahill, in the midst of his celebration, would have spontaneously combusted at the sheer ecstasy of this moment and gone on to celebrate this goal like no other. Instead, he duly ran to the corner flag to perform his signature goal celebration: demonstrating his sparring skills and giving it a good box. Once Cahill was content his knock-out punch had landed, he then allowed team-mates to share the moment and for a couple of seconds, the celebration became more collective.
So what? You might ask. Well, goal celebrations are a rather interesting phenomenon, which tell us much about the social, cultural and political nature of national cultures, societies, identities and issues during specific periods of history. During this World Cup so far we have seen individuals like Neymar give spiritual thanks after scoring and teams unite in theatrical celebration, like Colombia and Ghana.
Football gets commercial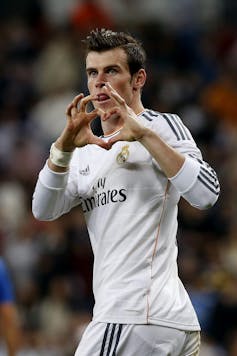 Step back to the 1950s for a moment and you will generally find a very different style of celebration. By today's standards they were very reserved, regardless of how significant the goal itself was. They might have included a firm handshake, a pat on the back, followed by a brisk walk back to the centre circle – all taking place in a relatively repetitive, industrial manner.
The increasing media focus on football matches, celebrity surrounding the players and commercialisation of the game has brought with it a change in the way that goals are celebrated too. Celebrations have featured advertisements and other messages being printed on players' undershirts, while others use scoring as an opportunity to promote their own brand. Some may simply point to their own names on the back of their shirt, but some, as we witnessed with Cahill, have created their own signature celebration, which acts as a form of branding.
In some cases, celebrations have become so famous that they have been commodified. Coca Cola marketed Roger Milla's 1990 flag dance on the eve of the 2010 World Cup and Daniel Sturridge's dance celebration features in the advert he's done for Subway. But if that weren't enough, Gareth Bale has taken the branding nature of goal celebrations to the next level by filing an application to purchase the intellectual property rights to his own heart shaped goal celebration.
Goal celebrations have also been used by players to make statements to their critics – often with a good dose of irony. Liverpool striker Robbie Fowler once responded to stories of him taking drugs by sniffing the goal line after scoring against Everton. Jurgen Klinsman would often celebrate by diving onto the floor as a riposte to accusations that he went down too easily in the box.
They have also become the site of shirt statements whether it be solidarity with a political cause, paying homage to a deceased footballer or simply wishing a mother "Happy Birthday". And, if we see a shirt-statement at this World Cup don't be surprised to see a yellow card accompany it. As these more individualised celebrations have developed, FIFA has legislated some authoritarian rules to ensure things are kept in order.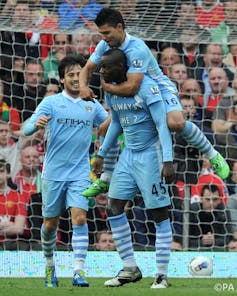 But perhaps we should save the best for last. For me it's Mario Balotelli's famous "Why always me?" shirt statement, interpreted as a response to the countless stories published about his extracurricular activities by the British press. They ranged from training ground bust-ups, an alleged throwing of a dart at a youth team player to shooting fireworks from his bedroom window on the eve of the Manchester derby.
While Balotelli's antics (which he's followed up at this World Cup through social media) are entertaining and perpetuate his own brand, the celebrations that have really won people's hearts in Brazil have been the team ones. Colombia and Ghana's dancing celebrations are a way that teams express and build on their team spirit in games, but it's also interesting how celebrated these expressions have been by the general public. Fans identify with celebrations that are expressive and emerge out of sheer emotion – something that can be seen in these dances, even if they are slightly orchestrated.
Meanwhile, we wait for that one goal celebration to inspire us all at this World Cup. That celebration born out of pure ecstasy at having scored that goal in that special moment. That Marco Tardelli running full pelt, arms waving, lost in the joy of scoring.