The election was a massive disappointment for the UK Independence Party. Despite winning close to four million votes, it came away with just one MP.
Nigel Farage was a man of his word: after losing the battle for South Thanet, he announced he would step down as party leader. There was a significant caveat, though, in that he did not rule out standing again after a "well deserved holiday".
And now, as if to thwart his plans of a nice break in Spain, UKIP's National Executive Committee has rejected his resignation. Farage will stay on as leader to fight in UKIP's next big (and possibly decisive) battle – the EU referendum.
Out of options
UKIP could have spent the summer with an acting leader in the form of deputy chairman Suzanne Evans but the risk of losing three months of media coverage was far too high.
And Farage's influence cannot be underestimated. A poll taken just after the election showed his leadership may be crucial to UKIP's survival. Only 25.7% of respondents believed that without Farage, UKIP would still be an effective political force. More importantly, 36.3% of UKIP voters were not optimistic about the party's future without him at the helm.
Evans, on the other hand, is far less popular among recent UKIP voters, with only 12.8% believing she should be the next permanent party leader. This demonstrates the fragility and lack of options within the party leadership.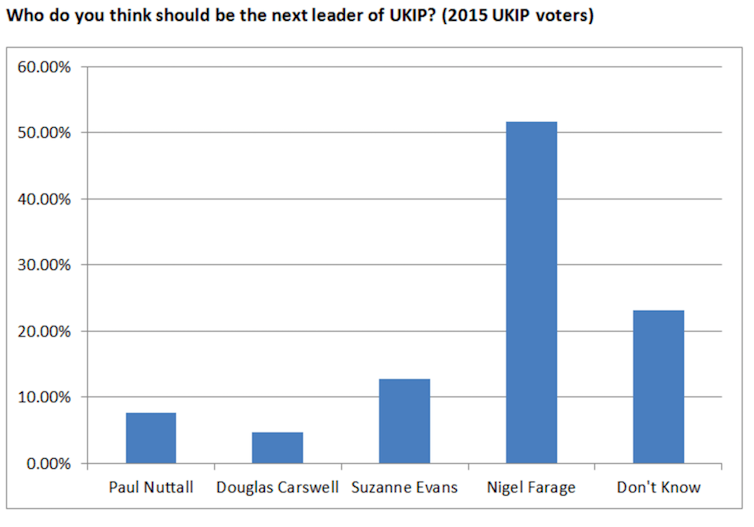 This suggests switching up would be a risky move. The EU referendum will be the ultimate test of UKIP's ability to become a substantial and permanent political force and a strong leader is needed.
Farage has already made clear that he would like a "right" referendum, with barely any involvement from the European Commission and no right to vote for non-UK citizens or 16 and 17-year olds.
Of course, Nigel Farage is still a member of the European Parliament and co-chairman of the Europe of Freedom and Direct Democracy group. Even outside Westminster, he can try to influence the debate from Brussels, just as other European parliamentary groups can be expected to be involved in the referendum campaign.
While it is unlikely that UKIP and Farage will play a role in the "official" no-campaign (which is likely to be managed by Tory backbenchers), the party may launch an alternative and possibly transnational anti-EU movement, with support from its allies in the European Parliament.
So UKIP's decision to reject Farage's resignation four days after his announcement may have come as a surprise but it is strategically understandable. His roles in Europe mean that he is likely to play a role in influencing the domestic debate over the EU referendum and the lack of a viable alternative candidate at this crucial time leaves the party with little other choice.
The only remaining question is what happens to UKIP if the UK votes to stay in the EU. The referendum could be an opportunity for UKIP to get back to its roots as a single-issue, pro-sovereignty party but what it does thereafter will take some serious strategic thinking.