Charles Blackman first came to prominence in the early 1950s when he exhibited his schoolgirl series of paintings and drawings in Melbourne. Although subsequently his Alice in Wonderland series gave him national acclaim, the schoolgirls remained an ongoing source of inspiration and, for the first time, a good cross-section of these paintings and drawings has been assembled at the Heide Museum of Modern Art.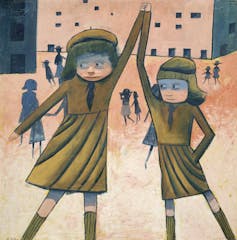 The paintings have aged, perhaps not particularly gracefully, and in their style, conception and execution appear very much of their time. While all art may be a witness of its epoch, Sidney Nolan's Ned Kelly pictures of 1946-47 are to some extent ageless and today have a contemporary freshness and immediacy of the here and now. The Blackmans belong to the 1950s.
The mixture of enamel with oils or tempera on cardboard or masonite is of its time as is the middle ground on which figurative expressionism, surrealism and traditional representational art meet and combine in an uneasy association.
The long-cast shadows, huge eyes, simplified palette and the sense of patterning have a multitude of parallels in preceding European painting, especially Odilon Redon and Marc Chagall, the work of the American Ben Shahn, as well as the Australians Danila Vassilieff, Bob Dickerson, Arthur Boyd, Sidney Nolan, Leonard French, Jon Molvig, Joy Hester and John Brack.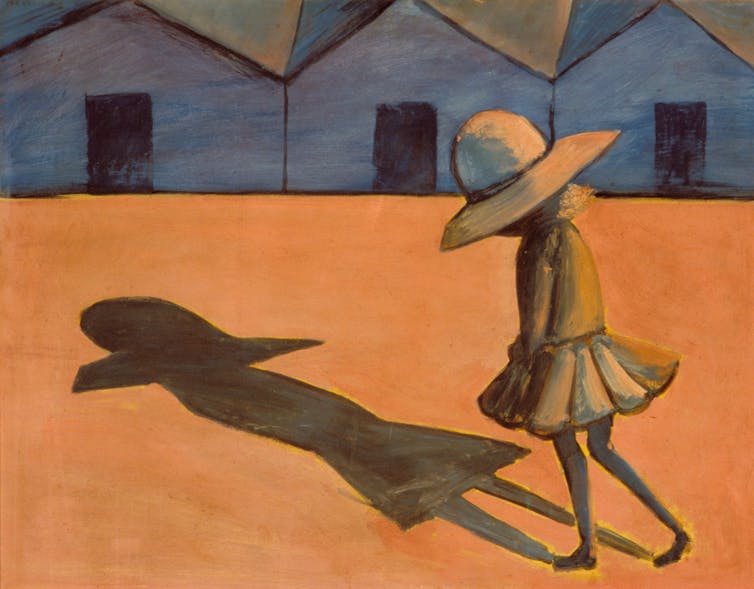 The Sydney-born Blackman, by the time he was 20, moved up to Brisbane where he met his future wife Barbara née Patterson with whom he moved and settled in Melbourne in 1951. Speaking of his schoolgirl series, in retrospect, to the poet Thomas Shapcott, Blackman observed
I just started drawing my schoolgirl pictures; they just came out. That was it. It takes a long time to get to the door; once you pass through the veil or once you pass through the surface of the idea then it all comes pouring out. The schoolgirl pictures had a lot to do with fear, I think. A lot to do with my isolation as a person and my quite paranoid fears of loneliness and stuff like that; and indeed you could almost say why I painted them.
Apart from this cathartic quality, while already working on the series, Blackman was introduced by Sunday Reed to the wonderful verse of John Shaw Neilson that seemed to give him permission to project his own feelings for loneliness and alienation into his subject. In fact, he quoted Neilson's Schoolgirls Hastening, as the epigraph for his exhibition:
Fear it has faded and the night/ The bells all peal the hour of nine/ Schoolgirls hastening through the light/ Touch the unknowable divine
It has been well-documented that Blackman was aware at the time of the abduction and murder of children, as well as of the murder of a student friend of his wife, and a menacing and sinister note permeates many of the works. There is a quality of a haunting presence, where the schoolgirls seem trapped within a disturbing claustrophobic space – the encounter of innocence with a world in which danger and an oppressive feeling of unease lurk. However, for all of this sense of imminent menace, Blackman's schoolgirls exist within an age of political innocence.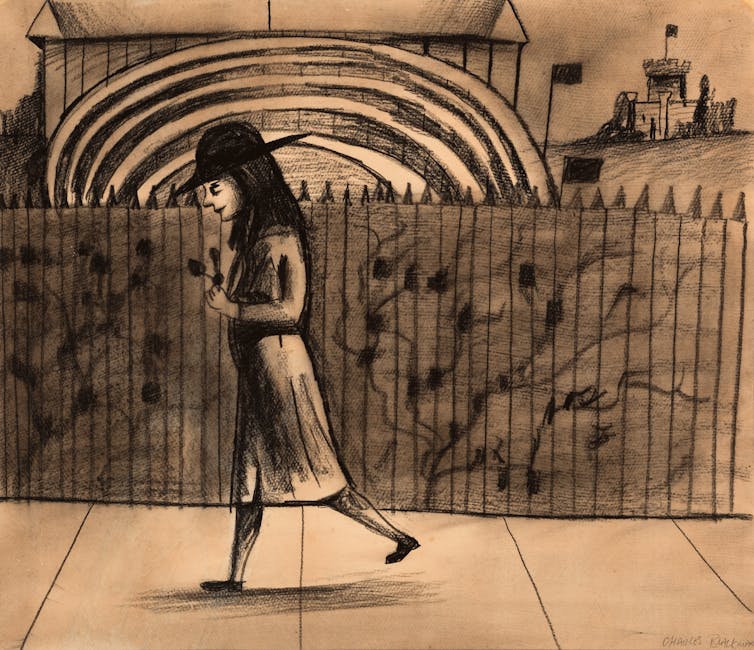 Today, the idea of a male artist making a major series of paintings about schoolgirls, or about any sort of children, sits uncomfortably with the public. It may have been the unenlightened stupidity of politicians that gave oxygen to the shameful Bill Henson episode, but there was enough public suspicion and vitriol to permit the issue to run in the public arena.
I remember once asking John Brack why there were so many images of schoolgirls in his art and that of his contemporaries in the 1950s and, instead of some profound existential answer, he simply sighed and pointed out to me that at the time he had four young daughters and many of his peers also had children and, coincidently, most of them had a predominance of daughters.
Blackman may not have been portraying his own children; his first daughter Christabel was not born until 1959 and his first son Auguste in 1957, and may have projected his own fears and anxieties onto schoolgirls as a convenient visual metaphor, but public perception has swung so markedly that it leaves little room in serious art making for a Chagall or Blackman painting adolescent girls. Back in the 1950s, Blackman was more under attack for his style and technique, than for his imagery.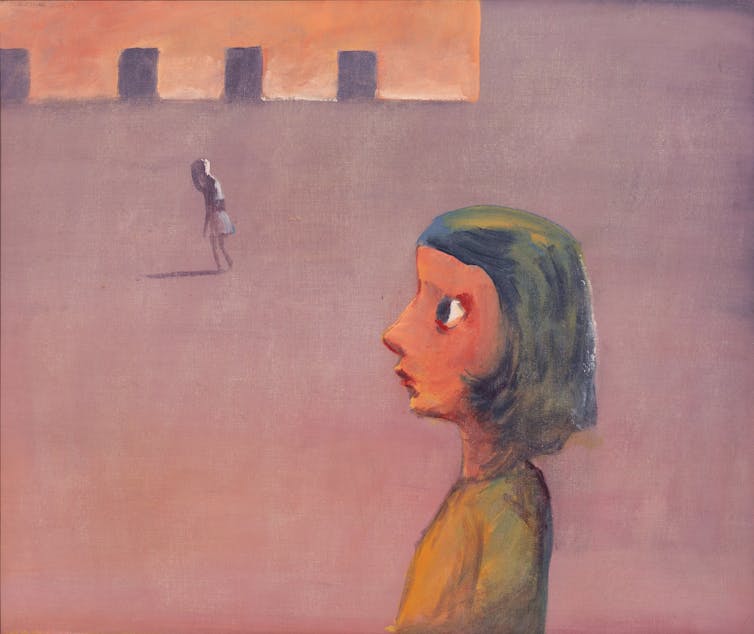 As I moved around the exhibition what I admired the most was Blackman's "awkwardness" in draughtsmanship, the images may have flowed out once the floodgates of the imagination opened, but the drawings have the quality of constant toughness.
About the paintings, the artist noted his "great struggle with the paint" and one can see evidence of constant experimentation, grittiness of the surfaces and a fecundity of invention. I think of them as some of the best paintings that he ever made, at a time before his style became mannered and the sugar content in the imagery increased.
While it is possible in Blackman's Schoolgirl series to detect a myriad of sources and influences, which one would anticipate in the work of an artist aged in his early twenties, they are some of the most memorable and original works to appear in Australian art in the early 1950s.
Charles Blackman: Schoolgirls is at Heide Museum of Modern Art until 18 June. www.sashagrishin.com