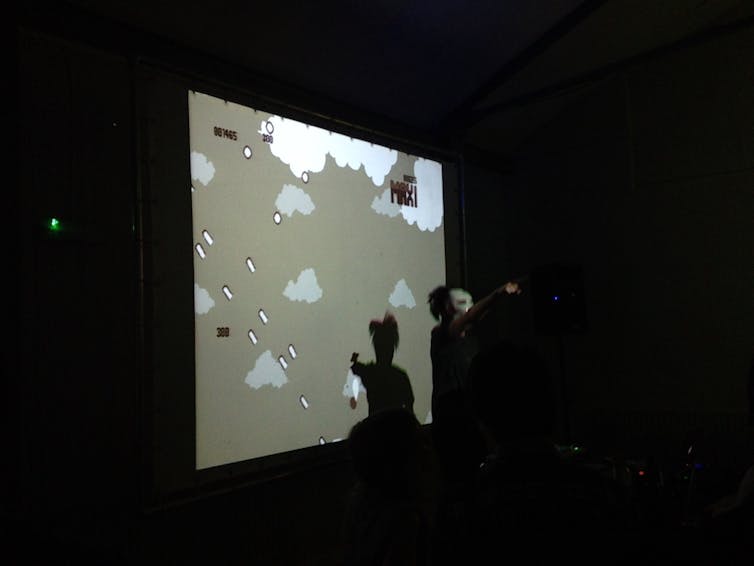 This month I am trekking around Europe with my partner, and I had the good fortune to be in London on the night of the fifth Wild Rumpus event. In a gallery space in central London on a Saturday night, a crowd that wouldn't look out of place at a trendy indie nightclub came together to play a range of both obscure and well-known (ish) independent games projected onto the walls (and, in one case, the floor).
All the games are multiplayer, requiring at least two players. Some are competitive; others are cooperative. Many use traditional controllers, but others have bizarre custom inputs that create spectacles out of their players' bodies for the other attendees. Here, playing Lucky Frame's Roflpillar, two players are rolling around on the floor in sleeping bags, looking up at monitors on the insides of a model house. There, playing a modified version of Keita Takahashi's Alphabet running on a series of dancemats, players are juggling drinks as they stretch their legs to press down this letter and that letter at the same time.
Around every game is a mass of people—increasingly tightly packed as the night goes on—cheering and heckling and laughing and swearing. Later in the night, once everyone has had a few drinks, the DJs play something louder and an ad-hoc dancefloor opens up in the gaps between the crowds. The composer for many of Vlambeer's games, Kozilek, pumps out an ear-melting playlist in front of a projection of Luftrausers, a game he composed the music for being played on a computer somewhere else in the room. There's something magical about a person's game being splashed over his body as he entertains a live crowd.
Wild Rumpus is a lively, vibrant, and very much public side of videogames that is a far shot from the loner nerd hunched over a computer in a dark room that many people still think of when they think of videogames. It's part of a much broader renaissance of local multiplayer games converging with new forms of public play that has been taking off over the past five years or so. Encompassing other events and places, such as Babycastles in New York and, more recently, Hovergarden in Melbourne, this renaissance is driven primarily by independent developers and collectives.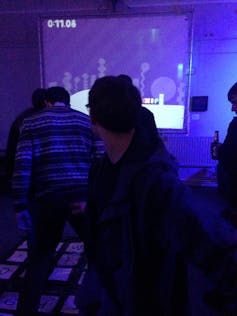 It signals a move away from the dominant trajectories of multiplayer videogames these past decades that move away from the actual space of play and into the online space. As fast internet connections became more reliable and ubiquitous, videogames stepped away from the 'split screen' multiplayer modes of the 90s with its many restrictions (not least of all one computer having to process two players' viewpoints at once) to online multiplayer, where each player has their own machine and their own screen.
This opened up all kinds of new potential in games, with titles like Counter Strike, Second Life, and World of Warcraft coming into their own with large, online communities. But, at the same time, something was lost. While online play was great, it became increasingly difficult to find a game to play with your friends when they came around. So, in more recent years, developers have started to wonder what unique pleasures of local multiplayer were lost in this move to online. Perhaps local was not just a restraint but a pleasure in its own right.
Indeed, there is something special about playing games with people present in the same actual space as you, both held in tandem to the same screen. The spectacles of close shaves and magnificent manoeuvres are all the more spectacular when you have someone to banter with, to have a reason to shout "Did you see that?!". It allows games to not just be something you play but something you watch: a spectator sport. Others are often present, waiting their turn to play but also providing a keen audience with no real stake in either side winning but simply in, for lack of a better term, wanting to see something cool happen.
The newer wave of indie multiplayer games are fully aware of this, and they are often superbly designed to allow a vast range of cool things to occur with great frequency. They are tactical and exciting to play, of course, but also fascinating to watch. Bennett Foddy's Pole Riders, for instance, is an easy-to-play but difficult-to-master game where two players use poles to push a ball on a string towards a goal. Controls are simple but unwieldy, and players often find their characters doing all sorts of things they never intended. Like many of Foddy's games, there is a slapstick element as the game never quite seems fully under the players' control. Messhof's acclaimed and recently released Nidhogg, meanwhile, has two fencers face off in a hallucinogenic and distorted world of yellows and oranges. Its finite moveset of high, mid, and low attacks can be exploited and combined in a nearly inexhaustible number of combinations.
Other recent local multiplayer games forego the centrality of the screen, focusing on the spectacle of players doing amusing things with their bodies for the entertainment of onlookers. Douglas Wilson is at the head of these kinds of games, with creations like MegaGIRP—a modification of Foddy's rock-climbing GIRP that has players contorted over a series of dance mats in some bizarre version of Twister. His more popular game Johann Sebastian Joust, meanwhile, removes the screen entirely to have players face each other, trying to force them to move their Move controller too fast in a kind of slow-motion kung fu battle.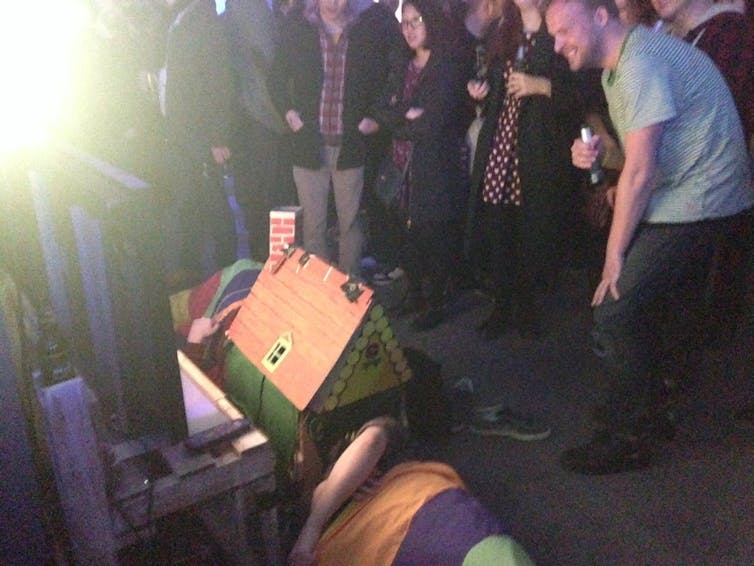 All of these games, and the many others from the past years that I haven't mentioned, understand that local multiplayer games are as much about the competition between their players as the spectacle of their performance—both for the players themselves and any onlookers. Events like Wild Rumpus, then, latch onto this and play up the latter, moving these games from the lounge room into a very public space purposely built for viewing spectacles. These games come into their own projected onto a wall in front of a crowd cheering and hollering not because they have stakes in a winner, but because they are simply enjoying the pleasure of watching people play.
To reiterate, events like Wild Rumpus are not a new trend, but one that has been coming into its own over recent time. Still, even after several years of attending such events, I still leave them with a renewed excitement and enthusiasm for videogames, play, and the spectacles they each provide.