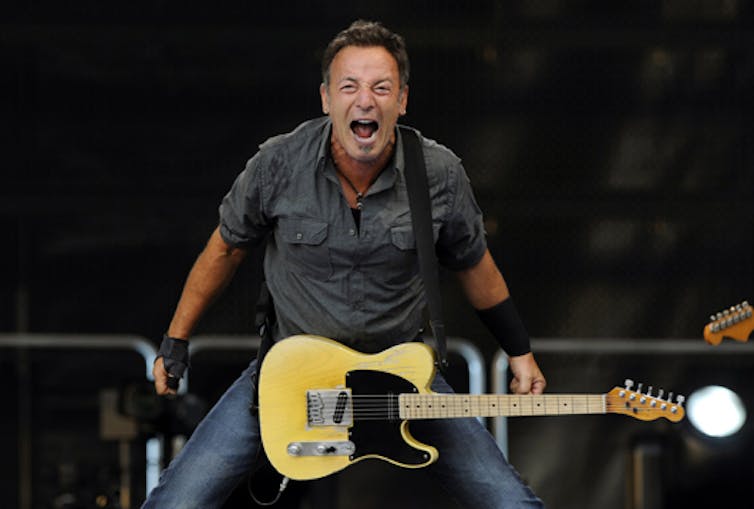 Rutgers University recently announced it will offer a first-year seminar on the theology of Bruce Springsteen. The seminar, led by Azzan Yadin-Israel, will cover songs spanning Springsteen's 40-year career.
At first glance this seems to be pretty out there. A theology of Bruce Springsteen, perhaps conceived as a revved-up guitar-playing 1970s Messiah? Is this just another attempt to increase the appeal of humanities subjects to attract more students?
Well, anyone who knows Springsteen's lyrics will see that there is potentially more to it than that. Yadin-Israel reports Springsteen's tendency to use the stories and concepts of the Hebrew Bible (the Old Testament) throughout his career.
Concepts such as the promised land, religious experiences such as dreams or being Blinded by the Light, characters such as angels and prophets, and a focus on the "soul" permeate Springsteen's works.
As such Springsteen stands in a long cultural tradition. This tradition rehearses religious metaphors from Judaism or Christianity to account for the human condition, the desire for redemption, the contrast between reality and hopes and dreams. Even Born in the U.S.A. has resonances with William Blake's Jerusalem, bringing seemingly distant religious contexts into the audience's here-and-now.
A subject like this also stands in a long tradition in the humanities. The methodologies of literary criticism, performance studies, musicology, textual transmission, even theology, can be applied to almost any cultural artefact. The result won't necessarily be world-changing. But the capacity to work with these skills, to undertake a critical analysis of the world around us, is invaluable.
So if Bruce Springsteen can get first-year students interested in theology, in making meaning, in touching our deepest anxieties and dreams, and in the critical analysis of text, music, performance, I'm all for it.