One of South Africa's foremost jazz musicians, Carlo Mombelli, has just released his 12th studio album, "I Press My Spine to the Ground". He is a bassist and composer who also teaches at the music school of the University of the Witwatersrand in Johannesburg. His album features Kesivan Naidoo (drums), Mbuso Khoza (vocals) and Kyle Shepherd (piano). The Conversation Africa's arts and culture editor, Charles Leonard, spoke to him about the album, its cover and how to juggle being a musician with being an academic.
Where does the title for your new album come from?
I once worked in Paris with a composer called Jean-Louis Mechali – he is from Morocco originally. An Arab told him once that when there is a really dark sky he loves to watch the stars. In your darkest moments, when you're really feeling down, only then can you see all the bright stars in the heavens. I took that concept and wrote a poem about it, 'I Press My Spine to the Ground'.
So I wrote this piece of music based on that and I got broadcaster Brenda Sisane to recite it for me.
I was affected by sound design when I first heard actress Sophia Loren talk in a movie – I love that woman! – and the music came on. When the music is there and this dialogue happens with the music, I've been brought to tears many, many times just for the combination of the spoken word and this music…!
Why this specific band on your new album?
What I like about Kesivan is when you want wind and whispering, he gives you whispering. On this album he's painting. He's not playing ding-ding-ka-ding – he's painting! When we are playing a fixed rhythm he's painting.
Here he's playing more horizontally, not vertically. Vertically is an up and down groove, horizontally … well, he's constantly stirring and mixing colours.
And, of course, Mbuso. He's got no music education in the formal way. He's got lots of music education but he learnt his music growing up on the mountains of KwaZulu-Natal herding cattle – giving a song to each cow, listening to the Zionists (members of the South African Zion Christian Church), listening to the Shembe's songs. He grew up inside music…
I give Mbuso an idea of what the song is about. So there's a song called "Picasso's Dove" – it is a song about peace. So Mbuso would take the theme and improvise.
There's Kyle who's a very spiritual musician when he plays. His mother was the violinist for Abdullah Ibrahim and he would be sitting at the rehearsals listening to Abdullah Ibrahim play … as a little boy. You can hear it in his playing, but he learnt violin, so he's basically a self-taught pianist.
I experiment a lot with the way I play the bass, manipulate the sound of the bass and the frequencies, I don't want to play bass in a conventional way.
So basically here's a band of musicians who taught themselves. Kes is the only one who finished a degree actually.
How's this album different from previous albums?
I want to be sure that I am evolving as an artist and go through different phases in my career – just like Picasso, who had different periods … On this album there's maybe more improvisation, maybe the drumming is different, more painting.
I spent time with my wife in the Swiss Alps, in a place in the mountains, composing music. I found a place with the most beautiful grand piano that they had taken up with a helicopter. I spent a week up there composing. There were just cows, each with a bell, a distant church and a cheese farm.
We'd go for walks and I had a recorder with me – there were these hundreds of bells and every now and then I would also hear this church bell, and I recorded that. So what I did in the studio, I played that recording to the musicians who had it on their headphones and we just started playing.
I named the first track "The Bells of Gitschenen" – because that's the place we were.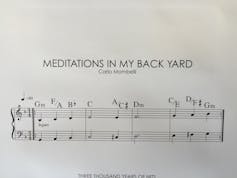 The last tune "Meditations in my Back Yard" I gave to Kyle in the studio. He had never played it before. He looked at it and we said, "okay, let's record it." Mbuso improvised it on the spot as we were playing the piece of music! First track, first take! That's after giving them the piece for the first time only ten minutes earlier! Really, it came out in quite a deep way.
The cover of the album is a painting by Norman Catherine – how did this come about?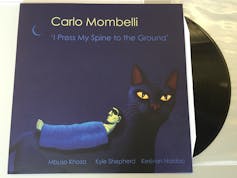 I know Norman very well. This is the third cover he's done for me, it's called "Dream Walker". I've got a lot of his work in my house – he's a good friend so he gives me a good deal [laughs].
When you take music and you combine it with things you see visually – for me it goes right into the spirit. I've spent many occasions crying when I've heard a piece of music. Like when I heard Weather Report play for the first time – on vinyl. That's why I started playing bass when I heard Jaco [Pastorius] play with Weather Report – it just went into my spirit.
I was affected by music the first time when I was eight years old. My mother took me to "Swan Lake". There's a violin piece in the fourth movement – when I heard that I knew I was going to be a musician.
How do you juggle between being a jazz musician and an academic?
I am in an academic institution. I did a Master's and PhD many years after I started playing music … it is all nice in a way that it gives me self-worth, but I'm still a musician. It [the degrees] also helps me get a better salary at the university.
Most of my students don't even know that I have a doctorate – it doesn't make you a better artist; it doesn't make you a better person in a way.
So at Wits University it is not about me having learnt how to teach, I teach my students from 35 years being a musician: through stories, through experience. I think a good teacher is someone who has a lot of experience, not someone who has gone to a college to learn how to teach.
Your shows get sold out and your records sell well, yet your music isn't easy listening by any means …
There is an audience … when they come to a concert, they get an experience they don't get on a CD. I've had bikers – Harley Davidson types – at my shows. And I think, "what are these cats doing here?", and afterwards they're just taken aback by the music, because there is something about seeing a concert, seeing it happening in front of you and there is a big following for serious music.
There is one thing where music shops went completely wrong! Serious music fans buy CDs and vinyls. People who are just into the vibe, not serious music, they download.
So what are music shops doing? They get rid of all their serious music – they say this stuff doesn't sell. They made a mistake because that's the stuff that actually sells, and they left all the pop stuff which doesn't sell because the kids don't buy CDs – they download music.
I still buy CDs, I still buy vinyls, but I have to order them … if those shops had them, I would have bought it from them. They've made a grave mistake. So all the shops have turned to videos and games, and now those shops are all closing anyway. So there is a market for serious music.
Am I right in saying there's a new wave of young South African jazz musicians coming through?
You're absolutely right. There's a new wave like we've never experienced before. Every time I go and listen to jazz at [Johannesburg jazz club] the Orbit, there are some youngsters I have never seen or heard before.
At a place like [Johannesburg music venue] Afrikan Freedom Station you can see a lot of these youngsters playing – honing their sound and developing in those small places for no money. It is small audiences they're playing for, but the people who go there are focused on the music in a way you don't find at these fancy clubs. There's an incredible wave of youngsters and each one has their own thing happening and each one is different.
So music in South Africa is not stagnating?
No, no! There's a massive wave of youngsters and really good ones coming through in South Africa.