The sunny season has well and truly started, as has the daily summer ritual of applying sunscreen. So now is the perfect time to consider whether "nano sunscreens", which contain UV filtering nanoparticles, are safe for use.
"Nano" is short for nanometre (one billionth of a metre), and a nanoparticle is very small, ranging from only one to 100 nanometres (about one thousandth of the thickness of hair). Because some nanoparticles behave differently to larger versions of the same substance, manufacturers have started to make useful "nanomaterials" with them.
The nano form of zinc oxide is used in sunscreens because it's both transparent and 50% more effective in UV filtering than the bulk zinc oxide particles in thick white sunscreens. Using an inorganic UV filter such as zinc oxide has many advantages over conventional organic chemical UV filters, which can cause skin irritation and allergies, and have much greater skin absorption.
And unlike zinc oxide, some unstable organic UV filters break down under UV light, so you need to reapply those sunscreens more frequently. What's more, because individual organic UV filters usually absorb only narrow parts of UV light (either UVA or UVB light), only mixtures of organic chemicals can provide similar broad spectrum UV protection to zinc oxide.
What risk?
Concerns about nano-sunscreens were first raised when a 2008 BlueScope Steel report stated that metal oxide nanoparticles in some sunscreens were capable of bleaching painted surfaces of coated steel. But this is a completely different type of exposure to nano sunscreen, which is formulated to remain on the skin's surface.
Many scientific studies have shown that nanoparticles don't readily penetrate human skin. A landmark 2010 Australian study showed that there was little difference between nano or bulk zinc oxide sunscreens because of the negligible amount absorbed into the body (less than 0.01% of the applied dose).
After a five-day beach trial with twice-daily skin applications, the sunscreen zinc appearing in blood was only 1/1000th of the total zinc naturally present in blood. Not only is this minute compared to normal levels of zinc required as an essential mineral for human nutrition, it's also small compared to the non-essential chemicals more commonly used as UV filters.
Safety tests
Nano zinc oxide (ZnO) in sunscreen has been extensively and repeatedly assessed for safety by regulatory authorities around the world, and is widely accepted as being safe to use in sunscreens.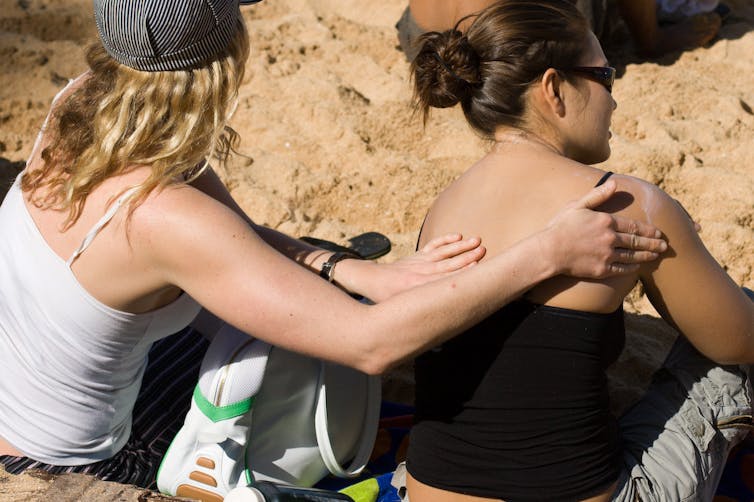 In September 2012, the European Union Scientific Committee on Consumer Safety, "concluded on the basis of available evidence that the use of ZnO nanoparticles … at a concentration up to 25% as a UV-filter in sunscreens, can be considered not to pose a risk of adverse effects in humans after dermal application."
The committee also said that using lipstick or other lip products didn't pose a risk, but that nano zinc oxide sunscreens shouldn't be used in spray-on form because of the potential risk of inhalation.
My research team has investigated the worst-case scenario by asking what human skin and immune cells would do if they happened to directly encounter inorganic sunscreen nanoparticles. We found that zinc oxide nanoparticles are as well tolerated as zinc ions and conventional organic chemical sunscreens in human cell test systems.
We recently published a scientific paper identifying the zinc-containing nanoparticles that form immediately when dissolved zinc ions are added to cell culture media and pure serum. Our work suggests that these nanoparticles may actually play a part in natural zinc transport within the body.
Sun protection
Not all nanoparticles behave in the same way biologically, nor are all of them potentially hazardous. Indeed, many engineered nanoparticles are designed with both function and safety in mind. The substance that the nanoparticle is made from is of vital importance in any hazard assessment. And nano zinc oxide has been thoroughly assessed for safety when used in sunscreens and in lip products.
Excessive UV light on the other hand, poses a serious risk for skin damage and cancer. Rest assured that the nano sunscreens can be used safely, so don't stop using the most effective broad spectrum sunscreen as part of your sun protection measures.
I recommend using non-aerosol zinc oxide sunscreens containing either nano or bulk particles. Their broad spectrum UV filtering ability (including the UVA range), and high UV resistance and negligible skin absorption make them the safest and best way to protect yourself from sunburn. If still in doubt, know that the same conclusions were made by the US Environmental Working Group in their 2012 sunscreen report.