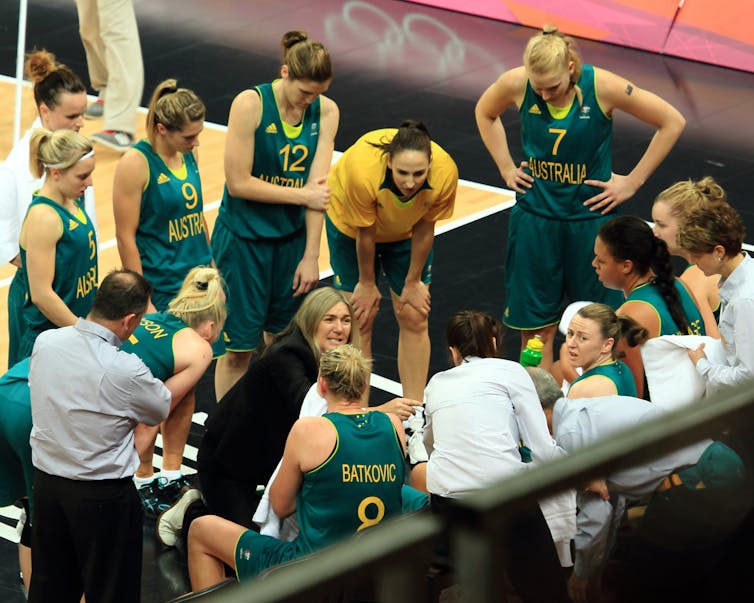 Australian basketballer Liz Cambage has made history as the first woman to slam dunk at an Olympics.
There was much praise for her athleticism and for the impact that this single move would make on the game's spectator appeal.
But is this the sort of game manoeuvre we really should be seeing more of?
According to the official rules of the international basketball Association Fédération Internationale de Basketball Amateur, or FIBA, a dunk is when the ball is forced downwards into the opponents' basket with one or both hands.
This is an allowable manoeuvre in the sport but there are also rules around the dunk to protect the player from injury. For example, a technical foul is called when the player hangs onto the ring, allowing the ring to fully support their weight.
However, FIBA also states that: "if the player feels he/she may be hurt by just dropping to the floor after a slam dunk, they can hang on the rim to steady and protect themselves."
There have been many reported incidents of severe injury associated with slam dunking around the world. Most have occurred when the player has become entangled in the net hanging from the hoop or when the supporting structure behind the hoop has collapsed.
Whilst the integrity and strength of all equipment used in Olympics basketball is well tested before the games, and the players are highly skilled, it cannot be assumed that this is always the case for all forms basketball, whether organised or not.
This means that slam dunking can be potentially dangerous, especially when attempted at home or in recreational settings. The Australian Competition and Consumer Commission, through Product Safety Australia, advises that "Serious injuries and death can occur if:
• the act of slam dunking is combined with a basketball ring that is not appropriately installed
• a basketball ring is installed over home garage doors, where brick structures can be thin and weak."
In response, it introduced mandatory safety standards for basketball rings and backboards in 2005.
Smartplay, Australia's leading advocate body for sports safety, also advises the general sporting public to "NEVER hang or swing on a basketball ring".
Whilst certainly a great spectacle, there is a danger that Liz's slam dunk could lead to copy cat behaviour amongst people less experienced at the game and with no access to rigorously tested basketball equipment. We know that these hazards can combine to compromise safety.
Is this a risk we really want to take with our potential future Olympians and all those others who love to play basketball because they enjoy it and want to emulate their elite heroes?
Let's promote all other aspects of the game, which are safer and even more enjoyable.
Caroline Finch can be followed @CarolineFinch