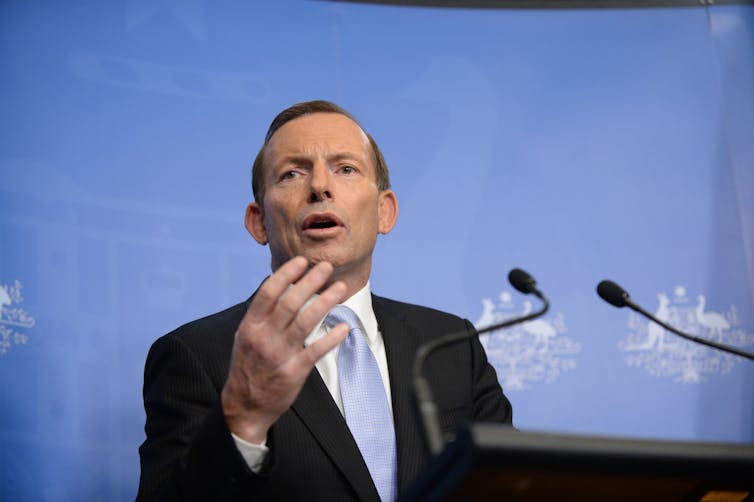 Tony Abbott says his foreign policy emphasis is "Jakarta not Geneva" and indeed he will be in Jakarta next week, which will be the first test of his diplomatic skills as he seeks to smooth the asylum seeker issue and emphasise the importance and depth of the bilateral relationship.
But Abbott can't in fact avoid "Geneva", if one defines that as including multilateral activities that go well beyond Australia's backyard. A major reason for that is that he has been left big foreign policy legacy posts from Labor's time.
The first is Australia's temporary seat on the United Nations Security Council. The second is hosting the G20 in Brisbane in November next year.
Abbott has sent Foreign Minister Julie Bishop to the UN, where among other activities she will address the General Assembly. But the PM is being told he personally needs to get his running shoes on in preparation for the G20. A year might sound a long time but Abbott, being new to the job, is starting from behind for an exercise in which who you know well and how you handle them can be crucial to what you can get out of the occasion.
At the officials level Abbott probably hasn't helped himself. Only weeks before Australia takes over the G20 presidency, in reshuffling the public service he made Gordon de Brouwer, who has been heading the G20 taskforce, secretary of the Environment department.
Former senior Treasury official Mike Callaghan, now director of the Lowy Institute G20 Studies Centre, set out the stakes for next year's meeting and what needs to be done in a paper this month.
Callaghan is a former chief of staff to then treasurer Peter Costello; his name has been mentioned in the list of possible candidates to succeed Martin Parkinson as Treasury secretary next year.
Noting that this will be "the most important economic gathering ever held in Australia", Callaghan warns that if the G20 is not re-energised, its role could be usurped by another forum that doesn't include Australia.
(In a touch of irony, incidentally, it was Kevin Rudd who, during the global financial crisis, talked up the role of the G20 but Australia has been almost alone in having a leader miss a summit, of which there have been eight. Indeed there have been two occasions, in 2010 and 2013. when Australia was not represented at leader level – one immediately after Rudd's overthrow, and the other because Rudd was campaigning for the election.)
Callaghan says Australia needs to achieve three objective in relation to next year's G20: have all the key leaders (who include the presidents of the US and China) come to Brisbane; set a new high benchmark in organising and chairing; and, most importantly, host a summit that achieves some tangible outcomes to strengthen the global economy.
"As early as possible the Prime Minister should make personal contact with G20 leaders and outline Australia's approach to the G20. Good personal relations with leaders will be vital to achieving progress on difficult subjects," he wrote. This diplomacy should begin when Abbott goes to APEC in Indonesia early next month and then to the East Asia summit in Brunei, he added.
Abbott would need to quickly identify the meeting's priorities. "In selecting the priorities for the summit, it is important they are 'owned' by the Prime Minister. They must be his priorities and not those of officials," Callaghan emphasised.
He suggested these should include seeking to resurrect multilateral trade negotiations and advancing progress on climate change, especially arrangements for helping developing countries finance adaptation and mitigation.
These are good priorities – except that the new government is concentrating on bilateral trade deals (it is anxious to finalise a free trade agreement with China even if it is less than first class) and has had little interest in Australia taking a forward role internationally on climate.
He mightn't like Callaghan's priorities but Abbott would be wise to heed his advice to put the G20 at the centre, not the periphery, of his foreign policy thinking as soon as possible.