True crime writing isn't famous for its impeccable gender politics. Think of how male criminals (e.g. the late Mark "Chopper" Read) have been glorified and women law-breakers demonised. Or how women who are victims of crime can be stereotyped as either virgins or vamps.
Two new books, Mark Morri's Remembering Anita Cobby and Martin McKenzie-Murray's A Murder without Motive, offer a fresh approach to the true crime genre. Both were published in early 2016. Both have been penned by male journalists. Both focus on men who find themselves involved (albeit in different ways) in murder cases where the victims are women.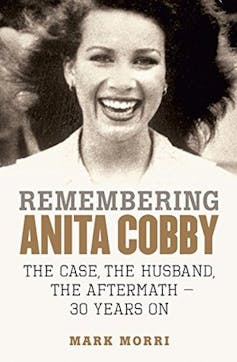 The "Anita" in Morri's title is Anita Cobby, a Sydney nurse who was gang-raped and murdered in January 1986. The book discusses the experiences of her husband, John Cobby, who was estranged from his wife at the time of her death, and who has (until now) purposely eluded media attention.
Morri met John around the time of the murder, and the two men developed a rapport. In conversation with the author, John describes the grief and horror that overwhelmed him in the wake of Anita's death. He tells of trying to escape through alcohol and overseas travel and the homicidal fantasies he continues to harbour about taking revenge on his wife's killers.
In A Murder without Motive, McKenzie-Murray addresses the murder of young Perth woman, Rebecca Ryle. In May 2004, Ryle was strangled to death by James Duggan, a man she had just met at a local pub. In the ensuing trial, no motive could be established for his actions (hence the book's title).
The author was tenuously connected to the victim. He grew up in the same suburb as her, and his brother once personally knew Duggan.
McKenzie-Murray reflects on the "strains of misogyny" that could be detected in the milieu in which they lived. This was a world where young men were encouraged to flaunt their "virility", and women existed "for sex, acquisition, bluster".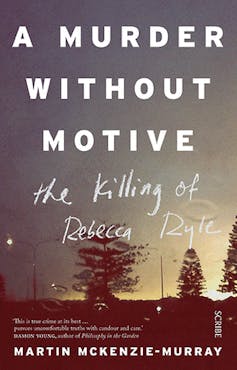 Both books cast a critical eye on a toxic strand of masculinity.
It's an eye that has been missing from many true crime books. Two such examples were the books Blood Stain (2002) and The Vampire Killer (1992), which reproduced crude and misogynist feminine stereotypes.
In both Morri and McKenzie-Murray's books, the male protagonists are constrained by prevailing codes of masculinity. In A Murder without Motive, for instance, McKenzie-Murray recalls his teenage participation in a blokey, boozy culture.
Still, throughout the book, he demonstrates the ability to stand back and evaluate this harmful culture. The book's broader aim is to provide a nuanced perspective on the Ryle case. McKenzie-Murray explicitly distances himself from "popular treatments of criminality", which (he says) are "salacious and vampiric" – and, I would add, frequently sexist.
In Remembering Anita Cobby, we read that John kept his late wife's murder "locked up inside for thirty years." Anita's death became "like a dirty little secret." A key tenet of some masculinities has been an inability or unwillingness to express emotions, especially those (such as grief) that imply vulnerability.
Yet, John Cobby and Mckenzie-Murray confront the excesses of toxic masculinity, seeing it as the lethal social construct it is - not something glamorous or natural.
Morri's book is less overtly concerned with gender politics. Nevertheless, he does quote "Miss X" (the unnamed woman who obtained a confession from one of Cobby's killers, John Travers) as saying that she reported Travers to police because of his "behaviour towards women". "Miss X" was married to Travers' uncle at the time of Cobby's death. Morri never specifies what exactly Travers' "behaviour towards women" entailed, though we can assume that this behaviour was derogatory.
Of course, it should not take a dead woman for men to recognise that masculinised brutality is unacceptable.
But Remembering Anita Cobby and A Murder without Motive are important because they depict men who confront and abhor a culture of misogyny. Hopefully, their work will influence other true crime writers, resulting in more nuanced gender perspectives.