With graduate employment at its lowest since records began in the 1980s, universities are trying to come up with ways to make their graduates more attractive to employers. One common way is involving employers and business representatives in their teaching and learning solutions, but this has rarely worked.
When the IBM Institute for Business Value recently surveyed academics and industry leaders about the state of higher education, it found both parties agreed that universities fail to meet the needs of students and those of industry.
It's no surprise that in reality this dialogue has stalled. Employers too often come to the table with an agenda that has little to offer academics and university administrators.
Why don't university-industry collaborations work?
Going to university has always been and remains a worthwhile investment for the individual and society as a whole. But this expensive endeavour has become much more uncertain in recent years.
Student debt is growing at concerning rates. In the US, student loan debt has reached US$1.2 trillion. In the UK, economists estimate that three-quarters of students won't be able to pay off their debt.
Students have to ensure they are making the right choice about the course they enrol in, and universities have to ensure their courses prepare students for the world of work and life in general.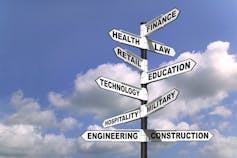 What set of skills do the majority of employers see as the most important for a good graduate? Universities spend significant time and resources on finding the answer to this question in order to put their students on the path to employment and ensure they are "industry ready".
A recent survey of employers worldwide found that "like-minded" candidates are favoured. Specifically, over 80% of employers across the world indicate that "cultural fit" is their "top hiring priority".
So how are universities expected to teach "like-mindedness" or how to "culturally fit" into organisations? This makes it clear that universities may be chasing a chimera in shifting their focus to employability.
Employability rankings and graduate employability measures often present a misleading picture. This is because employability rankings measure perceptions of employability or count how many graduates find a job six or 12 months from graduation.
However, things change dramatically over time. In Western Australia, a successful decade in the mining industry enabled local institutions of higher education to present excellent employment rates. This attracted students with the real prospect of immediate and well-paid employment. But data released in 2015 by the Australian Bureau of Statistics indicate that employment in the region is down by 15% and is projected to fall by 17.8% by November 2019.
Graduates in the best regional universities are now experiencing significant difficulties in gaining full-time employment. "Professionally relevant", "industry related" curricula were good for the short term, but we now see its relevance questioned since it has become clear that other skills matter in the long term.
Higher education's identity crisis
The heavy focus on career rankings, career outcomes and industry-corporate discourse makes universities an inadequate mix of research, vocational education and academic endeavours. This shift is leading to an identity crisis for higher education.
As more and more jobs are lost to technology, universities are teaching using the same methods and – even more damaging – following the same ideological directions adopted in the late 1980s. A focus on profits, "efficiency" and clearly delineated career pathways is dominating the discourse, policy and practice in higher education.
In a strange logic, the academic community and governance bodies in higher education are asking employers to provide solutions to problems falling outside their area of expertise.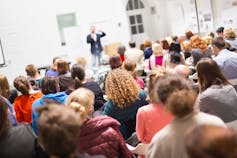 In various surveys or working groups, this heterogeneous group is asked to provide solutions pertaining to university governance, teaching and learning, and research. No doubt employers' opinion should be taken into consideration, as should that of the students, but the academic community should be able to provide vision and direction.
Despite higher education seeking industry solutions for graduate employability, it is harder than ever for graduates to find jobs. Rather than focusing on this employability, universities need to focus on producing well-rounded graduates who have experienced creative, imaginative and high-quality learning to ensure they are prepared for whatever life brings, not just one specific vocation.