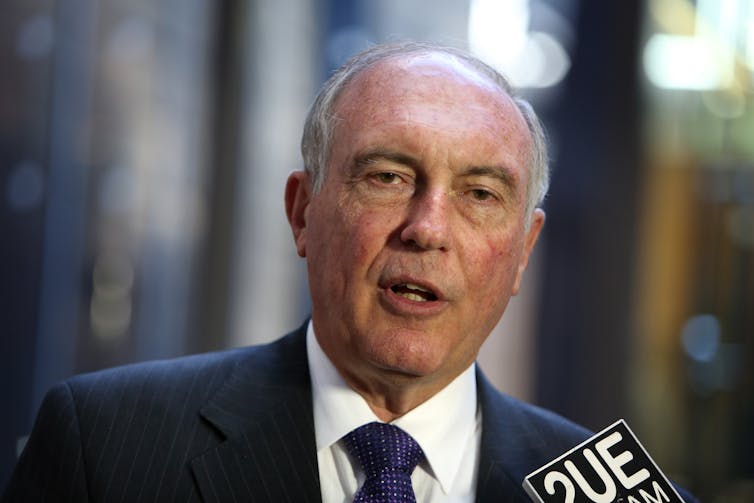 The Nats are having their jamboree, AKA federal council, in Canberra tomorrow, as the party juggles trying to keep its own voice while singing in the Abbott choir.
A morning highlight was to have been an address by climate sceptic professor Ian Plimer, sponsored by a Gina Rinehart company, of which Plimer is a director. But now his place is set to be taken by another Gina man, CEO of Hancock Prospecting, Tad Watroba, who earlier thought he couldn't make the function.
A point of interest on the council agenda is a motion from the Victorian Nats opposing the September 14 referendum to recognise local government in the constitution.
That would be the referendum in which Barnaby Joyce is strongly campaigning for a "yes" vote. It could be a rather lively debate.
And Joyce, Nationals Senate leader (who plans to remain a senator until just before the writs are issued), is likely to be fired up in his set piece address to the council. His pitch for independent Tony Windsor's seat of New England will be one of the most rivetting contests of the election.
The battle is already willing. In parliament this week Windsor alleged there were "significant rumours" that Joyce was to receive up to $700,000 from Rinehart. Joyce, who is close to Rinehart, told the media the suggestion was "so ludicrous, it's nutty".
Polling, some of it dodgy, has put one or other candidate ahead. Last weekend's state by-election for Northern Tablelands, within New England, saw a resounding Nationals win.
The New England struggle is between two of the country's most skilled "retail" politicians. History embitters it and psychology will be a weapon in it.
Windsor, once a member of the party, hates the Nationals with a passion. He starts with one big handicap – many in his electorate believe he should have supported the Coalition after the 2010 election.
But he has nerves of steel and well-honed tactical nous. Joyce will have to be careful to avoid being psyched into wrong steps.
At a special meeting of the parliamentary Nationals this week to discuss the government's legislation (later aborted) to give money for political parties' administration, the New England contest was in MPs' minds. They knew that if the Coalition went ahead with backing the legislation Windsor would exploit the issue - as would the Palmer party in Queensland.
For the Nationals this election will be a contest within a contest. It's not the main game that is their challenge, so much as ensuring they maximise their numbers (and so their influence) in a post- election Coalition government.
The merged Liberal National Party makes Queensland a rather confused situation, but if it won Capricornia that MP would sit in the Nationals party room in Canberra. The Nationals claim to have an outside hope of Bob Katter's seat of Kennedy in Queensland. They're also looking to Lingiari in the Northern Territory.
In NSW the party needs to pick up several seats. ABC election analyst Antony Green believes they have a strong chance in independent Rob Oakeshott's Lyne, and the Labor seats of Page and Richmond, though some National sources worry about all three. Green won't pick New England. In Western Australia the WA Nationals will be defending O'Connor, where Tony Crook is not recontesting, against an attempt by the Liberals to reclaim it. The Liberals are also running in the Victorian seat of Mallee, where Nationals' John Forrest is retiring.
On policy. the Nationals find themselves caught between sticking to the common Opposition discipline and seeking some product differentiation, for reasons of tactics or ideology.
The fact Plimer was on the program to speak says heaps – the Nationals were not afraid of the signals it might send, despite Abbott trying to ensure the argument about climate change itself, as distinct from the carbon tax as a way of dealing with it, doesn't become an issue. Can anyone imagine the Liberal federal council having a climate sceptic as a featured speaker?
The Nats have been unhappy about the Coalition accepting Labor's scrapping of the baby bonus but have swallowed it, with the Opposition now indicating it would retain Labor's modest replacement. They have never been enthusiasts for Abbott generous paid parental leave scheme – the wealthier women it would favour are mainly city girls.
This tension between being team players and carving out their own niche could be expected to continue in government. The WA Nationals, who support the Barnett Liberal government without being in coalition, have shown how much can be extracted by standing up for your own identity (they were greatly helped, of course, by propping up a minority government in its first term).
The federal Nats will always remain strong Coalitionists. But the jostling for influence within an Abbott government will test their clout in a situation where quite a few Liberals will be suspicious of them, especially if Joyce gets into the lower House.