The annual Giro d'Italia bike race starting tomorrow signifies a peak time on the world professional cycling calendar, with the European Spring Classic races just finished, and the rest of the Grand Tours (including the Tour de France and Vuelta a España) all scheduled over the next few months.
It is also a period of significant national and international focus on Australian cycling, with our best riders on the starting lines of most of these big races.
Thirteen Australians are currently competing in the 2014 Giro d'Italia, which runs three weeks from May 9 to June 1. And there will likely be even more in this year's Tour de France, starting in less than two months' time.
Out of the 13 Australian Giro starters, five are from Victoria. But this shouldn't come as a surprise.
A history of winners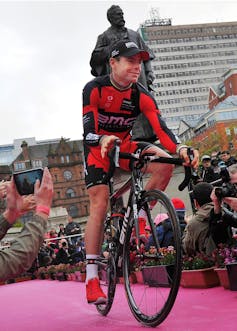 Australia has a long association with the European classics and grand tours, dating back 100 years to 1914 when Iddo Munro and Duncan Kirkham became the first Australians to compete in the Tour de France.
Munro and Kirkham were Victorians and a close examination of the history books and archives reveals an astonishing list of achievements and firsts by Victoria's best riders.
Consider the following examples.
Victorian cyclists in the European grand tours and spring classics:
In 1975 Don Allan got Australia's first major European Tour win (Stage 17, Tour of Spain)
Phil Anderson was the first Australian to wear the Tour de France yellow jersey (1981), and to win the Tour de France youth classification (1982), Amstel Gold (1983), Critérium du Dauphiné Libéré (1985), Paris-Tours (1986), and Tour de Romandie (1989)
Cadel Evans, in 2011, was the first Australian to win the Tour de France. He was also the first Australian to wear the Giro d'Italia leader jersey (2002), and win the Giro points classification (2010) and La Flèche Wallonne (2010)
Matt Lloyd was the first Australian Grand Tour mountain classification winner (Giro d'Italia 2010)
Simon Gerrans was the only Australian to win stages in three Grand Tours (Tour de France, Giro d'Italia and the Spanish Vuelta) and the first Australian to win Liège-Bastogne-Liège in 2014.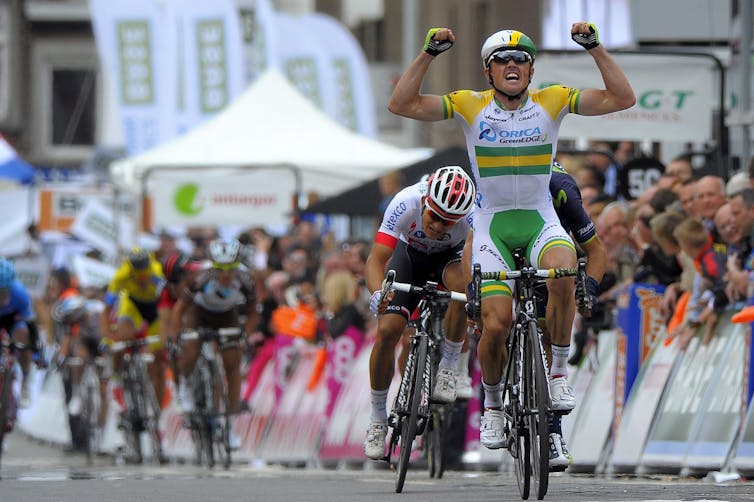 Victorian riders have also dominated in Olympic and Commonwealth Games cycling:
Russell Mockridge was the first Australian to win two gold Olympic cycling medals (1000m time-trial and 2000m tandem at Helsinki 1952)
Clyde Sefton's silver in the 1972 Munich Olympics road race was the first and only Australian Olympic men's road race medal
Australia's first Olympic women's road cycling gold medal was won by Kathy Watt (1992 Barcelona)
Victorians have won more Commonwealth Games cycling medals (83 between 1934 and 2010) and more Olympic cycling medals (30 between 1928 and 2012) than riders from other Australian states and territories.
World leaders
Most of Australia's World Championship cycling success has come from Victorian riders too. Our World Champions on the track have included:
Sid Patterson (amateur 1949 and 1950, professional 1952 and 1953)
Gordon Johnson (1970)
John Nicholson (1975 and 1976)
Gary Neiwand (1993 sprint and keirin, 1996 team sprint)
Shane Kelly (1997 time trial, 1996 team sprint and time trial, 1995 time trial)
Glenn O'Shea (2013 team pursuit, 2012 omnium)
Leigh Howard (2011 madison, 2010 madison, 2009 omnium).
Our road cycling World Champions include Jack Hoobin, the first Australian to win as an amateur in 1950, and Cadel Evans in 2009.
Australia's most successful female road World Championship rider, Anna Wilson (silver in 1999 road race and time trial), was also International Union of Cyclists (UCI) world number one rider in 1999 and 2001. Liz Tadich was the first Australian woman to win a World Road Championship medal (silver) in 1997.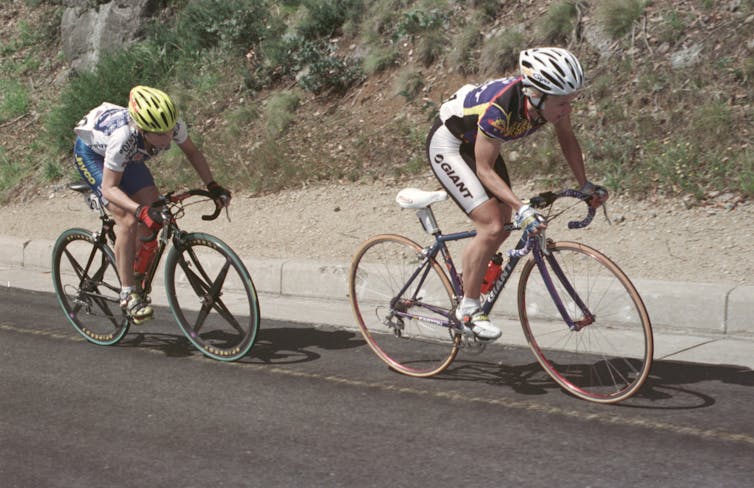 On home soil, Victorians have won more national road championships than riders from other states (26 amateur titles between 1935 and 1995, and 30 professional titles since 1950) and have been multiple winners more times. From the amateur ranks were:
George Nevin in 1954 and 1955
Alan Grindal in 1960 and 1961
Ray Bilney in 1964, 1965 and 1966
Remo Sansonetti in 1973, 1975 and 1976.
And the professionals:
Russell Mockridge in 1956, 1957 and 1958
Don Wilson in 1975 and 1977
Peter Besanko in 1976 and 1984
John Trevorrow in 1978, 1979 and 1980
Kathy Watt in 1992, 1993, 1994 and 1998
Katie Mactier in 2001 and 2007
Simon Gerrans in 2012 and 2014.
Victorians have dominated the Australian national track championships over the years, across all disciplines. Victorian riders won 108 of the 197 professional track National Championships held between 1948 and 1985, and 225 of the 479 amateur track National Championship events between 1946 and 1985. This dominance has continued in recent years.
Victorian riders have also led the way in long distance riding on the national and international stage.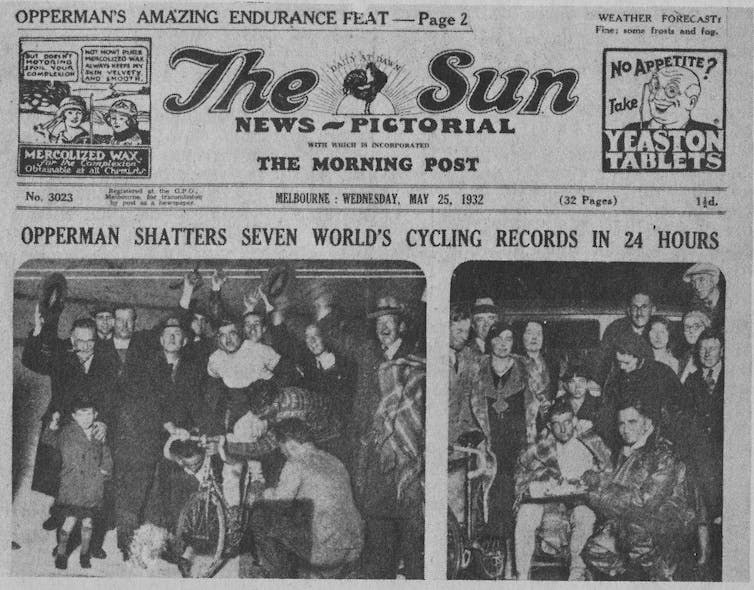 Victoria's best-known endurance rider was undoubtedly Sir Hubert Opperman, whose career highlights included:
winning the 1931 Paris-Brest-Paris 1,200km road race in record time (49 hours 23 minutes)
records in 1932 at the Melbourne Motordrome (860 miles and 347 yards in 24 hrs; 1,000 miles in 28 hours, 55 minutes, 39 seconds)
state, Australian and world records in 1939 during 24 hours at the old Sydney Velodrome (such as 489.3 miles – 787.5 km – unpaced in 24 hours). He also set the 24-hour road distance record of 505.75 miles (813.9 km) in 1939.
It is clear that Victorian cyclists have achieved remarkable success over the years on the national and international stage, and has been at the forefront of Australian cycling since the days the first velocipedes arrived on our shores, right through to the modern era.
---
Further reading:
Six reasons Victorians dominate Australian cycling