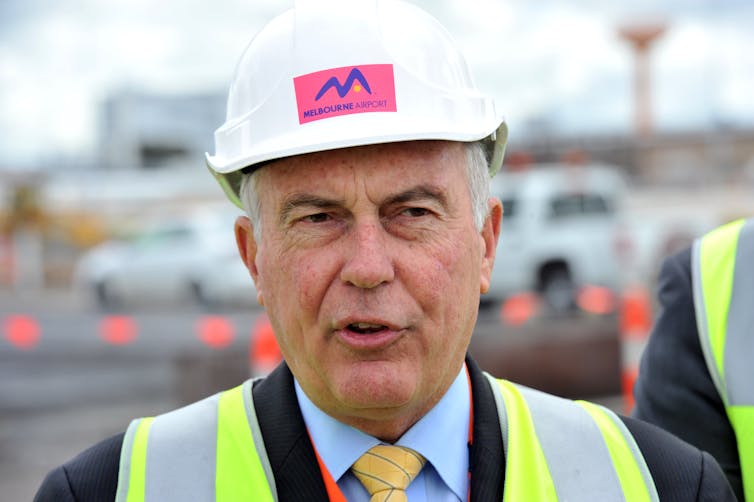 When Deputy PM Warren Truss today drew a line in the sand against the takeover bid for the agri-giant GrainCorp, it was a big reminder that the government has serious internal differences which will test Tony Abbott leadership skills.
Treasurer Joe Hockey's economic rationalist credentials are also on the line over both GrainCorp and the car industry, where the pressure is coming from another cabinet heavyweight, Industry Minister Ian Macfarlane.
Truss dramatically upped the ante for Hockey, who is to decide by December 17 whether to approve the $3.4 billion bid from the US-based company Archer Daniels Midland (ADM).
His comments would have shocked Hockey, both for their directness and because the Nationals leader is the government's second most senior member (outranking the Treasurer). And Truss is not one to shoot his mouth off. He's no Barnaby Joyce – he is cautious and experienced.
The takeout seems clear: the Nationals are determined to fight on what they consider their core interests.
Truss told the ABC: "It's very important for Australia to maintain control of its own food security.
"If we don't own any of the supply chain, it'll be very difficult for us to ever make decisions which can in fact influence whether or not our grain industry is to prosper.
"There is no doubt that if this sale proceeds, international companies will control our ports and our handling facilities. And therefore, if we want to export grain to other parts of the world, grow our industry, that decision will ultimately be made in a foreign boardroom rather than in Australia."
He pointed out that GrainCorp was the largest listed agribusiness in Australia. "If we lose this business to foreign ownership, then we will lose the potential to have an international standard agribusiness trading around the world."
So GrainCorp was important for Australia's food supply, its capacity to control its export markets and even for Australia as a financial centre.
"If we lose our biggest agribusiness from our stock exchange, that weakens Sydney as …an international financial market, and then opens questions about whether Australia is really going to be a major player and an international centre for commerce, for agriculture and for industry in the future."
Truss said he was certain Hockey was "well aware of the importance" of the decision.
The issue has not just the Nationals agitated but also some rural Liberals (including NSW senator Bill Heffernan).
Laurie Oakes wrote on Saturday of talk of resignations by frontbench Nationals if the sale were approved. Truss said he had not heard that from his colleagues "but certainly the Nationals' views on the issues are well known".
Joyce, who is deputy Nationals leader and Agriculture Minister, on Thursday repeated his opposition to the sale. Previously the Nationals deputy leader in the Senate Fiona Nash, a junior minister, spoke out publicly.
Some Liberal "dries" would be very concerned to see the bid rejected. It would send a major message on foreign investment just when Abbott and his government are declaring Australia is again "open for business".
There has been a feeling that the way out would be to approve the bid with conditions, but given Truss's stand today it seems hard to see any conditions being adequate to satisfy the Nationals.
While GrainCorp is currently the most dangerous division in the government, the question of how much should be spent on propping up the car industry, with Holden applying the heat, is also causing angst.
In Japan for talks with Toyota last week Macfarlane was upfront about the differences. "If you don't subsidise the industry, it won't be there," he told the Australian Financial Review. "I accept that argument, I'm not sure that my colleagues do yet."
Now who would he be referring to?
Perhaps the Treasurer who says: "We don't negotiate when it comes to taxpayer's money with a gun to our heads, we won't do that," and who wants to "ensure that Australian taxpayers are not being held to ransom by any company."
Truss today was having a bob each way on cars. "It would be a tragedy for Australia to lose the car industry," he said. "But of course you can't keep subsidising an industry forever."
The government has sent a reference on the industry to the Productivity Commission which will give a preliminary report in December. The PC usually adopts the economic rationalist approach.
Aside from economics, the looming South Australian election – shortly before the PC's final report early next year – is another factor in the mix. The state Liberals want to maximise their chances of taking government and the automotive industry is very important to SA.
Abbott has tried to insist everyone is on the same page on cars.
Asked last week about a cabinet split he said: "No … inevitably there is a tendency on the part of the media to ask the same question or a slightly different question of different people and if there aren't robotic answers, to say, 'aha, so and so is at odds with such and such".
"Well, I just want to assure you that the Government is absolutely at one in its commitment to give the car industry every chance of success."
Which could cover a variety of responses.
The government has already moved to close down differences on another front - the Chinese communications company Huawei's wish to bid for NBN contracts. Communications Minister Malcolm Turnbull left the door ajar but it was quickly slammed shut by Attorney-General George Brandis and Abbott on national security grounds.
Then there are what might be termed the underground differences.
Turnbull was asked on Network Ten today about the Greens wanting a $50,000 (rather than $75,000) ceiling on Abbott's paid parental leave scheme (something that would please the Nationals, by the way).
When it was put to him that a less expensive option would be a good thing, as would Greens support, his reply said it all: "Well, you may very well say that. But in the words of Francis Urquhart [from House of Cards], I couldn't possibly comment. That's a matter for the Prime Minister."
Turnbull, a believer in emissions trading, an issue that precipitated his loss of leadership, was also asked whether scrapping the carbon tax and putting the Coalition's Direct Action plan in place would be the end of carbon ever being priced in our economy.
He pointed out that the Coalition's policy was only designed to get to the 2020 target of a 5% reduction in emissions. "What we do later than that is something that will be reviewed and discussed," he said.
"The Coalition's policy is avowedly interim, in the sense that it takes you to 2020. The policies that will apply out into the future will depend, no doubt, on the success of .. the direct action policies … and also, of course, global action. So if there is more global action to reduce emissions, then that would prompt different policies and different measures in Australia," he said.
"If climate change is real, if global warming is real, if human-induced emissions are making a difference – and I have no doubt they are – then this debate, and the appropriate policies to deal with that, are going to be a subject of discussion for a very long time."
There is not much question that Malcolm still believes that he (like Labor) is on the right side of history when it comes to emissions trading.