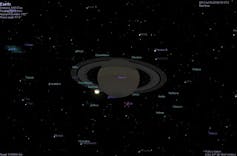 On Saturday July 20, at 7:27 am AEST, 6:57 am ACST and 5:27 an AWST, (that's July 19, 21:27 UT), the space probe Cassini will look back to Earth and take a picture of our planet. It will be a pale dot floating just below the rings of Saturn, tiny and remote (see simulation above).
To make this event even more special, the Cassini team want the world to wave at Saturn as Cassini images the Earth over 15 minutes (7:27 am AEST to 7:42 AEST). They would also like you to take pictures of yourselves waving at Saturn (or drawings or other artwork, kids especially) and post them to their Flickr account or Facebook page.
The team want to make a special collage of all these images if they get enough of them, so give it a go!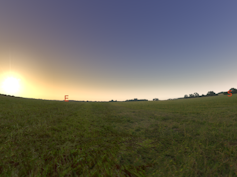 So where will Saturn be on Saturday morning? Well, go outside, face east, turn a little south and …Look down at your feet.
Yes, Saturn is well below the horizon from Australia. So you may say, why should I make a fool of myself waving at the ground?
Well, if you have kids they will enjoy it, and having crazy Aussies represented on Cassini's web page will be cool. Maybe get together with some friends for an early morning breakfast and Saturn wave (it is mid winter dawn here in Australia, so pretty chilly, rug up warm, with hot coca and maybe snags). Also the weather doesn't matter, you can't be clouded out.
And, well, Earth will be just a dot, so it doesn't really matter if you are waving at the ground, it's getting out there and participating in a historic moment, one of the handful of portraits of Earth taken from a distant spacecraft. Later you can look at the image and say "I was waving when that happened".
You can find out more at NASA's photobomb site, there are community events at "The Day The Earth Smiled" and a live webcast of Saturn while Cassini snaps us at the Virtual Telescope.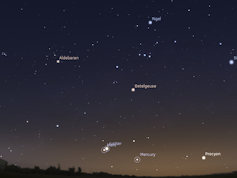 And wouldn't you know it, the MESSENGER spacecraft at Mercury is getting in on the act! While searching for possible Mercurian Moons, Messenger will look back towards Earth and snap it's (very small) portrait.
The times MESSENGER will be photographing Earth are 11:49, 12:38 and 13:41 UT, this translates out into 21:49, 22:38 and 23:41 AEST on the evening of both the 19th and the 20th here in Australia (subtract half a hour for central states and two hours for WA).
Again, Mercury will be well below the horizon in Australia when this happens. Follow exactly the same steps as looking for Saturn above (although this time it will be at a decent hour in the evening).