We have come a long way in in recognising and talking about dementia and its impact on the lives of those whom it touches. Given a boost by a personal commitment from the prime minister, David Cameron, that he would tackle the challenge of dementia and the long march by prominent campaigners, the condition has been brought out of the shadows. It is no longer accepted as an unavoidable consequence of ageing, or the pace of its downward trajectory as relentless and inevitable.
Despite this, the facts about the current state of services and support for people with dementia also makes for sobering reading. It could even be said that expectations have been raised, only to be cruelly dashed by the daily reality of a postcode lottery of access to timely diagnosis and high quality post-diagnosis support and care. Two-thirds of people with dementia live at home (which is most people's preference rather than institutional care) and almost a quarter of people with dementia actually live on their own. For them, reliable and accessible systems of support and care are crucial if they, and the family and friends looking after them, are to live as well as possible with this potentially heartbreaking condition.
But time after time people report that their GPs do not take dementia seriously, or really understand its impact. A recent survey of GPs revealed the shocking variations in health and social care support across the country. It was a consistent story of inadequate help, in which people with dementia are hugely dependent on those who care for them compared with those living with cancer or heart disease. There is wonderful practice in some parts of the country, but shockingly absent care and support in many others.
Where there are services in place, they can be highly fragmented and disconnected, with third sector and commercial providers providing some aspects of care in both health and social care. This means that people with dementia and their families may have to deal with several different agencies for different aspects of their care – particularly if, as for many, they also have other long-term conditions. If you need services that are on offer there are all too often depressingly enduring professional and organisational demarcations and boundaries that require understanding and negotiation to weave through. But, by definition, someone struggling to make sense of certain aspects of everyday life needs simplicity and continuity in their social interactions, whether they are formal and informal.
Complicated systems that need to be navigated won't do. There need to be clear pathways for care which provide seamless services and are integrated as much as possible. The recent policy drive for integrated care organisations will help to deliver this – but professional demarcations and boundaries also need to soften.
Just 15 minutes
Then of course there is the travesty of the 15-minute personal home care visit, which normally involve care assistants doing specific personal care tasks within the specified time – irrespective of the person's need. Many organisations delivering home care are restricted to this time constraint, commissioned by local authorities struggling to meet increasing need within devastated social care budgets. Care providers themselves have expressed concern that such rushed visits compromise their clients' dignity, and that local authorities are increasingly monitoring the time spent by care providers in individual clients' homes.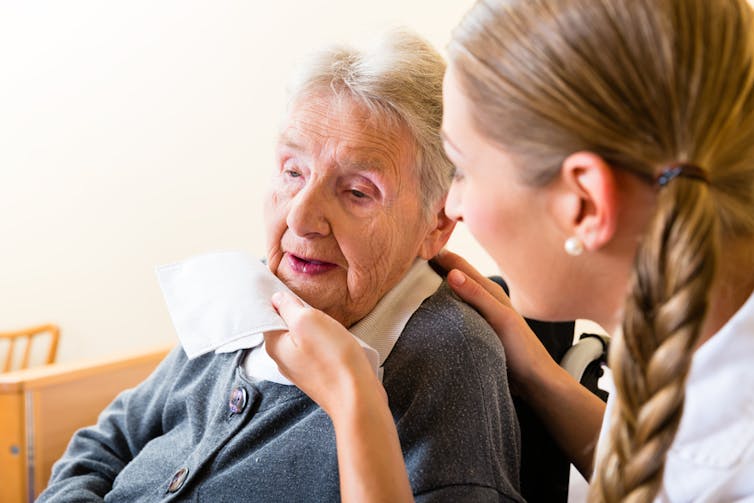 This is a model which we cannot dignify with the word "care" – and it is particularly inappropriate for someone with dementia, who may well be living on their own and is highly likely to have other long-term conditions. They need time and compassion, and shouldn't be rushed.
These "smash-and-grab" visits may also increase someone's confusion, particularly if different people are coming into the home to deliver separate tasks. Little wonder that crises occur as a result of the minimal provision of care – and people arrive in hospital A&E departments when they don't need to be there for medical reasons. It may be the worst place for them, but there is nowhere else where they can receive the personal care they need. Furthermore, we know that the hurly-burly of A&E and acute medical wards may actually add to their confusion.
Redesigning the way we do things
So, what is to be done? We need to truly prioritise how we understand and include the experience of people with dementia in how we do things, with a commitment to their participation in local communities for as long as possible, as the majority wish to do. Thoughtful commissioning of services and support across the increasingly irrelevant organisational and professional boundaries of health and social care, combined with housing, would enable us to design physical and social environments that had people with dementia in mind. Services could pay for themselves through the financial efficiencies they generated if we can enable people with dementia to avoid expensive acute hospital care for which they have no medical need.
Personal budgets, in which people are given an allocation of funding after a local authority's social care assessment, may be the answer. People who are deemed to be eligible can take the personal budget as a direct payment and spend it themselves, or they can ask the council to commission services for them, or they can take have some combination of the two.
Dementia has been recognised as one of the key challenges of our age, up there on a par with cancer, heart disease and HIV/AIDS. But unlike these two, almost half of the estimated cost of dementia to the UK (£11.6 billion) is borne by family and friends who provide unpaid care, often at great cost to themselves if they are unable to continue their paid employment because of their caring responsibilities.
So, having brought dementia out of the shadows, let's bring it into the full glare of the sunlight and prioritise the development of communities, services and support that have people with dementia at its heart and which enable them, and the family and friends who care for them, to participate socially and live life to their maximum potential, for as long as possible.