Champix was developed by drug company Pfizer as a smoking cessation treatment in 1997. Its active ingredient, varenicline, can block the effects of nicotine and reduce craving. It was approved for use in Australia in 2007.
It's commonly prescribed in Australia, but there are concerns about potentially serious side effects. In September 2017, the Queensland coroner found Champix contributed to the death of a 22-year-old man who had died by suicide.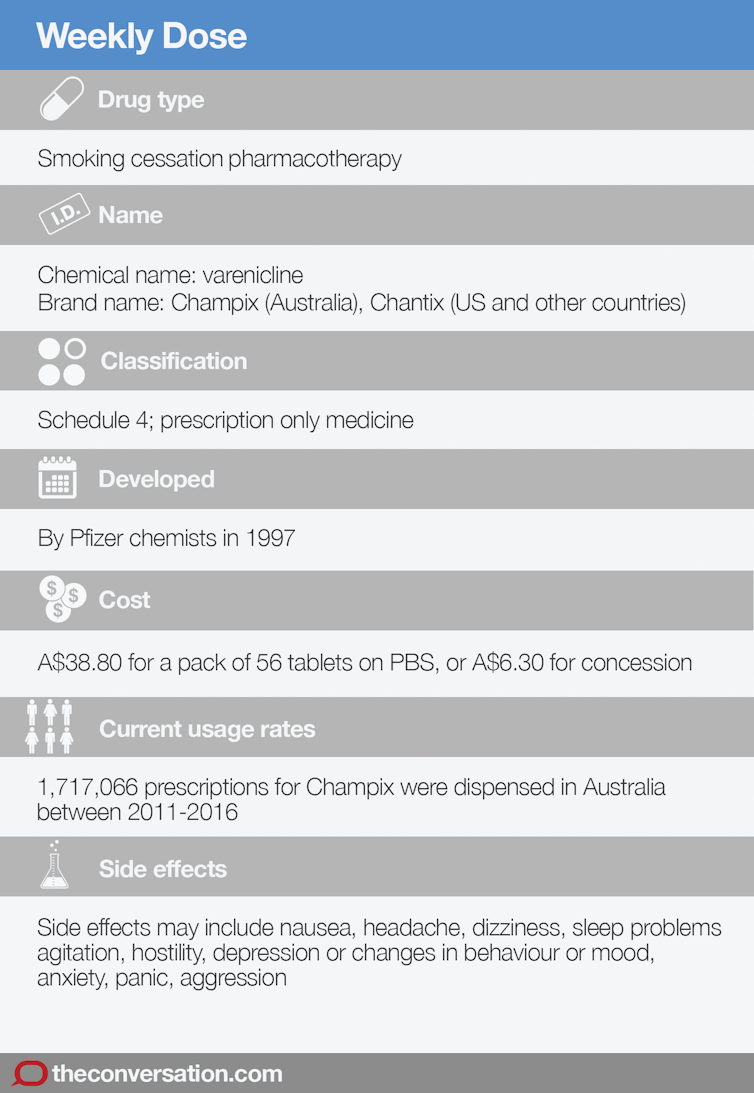 How it works
Receptor proteins in the brain, called the nicotinic acetylcholine receptors, respond to drugs, including nicotine. Inhaling cigarette smoke creates a process that includes nicotine attaching to these receptors, and the release of the chemical dopamine, which affects the reward centre in the brain.
The feeling of pleasure associated with dopamine lasts only a short time. This reinforces craving, frequent use and can lead to addiction. Champix was developed to relieve cravings associated with withdrawal symptoms by stopping the nicotine from attaching to the receptors.
---
Read more: Chew on this, smokers: nicotine replacement therapies rarely work
---
What are the side effects?
There have been ongoing concerns around the potential side effects of Champix. By May 2010, the Therapeutic Goods Administration (TGA) had received 1,025 reports of suspected adverse reactions. Two-thirds (67%) of these described psychiatric symptoms including depression, agitation, anxiety, altered mood and aggression. There were also 206 suicide-related events such as suicide attempts and thoughts or plans, including 15 suicides.
A December 2015, TGA Safety Update noted serious neuropsychiatric symptoms had occurred in patients being treated with varenicline. The update advised patients and families to contact a health care professional "if changes in behaviour or thinking, agitation or depressed mood that are not typical for the patient are observed, or if the patient develops suicidal ideation or suicidal behaviour".
Possible symptoms listed include "anxiety, agitation, aggression, mood swings, self-harm, thoughts of self-harm, or seeing, hearing or sensing things that are not there".
Suicide warnings
Prior to the recent Queensland case, the Victorian Coroner's Court released a similar finding in 2015. Champix was linked to the suicide of a 36-year-old man, and the court stated the evidence supports the finding that the death was an adverse reaction to the drug varenicline.
The Victorian Institute of Forensic Medicine now tests for Champix use in their routine toxicological analyses to determine if any potential link exists between its use and suicide. The Queensland Coroner recommended this model be adopted by all states and territories.
Concerns about Champix are not restricted to Australia. In the United States, Pfizer reached out-of-court settlements totalling US$273 million with 2,700 complainants following a 2013 class action that claimed Chantix (the US product name) increased the risk of suicide. In 2014, the US Food and Drug Administration (FDA) applied its highest level "black box" warning that alerted users to serious side effects.
The safety warning was downgraded in the FDA's 2016 Drug Safety Communication update. The update notes, however, the risk of potential side effects on mood, behaviour, or thinking remains, particularly among people receiving treatment for depression, anxiety disorders, or schizophrenia, or have been previously treated for mental illnesses.
Critics have raised concerns about the FDA's decision to downgrade, and about the evidence it used in making the decision, which was taken from trials funded by Pfizer and GlaxoSmithKline.
How much it's used
TGA data show 1.7 million Champix prescriptions were dispensed in Australia between 2011 and 2016. Patients currently pay A$38.80 for a pack of 56 Champix tablets under the PBS listing.
This volume of prescriptions raises important questions about the effectiveness of Champix in helping smokers to quit. Randomised clinical trials of varenicline-based products return impressive results. A recent review of trials, for instance, reported a standard dose of the drug more than doubled the chances of quitting compared with placebo.
---
Read more: Despite help on offer, many smokers prefer to quit on their own – here's why
---
But like all drugs to help quit smoking, impressive quit rates returned under optimal trial conditions are not replicated in real life. And many trials that return positive results are funded by the pharmaceutical industry.
The reality of smoking cessation is that most former smokers quit unassisted, without prescription drugs like Champix, or nicotine replacement therapy. Ongoing controversy about the health risks of Champix and its limited effectiveness as a cessation aid raise questions about the government's continued investment in listing it on the PBS.
---
Anyone seeking support and information about suicide can contact Lifeline on 131 114, or beyondblue 1300 22 46 36.