Last night, the AFL Tribunal handed down an eight-match suspension to West Coast Eagles player Andrew Gaff for his off-the-ball punch during a match against Fremantle on Sunday. The joint-longest AFL suspension of this century means Gaff will not play again in season 2018, and will miss the start of the 2019 season.
It came about after Gaff unleashed a punch with a swinging left fist to the face of Fremantle player Andrew Brayshaw during the third quarter of the game.
Brayshaw immediately fell to the ground and lay there for some time, blood pouring out of his mouth. I was at the game, and it was a horrifying sight.
The 18-year-old was later taken to hospital, where it was found that his jaw was broken and three teeth displaced, requiring surgery on Monday night. He cannot eat solid foods for four weeks, and will not play again this season.
There has been heated debate about the incident in recent days, with some defending Gaff's good character and clean record, and others calling for criminal charges to be laid.
---
Read more: Close case set to present a legal headache for the AFL
---
There is no "double jeopardy" rule that stops Gaff facing legal consequences beyond his AFL suspension, but such action is rarely pursued. Instead, players and clubs generally abide by an unwritten rule to keep the dispute "in-house".
But what if a player or club wanted to break this unwritten rule? What other legal consequences could there be for Gaff, or others who commit violent on-field acts?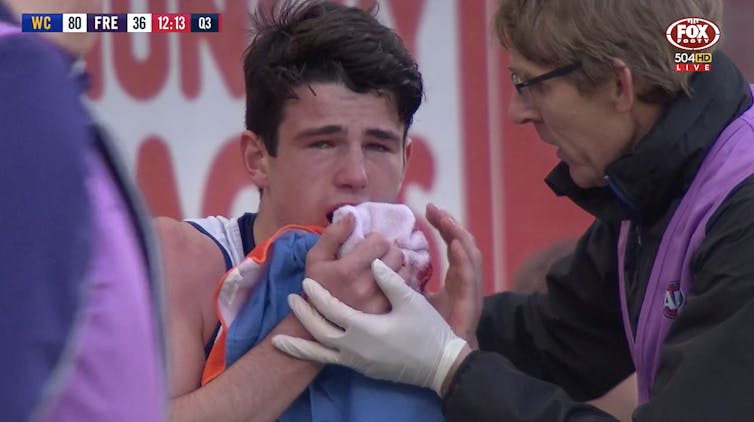 Battery
The first area in which Gaff could be liable is tort law, which generally refers to civil wrongs that are not a breach of contract.
One such wrong is battery, which occurs where a person intentionally or negligently applies contact with the body of another person without that person's consent.
Of course, if this definition applied to all contact on a sporting field, our courts would be inundated with claims from anyone who has been tackled by another person and suffers an injury as a result. The reason this does not happen is that consent is a defence to battery.
Australian courts have held that when a sportsperson decides to step onto a field of play, they give implied consent to various kinds of bodily contact, such as those permitted by the rules of the game - including tackling.
Courts have also found that this consent extends to commonly-encountered violations of rules - such as a push in the back or tripping in the AFL. Because these occur regularly in matches, players are deemed to agree to these risks.
What the concept of consent does not extend to is forceful or intentional acts of violence that cause bodily harm. While it is rare, such cases have been taken to court from time to time in various codes.
One infamous example is former Cronulla captain Steve Rogers successfully suing Canterbury-Bankstown player Mark Bugden, and the Canterbury-Bankstown football club, for a dangerous head-high tackle during a match in 1985.
It is relatively clear that Gaff would be liable for battery if a claim was brought, and would have to compensate Brayshaw for any loss or harm he suffered, including medical costs. West Coast may even have to provide compensation if it is held to be vicariously liable for his actions as his employer.
However, either scenario would require Brayshaw to bring a claim against Gaff in court - which he seems unlikely to do.
Criminal assault
The other main area in which Gaff could be liable is criminal law. High-profile lawyers David Galbally QC and Tom Percy QC have flagged the potential for criminal charges to be laid.
Considering the seriousness of criminal law sentences, this usually provides the greatest deterrent to harmful acts.
As this action took place in Perth, the Western Australian Criminal Code would apply to any such charges.
There is little doubt that breaking someone's jaw would fit under an offence called assault occasioning bodily harm, which can result in imprisonment for up to five years. There is a strong chance that such an action could be deemed grievous bodily harm, which can result in a prison sentence of up to 10 years.
In these circumstances, Gaff would likely not be punished so severely.
His well-noted good record and character would likely reduce his sentence, since it does not appear to be a regular occurrence. However, good character cannot change the outcome of whether an act is an assault or not in the first place.
The other issue is that only state prosecutors can seek a criminal conviction against Gaff. They would likely need the cooperation of WA Police and Brayshaw to do so.
Police and prosecutors have historically been reluctant to pursue criminal charges for on-field sporting actions, except in the most extreme cases. In AFL, there have been two prominent examples of this.
In 1985, then-Hawthorn captain Leigh Matthews was charged, and initially convicted, of grievous bodily harm for breaking the jaw of Geelong's Neville Bruns in an on-field incident.
And just last year, former AFL diversity manager Ali Fahour was sentenced to a two-year community corrections order and made to pay a $5,000 fine for punching an opposing player unconscious during a suburban football game.
On Monday, WA Police Commissioner Chris Dawson said laying charges in such instances was rare. He also noted:
the central issue here is what should be governed by the sporting code and what falls within the criminal realm.
WA Police are showing more interest than usual in the Gaff case, despite West Coast chief executive Trevor Nisbett labelling the calls for criminal charges to be laid "inflammatory".
Sports law expert Professor Jack Anderson from the University of Melbourne Law School believes a criminal prosecution for an on-field violent act is "inevitable" in sport. However, this will probably not be the incident that sparks it.
Increased pressure for a send-off rule
This incident has also sparked renewed calls for a send-off rule to be implemented in the AFL, to catch up with most other sporting codes. Currently, there is no mechanism to allow umpires to exclude players from the field for disciplinary reasons in the AFL.
Whatever the merits of a send-off rule, the AFL may be playing a risky legal game by continually resisting calls to implement it, particularly when reasons given for rejecting the rule tend to focus on "tradition" or the difficulty in applying it.
Along with battery, another area of tort law that could apply here is negligence - but this time on the part of the AFL, rather than Gaff.
---
Read more: Mark! Kick! Tackle! The reality of fast-tracking women into elite AFL
---
The law of negligence dictates that the AFL is under a duty to provide a safe environment for its players and to take all reasonable precautions to reduce the risk of harm in AFL matches - beyond the ordinary knocks and injuries that result from tackles and fair bumps.
If they fail to do so, they may have to compensate players who suffer harm because of the AFL's inaction.
It may not take too long for a player to ask if the AFL is really taking all reasonable precautions against on-field harm by refusing to implement a send-off rule.
Ultimately, whether Gaff or others will face legal consequences depends almost entirely on whether victims, clubs, police and prosecutors decide to pursue further action.
But as Leigh Matthews has said in recent days: regardless of how infrequently legal action is taken, it is important to recognise that players are "not outside the law of the land".