It's often said the AFL has become a big business, increasingly embodying many of the rules of the marketplace. But people rarely look at it the other way - that is, how business is like the AFL.
The sacking of Melbourne Football Club coach Mark Neeld and the club's crisis management around the event give us five important lessons on what big business can learn from football. In many ways, the AFL is a "microcosm" of the larger dynamics and challenges in leadership and management.
1. We need better models of change
Mark Neeld was dumped as Melbourne Demons coach after serving only half of his contract. CEO Peter Jackson says "this is not about a single person called a senior coach" and is "a rebuild of the football club as a whole". However, there's a strong pattern in football of senior staff – especially the head coach – being the fall guys for poor performance.
The pattern was there when Neeld's predecessor Dean Bailey was sacked in 2011, and again when former Carlton coach, Brett Ratten met the same fate last year.
In his book, "Adapt: Why Success Always Starts With Failure", the "undercover economist" Tim Harford provides a powerful critique of the stories we tend to tell about change and problem-solving. "The [perceived] solution to any problem," he writes, "is a new leader with a new strategy, whether it's the coach of a football team, the new chief executive of a failing business, or a new president".
The reality tends to be that expert judgement is flawed, leadership has limits, and problems get "solved" over time through ongoing experimentation and learning. The "new leader" model of change adopts a flawed command-and-control form of planning.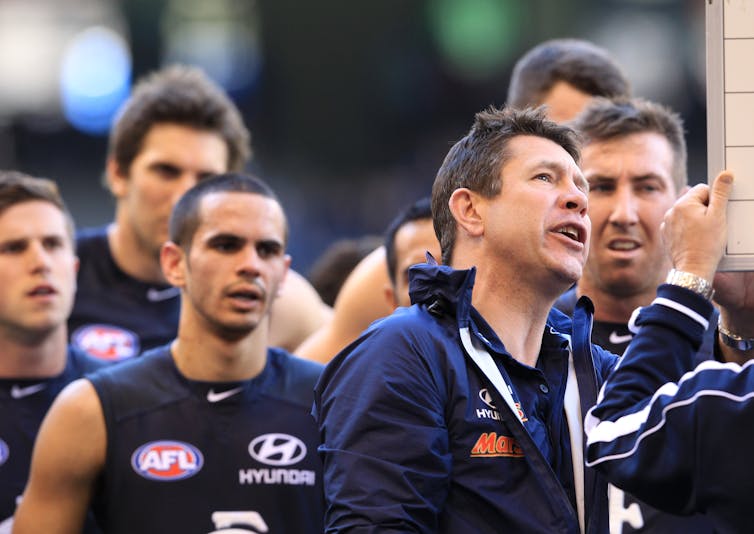 2. "Big data" has dangers as well as promise
"Big data" refers to enormous growth in the volume and variety of data, and the speed with which data is created. We see this in modern football, with assistant coaches huddled over laptops and the increasing obsession with statistics and key metrics.
However, as Kenneth Cukier and Viktor Mayer-Schonberger recently argued, related warnings are not being heeded: "big data also exacerbates a very old problem: relying on the numbers when they are far more fallible than we think". They add that the risk is "big data" may lure us "to become so fixated on the data, and so obsessed with the power and promise it offers, that we fail to appreciate its inherent ability to mislead".
Consistent with these observations, during the 2013 AFL season expert commentators often lament that the "key indicators" fail to predict the outcome of matches. Not that this stops ever more data on players movements and indicators being gathered.
Big data is related to the flawed "planners dream" – the desire to rationally calculate the best decisions and future through real-time data and more data rich modelling – and to predictive analytics. For today's executives the planners dream is a seductive vision.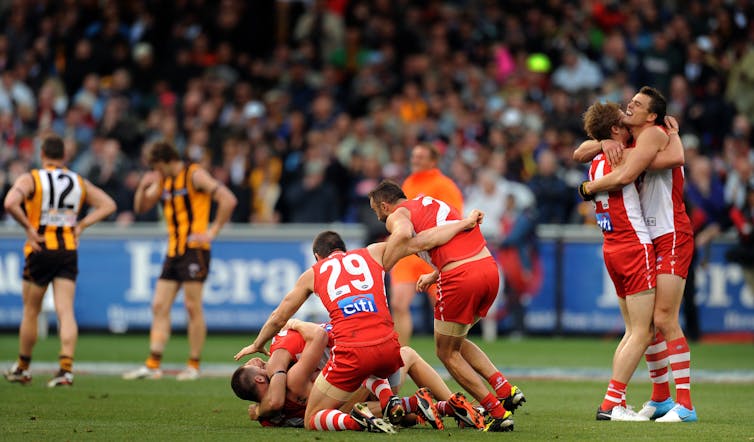 3. The past often isn't a good guide to the future
Consistent with the last lesson, the key indicators and winning tactics of previous seasons often aren't so successful in future seasons. Carlton's new coach, Mick Malthouse, has publicly acknowledged his need to significantly tweak and unlearn approaches that only two seasons ago were seen as the leading strategies and tactics in the league.
It's hard not to see this issue as playing a role in Melbourne's current crises. Malthouse's apprentices - such as Mark Neeld - were seen as the next great coaches, having learnt from the best. But this perspective misses the harsh realities of this lesson.
4. We need to abandon many traditional strategy and planning models
Although the basics don't change (get the ball down your team's end and kick it through the big sticks), we frequently hear from past players and coaches how quickly footy is changing. This is similar to the remarks made by leaders and managers in business.
A complex, rapidly changing, world has a habit of making a nonsense of plans that look good on paper. And we're unlikely to get it right the first time. In Tim Harford's words, it's often "impossible to know in advance what the correct strategy will be". However, we're yet to learn that this challenges the traditional models of planning and strategy.
In particular, we need to recognise the many flaws of the dominant "predict-and-plan" model. As the "rules of the game" change over time, in many ways we're not playing the same game. Unlike the game of chess, where we make confident predictions based on our past experience of an unchanging game, we need more adaptive, learning-oriented models.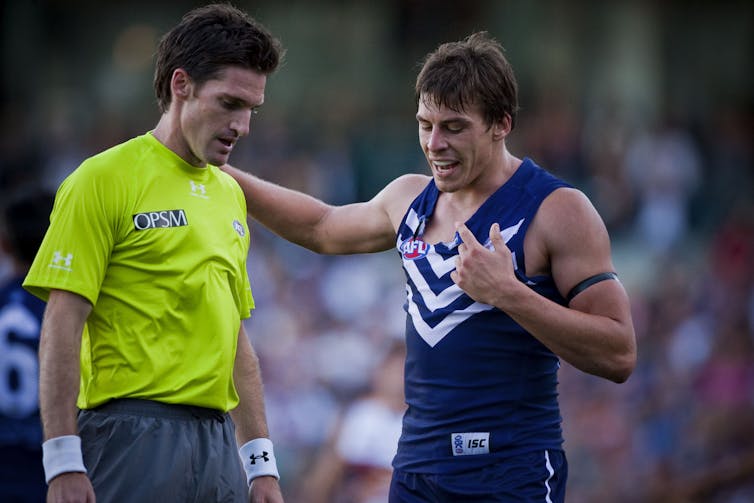 5. Sometimes we need buck trends, not follow them
The AFL is full of trends, fashions and fads such as: chasing young assistant coaches for senior roles ahead of experienced and successful coaches for instance; and the ever-growing multitude of tacticians and coaching staff scouring statistics and trends.
But the parallels to the world of business are obvious and important. Sometimes it's a good idea to follow trends, but we shouldn't unthinkingly follow the fashions of the day. Additionally, truly novel ideas tend to be at the core of great strategy, not trend analysis.
Overall, the AFL can be seen as a "microcosm" of wider key challenges facing leaders and managers in big business as well as politics. These lessons both provide insights for football administrators and suggest larger lessons for management and leadership.