For those of us who regularly read Grantland, ESPN's announcement that it shuttered the boutique sports and pop culture website didn't come as a surprise.
The site had steadily been moving away from its originally stated focus on long-form journalism. And when ESPN laid off 300 employees to cut costs last month, it was perhaps a sign of things to come.
There were big personnel changes, too. After Grantland's founder, Bill Simmons, made a highly publicized exit in May, the website's association with its founding editor persisted: despite ESPN's best efforts, many still viewed Grantland as Simmons' site.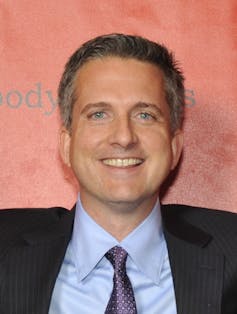 The departed Simmons had also just lured several of his former staffers to join his new venture at HBO. Meanwhile, Grantland editorial director Dan Fierman left for MTV News and cultural critic Wesley Morris joined The New York Times.
In the end, Grantland was never a moneymaker for ESPN. Rather, it was always more a symbol of prestige – a way to enhance the brand of its parent company.
While Grantland certainly did its part to this effect, with the site's cachet dwindling it became clear that it was no longer essential to ESPN's long-term plans.
Grand visions
Over the course of its history, ESPN has engaged in practices considered more sophisticated than run-of-the-mill sports media, an effort that intensified after Disney acquired the network in 1996. And it's a trajectory that forms the focus of my most recent book, ESPN: The Making of a Sports Media Empire.
As part of its efforts to lend its brand prestige, ESPN has produced documentaries, published books, created fictional series, curated film festivals, sponsored literary writing awards and employed Pulitzer Prize-winning journalists.
All are supposed to send a message to viewers and readers that ESPN is not simply an unending stream of statistics, highlights and talking (sometimes screaming) heads.
Rather, it's a media outlet that tells in-depth stories in enriching and innovative ways. It's also a shrewd effort to both expand its audience and distinguish the network from other media outlets.
Still, Grantland may have been the most ambitious and wide-ranging of these prestige-driven activities.
Simmons curated a murderer's row of talent for the site's June 2011 launch, recruiting accomplished writers who complemented his dual interest in sports and popular culture.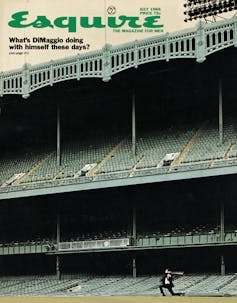 Grantland took great pains to make its pretensions clear. It named itself after the "Dean of American Sportswriters," Grantland Rice; as consulting editors, it hired famous writers Dave Eggers, Malcolm Gladwell, Chuck Klosterman and Jane Leavy; and for its prelaunch banner image, Simmons used the cover photograph from the July 1966 Esquire magazine issue in which Gay Talese's famous profile of a retired Joe DiMaggio, The Silent Season of a Hero, appeared.
The site's initial front page also conspicuously included an image of a hand – presumably Rice's – holding a fountain pen atop the famous final lines of Rice's saccharine 1908 poem Alumnus Football.
In Simmons' eyes, the site would exhibit the literary aura associated with Rice, Talese and its consulting editors; he boasted that Grantland would be "to ESPN what Miramax was to Disney, a boutique division with more room for creativity." At its best, the site's work – like Esquire's or Sports Illustrated's during their heydays – would breach the gap between sports, the arts and culture.
Bottom line trumps prestige
But not long after its launch, Grantland's initial swell of ambitious, celebrated content waned.
The site lost several of its original staffers. In early 2014, it suffered a big PR hit after Caleb Hannan's Dr V's Magical Putter outed a transgender woman who committed suicide between the piece's reportage and its publication. Steadily, it privileged the kind of sports analysis common on ESPN.com.
And after slowly losing its edge, the highbrow loss leader eventually lost its leader.
But whether Grantland was high-quality is not the point. Rather, the site helped ESPN create the impression that it privileged quality over its bottom line.
Referencing ESPN's popular 30 for 30 documentary series – a similar venture, also intended to create a patina of sophistication – ESPN President John Skipper told me:
We're ubiquitous. And there is a tendency in culture to think of big as bad: "The big bad Coca-Cola Company. Big bad Nike." Part of what we're trying to do is provide people with surprise and delight from places where they don't expect to see ESPN. So it becomes harder to say "big bad ESPN." Sometimes we get tarred: "They're everywhere, they drive me crazy." When someone like that sees a 30 for 30 it forces them to stop and go "Wow. My thinking of ESPN as a soulless corporate entity is pretty hard to do when I watch a really smart, sensitive, nuanced examination of something."
Grantland served the same purpose for a time.
But there have been several recent instances when ESPN has wavered in its commitment to a prestigious brand built on in-depth journalism.
Most notable was its 2013 decision to remove its brand from the Peabody Award-winning PBS Frontline documentary League of Denial, which investigated the concussions National Football League players routinely suffer and the NFL's longstanding efforts to cover up the health risks they pose.
ESPN claimed it made the decision because the company lacked editorial control over the final product. But most concluded that the media giant was making a craven effort to nurture its relationship with the NFL, which it currently pays nearly US$2 billion annually for TV rights.
A little over a year later, ESPN suspended Simmons for calling NFL commissioner Roger Goodell "a liar" – a kerfuffle that no doubt informed ESPN's decision not to renew its biggest star's mammoth contract this past May.
In its statement explaining Grantland's cancellation, ESPN claimed that it would turn its attention to projects that "will have a broader and more significant impact across our enterprise."
Whether or not these projects will be organized around a similar effort to build the brand's cachet remains to be seen. It vowed a continued commitment to Nate Silver's FiveThirtyEight and The Undefeated, a website devoted to the intersection of race, sports and culture that's still in development.
Both ventures grew out of the boutique seeds Grantland planted. But neither is so intertwined with Simmons' identity. As a result, they don't pose nearly the same risk of reminding readers of ESPN's former star – and current rival.